The healthcare industry continues to rapidly expand and evolve. According to the U.S. Bureau of Labor Statistics, the job market for skilled healthcare executives is expected to grow 20% by 2026.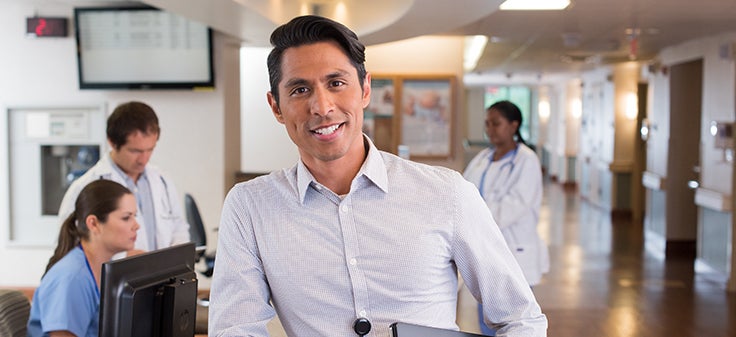 Candidates with a master's degree in health administration or a related field will be best equipped to take advantage of management-level opportunities. But the field is incredibly diverse, and today's healthcare curriculums are tailored to specific skillsets and career aspirations.
WGU offers three master's degree programs targeting different areas of the growing healthcare industry. WGU degrees can provide you with the knowledge, skills, and credentials you need for your next career move in your area of interest:
MBA in Healthcare Management (MBAHM)
Master of Health Leadership (MHL)
Master of Science in Nursing Leadership and Management (MSNLM)
Which degree is right for you? Ask yourself the following questions:
"Do I want to focus on how to run a thriving healthcare organization while strengthening my analytical and critical thinking skills?"
If this is your goal, you may be a prime candidate to pursue your MBA in Healthcare Management.
Healthcare organizations are businesses first and foremost, and in order to remain successful, they need to be led by highly skilled managers with an advanced understanding of everything from operations management and data-driven decision-making to accounting, marketing, and ethical leadership.
The MBA in Healthcare Management curriculum specifically addresses current and anticipated needs for mid- to upper-level management professionals in hospitals, health system management, consulting, physician practices, and government and non-government agencies.
This program is designed for those targeting an array of leadership roles in healthcare. It is also ideally suited for those transitioning into healthcare from a different industry.
This degree is for you if you want to make sure you have the business acumen and the healthcare experience to manage a healthcare center, Federally Qualified Health Center (FQHC), health department, or any related institution in the healthcare industry. You'll be prepared to lead your workplace into the 21st century to ensure it will not only survive but thrive in this dynamic, ever-changing healthcare environment.
Note: Applicants to this degree program must hold a bachelor's degree and have at least three years of significant experience in business, commerce, or at a nonprofit organization. Clinical experience is not required to be successful in this program.

OR...


"Do I want to study a transformational approach to health and healthcare where I can lead my health system into an Accountable Care Organization (ACO) that focuses on value-based and patient-centered care?"
If you envision yourself as a change agent committed to fostering innovation and quality improvement across the landscape of modern healthcare, WGU's Master of Health Leadership will challenge you to explore the healthcare industry through comparison research, application of disruptive leadership concepts, and advanced technology applications.
This multidimensional master's degree focuses on preparing you to become a transformational leader, value innovator, tactical manager, analyst, and integrated systems expert in healthcare by using a variety of real-world scenarios.
Through the MHL program, you will collaborate with leaders in the healthcare industry to identify opportunities for improvement in healthcare, propose a solution, and perform a business analysis to evaluate its feasibility. You will also examine the use of technology in data analysis and applications to improve outcomes in a patient-centered care environment.
This degree is for you if you want to change the landscape of the healthcare industry.  It's ideal if you want to develop innovations that will not only address the current needs, but also anticipate challenges and proactively create an environment that allows your healthcare experience and leadership skills to establish new trends to promote a new frontier in healthcare.
Note: Applicants to this degree program must have at least a bachelor's degree and be able to demonstrate experience in a healthcare-related field, including policy, legal, military, pharmaceutical, biomedical, or related healthcare-associated industry as well as management or leadership experience. Clinical experience is not required to be successful in this program.
OR...
"Do I want to leverage my experience in providing nursing care to patients and populations to pursue a career in nursing leadership and management?"
If you are currently a nurse seeking a way to combine your nursing knowledge, skills, and expertise with strong leadership and business management  skills a career in nursing administration is within your reach. WGU's CCNE-accredited* M.S. Nursing– Leadership and Management is designed to prepare you to be an effective transformational leader in diverse healthcare settings.
In the MSNLM program, you will build competencies to lead people and manage resources to achieve organizational goals by focusing on the critical analysis of the impact of nursing care on healthcare outcomes. You will be prepared to promote efforts and work collaboratively to achieve healthcare organizational goals in a hospital, long-term care facility, community service agency, government facility, or corporation. This role will also prepare you to lead efforts to achieve Magnet Recognition status by supporting and implementing management policies and practices that ensure the very best care delivered by the very best nurses.
This curriculum will challenge you to develop the expertise required of nurse leaders to manage and improve operational performance in healthcare organizations. Coursework focuses on helping you build competencies in strategic planning, financial and human resource management, data management and interprofessional collaboration. This program will give you the confidence to lead efforts to improve the patient experience of care (including quality and satisfaction), improve the health of populations, and reduce the cost of healthcare.
Note: Applicants to this degree program must have a B.S. in nursing degree (BSN), a current, unencumbered registered nurse (RN) license, and be working as an RN at the time of application and enrollment. 
*The bachelor's and master's nursing degree programs at WGU are accredited by the Commission on Collegiate Nursing Education (655 K Street, NW, Suite 750, Washington, DC 20001, 202-887-6791).
Next question: Are you ready to learn more?
The healthcare industry is wide open for career-focused professionals, and WGU designs programs to specifically address current and expected needs for highly skilled executives and C-suite leaders.
If you'd like to learn more about one of these highly respected master's degrees, complete this quick inquiry form and an enrollment counselor will give you a call to help you make an informed decision about the program and career path that's right for you.