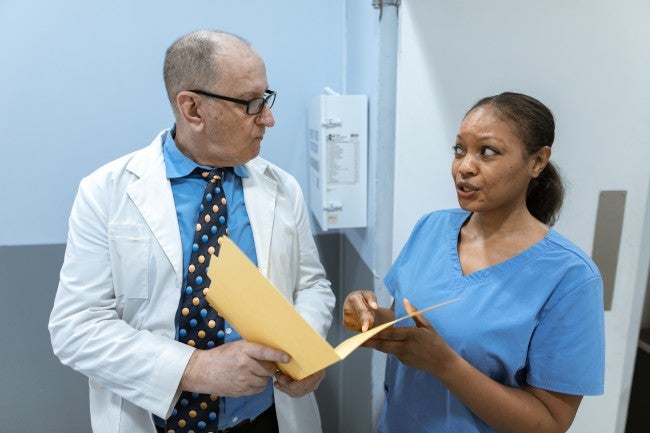 If you want to work as a nurse, there are dozens of different specialties you'll need to choose from. From emergency room nurses, to pediatric nurses, to nurse practitioners—there are so many options and all of them are important. Nurse practitioners are advanced practice nurses (APRNs) that are able to be more directly involved with certain kinds of patient care. There are additional nurse practitioner specialties that allow these APRNs to focus on specific ages of patients or health needs. Family nurse practitioners (FNPs) work directly with all kinds of patients regularly and have a wide scope of practice. They are trained to help with health and wellness, as well as minor illnesses, for people of all ages. 
Learn more about the role of a family nurse practitioner, the salary they earn, and how to become one.
What does a family nurse practitioner do?
Family nurse practitioners have many important responsibilities in a healthcare setting, including:
Performing physical exams and routine checkups

Diagnosing and treating various health problems

Developing care plans for patients

Prescribing medications

Consulting with other medical professionals

Ordering and performing diagnostic tests

Educating patients on health and wellness

Performing or assisting with minor procedures

Overseeing patient care

Maintaining patient records

Making referrals to specialists as needed
Family nurse practitioners differ from other nurse practitioners because they typically work in outpatient settings such as clinics, private practice offices, outpatient facilities, and sometimes hospitals. Family nurse practitioners differ from other types of nurse practitioners because of their more generalized role. Most NPs specialize in younger or older patients, mental health, or acute care. Family nurse practitioners have a more general specialization and are able to work with patients of all ages. 
Essential skills of an FNP.

There are many skills and traits that can make a registered nurse a great family nurse practitioner. Some of those characteristics include:
Empathy

Communication

Organization

Work well with children

Explain issues and concerns in a calm way

Maintain solid relationships 

Diagnostic skill

Attention to detail
How much does an FNP make?
The average salary for family nurse practitioners is about $95,000 per year. This can vary based on the location where they work and their experience level. The lowest 10% earn an average salary of around $79,000 with the top 10% earning a salary of more than $118,000. This salary level is considerably higher than the average salary for registered nurses—because of the additional schooling and certification needed for this career, there is a higher salary expectation. 
How can I become a family nurse practitioner?
There are several education and certification steps you'll need to take to become a family nurse practitioner. The process will take some time—several years most likely, but can be extremely rewarding and well worth it. 
Become a registered nurse.
The first step to becoming a family nurse practitioner is to become a registered nurse. You can become a registered nurse by attending a nursing diploma program, an associate degree program, or a bachelor's degree program. This schooling will give you all the critical knowledge and skills you will need on the job. After finishing your education you will need clinical hours and will take the NCLEX-RN. If you pass the exam, you'll be able to become licensed. 
If you are currently an RN, you'll need to earn a BSN to move toward the next step in becoming a family nurse practitioner. You can pursue an RN to BSN program that will allow you to use your experience and knowledge as a nurse to accelerate through your degree program, while also giving you valuable insight and knowledge you may need.  
Enroll in a Master's Nursing Program.
After you have become a registered nurse and earned your BSN, the next step to becoming an FNP is to get an MSN FNP degree.
If you already have your BSN, you can move directly to your MSN program. WGU offers an MSN family nurse practitioner program that allows you to earn your degree as well as an FNP specialization that prepares you to sit for a certification exam. 
Complete clinicals.
To become a family nurse practitioner, you must meet clinical requirements. WGU helps students in certain states align their clinical needs so they can get the hands-on experience they need to be successful in their profession. 

Pass the certification exam.
After obtaining your degree, you'll need to get certified. There are certification exams available from the American Nurses' Credentialing Center and the American Academy of Nurse Practitioners. There are fees and an exam associated with either credentialing body. Passing your FNP certification exam and then obtaining your state-based license is the final step for becoming a nurse practitioner.
If you're interested in the role of a family nurse practitioner, WGU can be a great place to get on the educational path and pursue your dream. You will be well equipped to care for patients as an FNP with the help of our MSN FNP degree program.