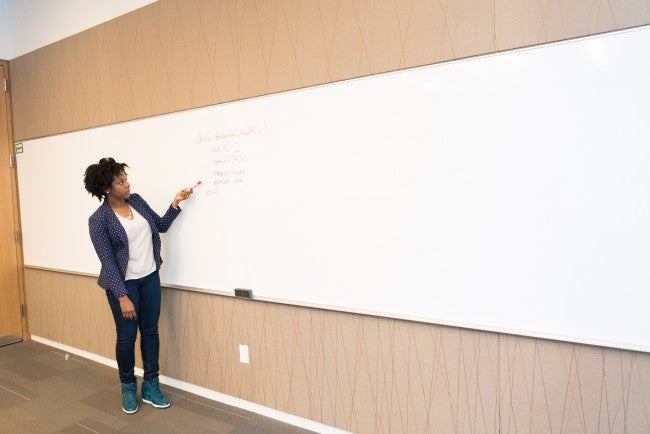 Should I become a teacher?
If you're asking yourself this, you may be one of the many people who feels the call to teach. You are wondering if you could make a difference, enjoy your days, and spend time helping students find a love of learning. You're absolutely not alone in feeling excited about the idea of working with students every day. Many students feel that desire to help students learn right away and pursue a degree that prepares them for teaching. However, some students may realize later that teaching is their true passion.
In fact, many people already have an undergraduate degree in a non-teaching field and are working in a different profession when they feel the call to become a teacher. If this is your situation, don't worry! There are several options for you to still pursue your passion for teaching. Becoming a licensed educator offers you a chance to make meaningful contributions to students' lives both in and out of the classroom. You can shape the course of the future for yourself and your students no matter what other education or profession you already have.
Learn more about the options to become a licensed teacher if you are thinking that education may be the right profession for you.
What is a post-baccalaureate certificate?
If you did your undergraduate program in a non-teaching field, a post-baccalaureate certificate is a way to prepare for a teaching certificate. The name post baccalaureate actually means "after the bachelor's degree" and this certificate is sometimes referred to as a post bacc. In this program you won't actually earn a degree, which is why it's called a certificate program. A post-baccalaureate certificate program is typically 20-30 total credit hours and can be anywhere from 5-8 courses. There are many college and university options for pursuing these certificates.
How to get a teaching license?
Each state has unique requirements for licensure, but these requirements are fairly similar across states. To begin with, you'll need to have an academic degree that prepares you for teaching certification. This is true in every state, and while there may be alternative routes to licensure, in most states earning an academic degree is key.
Additionally you may have to pass a background check and pass skills tests in your state. It's important to research what your state will require so you can be prepared.
There are a few different ways that you can pursue the education you'll need to become a teacher. The options include:
Earning a bachelor's degree that leads to teaching licensure. This is one of the most common ways to get a teaching license. These kinds of undergraduate programs give you critical coursework that help you be ready to manage a classroom and teach certain subjects. There are a wide variety of bachelor's degrees that prepare you for teaching licensure, from elementary education to high school math. Most universities and colleges offer bachelor's teaching degrees for students.

Earning a post baccalaureate teaching certificate. A post baccalaureate teaching certification is for students who already have a bachelor's degree in a non-teaching field. Students can take a few post-bacc program courses that will prepare them for a certain teaching certificate. A post-bacc program will also go over classroom management and go over the skills you'll need for the age/subject that you plan to teach. This can be a good option for some who want to become a certified teacher, but for many it can be a better option to directly pursue a master's degree. A post bacc certificate program can seem appealing, but for a similar amount of time and work, you can actually get a master's degree instead. This tends to look better on your resumé, can help you earn more money, and helps you stand out from the competition. WGU previously had a post-baccalaureate program for elementary education, but found that most students preferred to earn a Master of Teaching in Elementary Education instead. 

Earning a master's degree that leads to teaching certification. There are many master's degree programs that can help you be prepared for a teaching license. These master's degree programs are typically similar in length to a post baccalaureate program, but you will earn a higher degree instead of just a post baccalaureate certification. These programs will teach you about classroom management and their specific subject, preparing you for the classroom. Western Governors University is just one of the many schools that offer graduate-level teaching programs.
All three of these higher education options are great for those who want to become a teacher. Once you graduate from your degree or certification program, you'll need to take and pass a background check and then pass your state's skills test. Then, you'll be prepared for a teaching license.