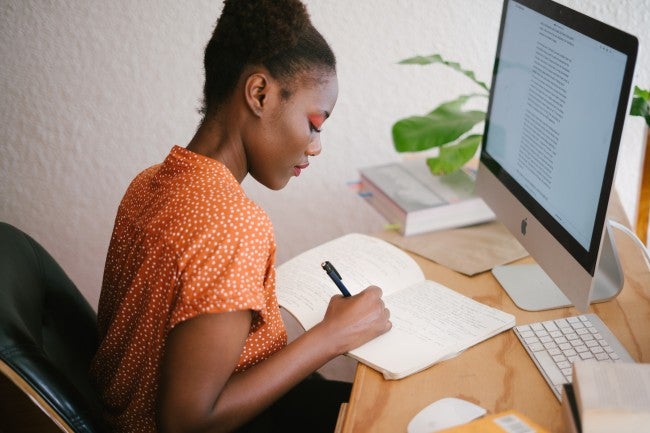 When can I start college? You're probably eager to get started once you've decided that higher education is the right path for you. When you choose online universities like WGU, you're likely to have a start date much sooner than a traditional school. But you still may have to wait months to begin, which can be quite a downer once you're ready to go. Terms are usually three or four months at other institutions, and you have to wait until a new term begins to enroll in courses and begin. But you usually have to apply for school months before that term beginning in order to be admitted in time. It's a bit complicated and important to get the timing just right, or you may miss your chance. Luckily, that's not the case at WGU.
WGU offers rolling start dates every single month. Once you apply and start working with an enrollment counselor you can start as soon as the 1st of the next month. This means you won't have months and months of waiting to begin, but can get started sooner than you thought possible! 
Our terms are six-months long and begin on the day you start, so for example if you started on March 1st, your term finishes on August 31st. You pay tuition for each six-month term, not per credit or per course. This means that you can start any time, and your tuition price will be the same. No matter how many courses you take in a given term, your tuition rate is exactly the same. This is highly beneficial, especially for students who move through courses and material quickly. The faster you go through your degree program, the less your overall cost will be.
Why can WGU offer start dates every month? It's simple. It's because we don't have classrooms or scheduled courses. You work on your courses independently, so you can begin and go through them at any time. Competency-based education allows you to go through courses as quickly as you can master the material. So you can also begin at any time. 
While WGU does have start dates on the 1st of every month, you'll need to be admitted before you can begin. There are admission requirements for every student, including:
Undergraduate admission requirements:
Have earned a high school diploma or GED.
Submit official transcripts of all prior academic work completed at community colleges, colleges, or universities you've attended, if applicable.
Meet any program-specific admissions requirements.
Graduate admission requirements:
Submit an official transcript verifying receipt of your bachelor's degree from a recognized, accredited institution. See Transferring for additional information about submission deadlines, etc.
Submit official transcripts for all prior college academic work completed, if applicable.
It's important to apply and talk to an enrollment counselor so you can figure out when your actual start date will be. Many students can apply and begin at the beginning of the following month, but sometimes transfer information or other delays can push you back one month. Your enrollment counselor will work closely with you to help you get started as soon as possible.
Get started on your educational journey sooner with WGU. Don't wait, talk yourself out of it, or get cold feet. Once you know you're ready to tackle higher education, you should get started. WGU helps ensure you can get going faster with start dates every single month.