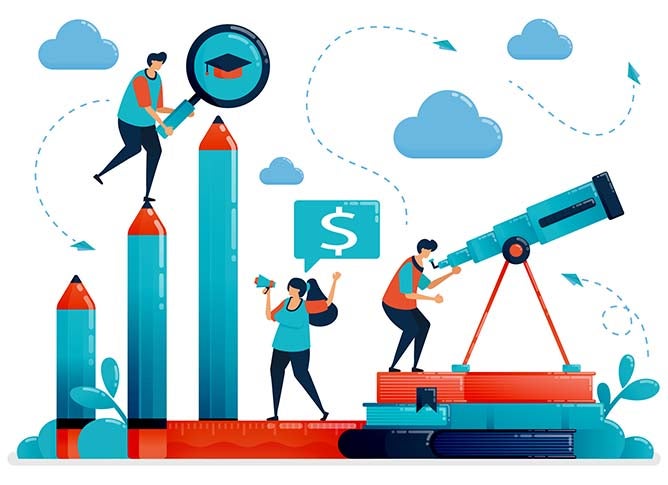 If you're wondering how you're going to pay for college, you're not alone.
According to the National Center for Education Statistics, nearly 72 percent of undergraduate students received some form of financial aid in the 2015–16 school year, whether via a grant or a loan or through a work-study program.
And when it comes to scholarships, there are myriad resources out there if you're searching for one—in fact, you might be surprised at what's available and how wide the variety of traditional and nontraditional scholarships actually is. Uncovering the hidden gems is just a matter of knowing where to look.
Further Reading: Going back to college when you have school debt.
Researching scholarships and completing applications takes time, but if you don't do the work, you won't get any reward. Let's dive into the world of less commonly known scholarship sources and see which ones you might qualify for.
State-level scholarships.
You might already know about national scholarships and the grant and loan opportunities provided through Federal Student Aid. What you might not have explored, however, are the scholarships available on the state level. Opportunities vary from one state to the next; you can find your state's educational contacts through the U.S. Department of Education's search tool, then request more information on state-level scholarship resources through those contacts.
Another tool is the U.S. Department of Labor's Scholarship Finder. Find the state you live in under the "Where You Live" heading on the page's left-hand column, then click on your state to access its list of opportunities.
To qualify for these scholarships, you might have to complete the Free Application for Federal Student Aid.
It's not all about online tools, though. Speak with experts about local and state-level scholarship opportunities—the best ones might just be in your own back yard.
"The absolute first place to visit for local scholarships is your school counselor's office or the school's website," Jan Smith, a financial literacy expert at the Educational Credit Management Corporation (ECMC), told the US News & World Report. "Many local businesses truly want to help out students in their hometown and will approach the school counselor for getting the word out about their scholarship."
Underserved groups.
Speaking of the ECMC, if you meet specific demographic, regional, financial, or other qualifications, then the nonprofit organization might be able to help you. The ECMC Foundation has partnered with several organizations to support underserved populations through scholarships, grants, pilot programs, and other initiatives.
Even if you're unsure whether you qualify as part of an underserved group, it's worth investigating what help is available to you. As the Nevada Policy Research Institute reports, concerns that scholarships only benefit the wealthy are unfounded. In fact, the institute found that individuals in financial need have a greater chance of receiving a scholarship.
You might also consider asking local religious or community organizations, civic groups, and businesses if they sponsor scholarships for college aspirants from underserved communities.
Professional and trade associations.
Professional and trade associations are another lesser-known source of scholarships. The available scholarship and grant opportunities present a compelling argument in favor of joining associations within your ideal career field—and so do the professional connections you could make.
One place to find niche associations is in the Groups tab on LinkedIn. Millions of professionals connect via the social network, but not all of them meet face to face. This might make it more difficult to build meaningful relationships, but it opens up opportunities beyond local networking events.
If you want to explore options closer to home, try searching within your state on the Directory of Associations, or turn to Google and search for scholarships in your field of interest.
Other noteworthy resources include the scholarships and awards pages of the Public Relations Student Society of America and the Library and Information Technology Association. As you can see, there's something for almost everyone in the great big world of financial aid!
Start now, but tread carefully.
You should be eager to get started by now. A word of caution, though: Always double-check your sources to make sure that scholarship opportunities are legitimate. According to the Wall Street Journal, the Federal Trade Commission received 725 consumer complaints about scholarships and educational grants in 2018. The Journal advises you to be wary if a purported scholarship resource requests money up front, asks for unnecessary personal information (such as your Social Security number or your credit card number), or uses hard-sell pressure tactics.
Through careful, persistent searching, you're bound to find a broad assortment of associations with scholarship, grant, and other financial aid resources. Your best scholarship opportunity is out there right now, waiting for you to take action.