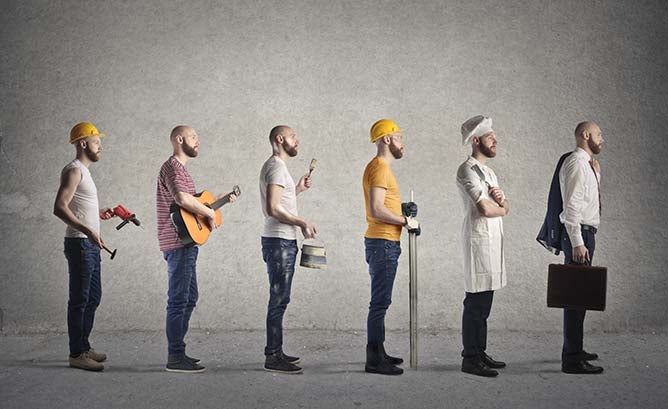 If you're considering changing careers, you're not alone. Many professionals—even seasoned veterans—have jumped from one career to another because they felt stagnant in their jobs, they were ready to move up the ladder, or they simply wanted a change of scenery. Pursuing higher education can help you successfully land that leap.
Changing careers requires time and could mean a substantial financial commitment, but it can often lead to a more lucrative or fulfilling career. Here are a few situations you might find yourself in that necessitate a career change—and how pursuing higher education can help.
You want better work-life balance.
If your current work situation doesn't give you enough time with the kids, your spouse, or your hobbies, it might be time for a change. Many jobs require you to work more than 40 hours a week, which can take you away from the things and people you love most. If you're a marketing executive working 70 hours a week, for example, finding another role in product or personnel management could give you the career fulfillment you desire—and let you be home by dinnertime every night.
Juggling work, school, and family is tough, but it's not impossible. To achieve optimal work-life balance while advancing or changing your career, consider going back to school when your kids are in school or after they've left the nest altogether. Consider, too, a program that's flexible enough so you can work, have a life, and acquire new skills and knowledge for your future career. Some programs offer competency-based coursework that allows you to learn at your own pace.
You want a different role.
Maybe you're not thinking about changing careers completely. Maybe you just want to step into a different role. You love your job and your workplace, but you're ready to take on more responsibilities or have big ideas on how to make the workplace better. Maybe you're a nursing manager who's been increasingly pulled into data analytics—and loved it. You might consider a switch to nursing informatics, a field that will allow you to leverage patient data to improve care.
Going back to school can help you gain the knowledge and experiential training you need to successfully switch roles. The skills you gain by pursuing higher education not only help you develop your career, but they also help your organization grow. That's why many employers offer tuition reimbursement to their employees. Before you submit your application, ask your HR rep about tuition assistance programs.
You want to follow your passion.
Sometimes professionals change careers because they feel stuck in or dispassionate about their current roles. Maybe you're a business manager who's always dreamed about being a nurse. Or maybe you're an IT technician who loves teaching. You can follow your passion no matter where you are in your career, and going back to school can help you switch careers.
It's never too late to follow your passion. CNBC recommends taking some steps before you dive in head first, though: it's a good idea to have some money in the bank and a support system in place, and it's wise, too, to test out your new role and maintain your old industry connections. Shadow a professional in your desired field, volunteer at related events, or network with professionals in your desired industry. Getting involved early can help you learn the ins and outs—and pros and cons—of your dream job.
Finding the right program.
Going back to school and changing careers can be scary. There's a lot to consider before you take the plunge. Forbes advises people who are thinking about going back to school to think about whether they have the time to make a change, how a career change will alter their career trajectory, and if it will yield a bigger paycheck.
Choosing an affordable school that allows you to work at your own pace and on your own time can help you keep from being overwhelmed while you work to bolster your career. Look for programs that offer the level of support that you need and a schedule that fits your other responsibilities. Ask schools what kind of financial aid they offer, how responsive their professors are to student requests, and—maybe most importantly—if their programs are fully accredited.
Changing careers or stepping into new responsibilities is simultaneously exciting, scary, and fulfilling. Make sure you're ready personally and financially and that you've thought long and hard about your future—then go find the program that's right for you.