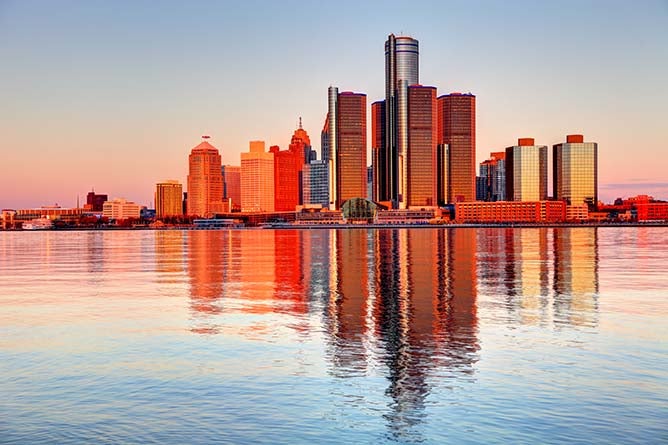 One constant in healthcare is the ebb and flow of available licensed nurses. As each class graduates from nursing school, new nurses are met with either a high demand fed by a hungry job market or they're left to hustle during a nursing surplus to find suitable first positions and begin their careers. Many American cities are currently in need of skilled nurses to fill gaps at medical facilities, and that opens up opportunities for new nursing school grads and experienced nurses to land rewarding jobs.
The demand for nurses in Michigan.
Detroit is experiencing a nursing shortage at a time when the city has an unemployment rate of 3.4 percent, according to the Bureau of Labor Statistics, but the shortage stretches statewide. A 2017 report by the U.S. Department of Health and Human Services and the Health Resources and Services Administration lists Michigan as one of the states currently experiencing a nursing shortage. The report notes there were 91,600 open nursing positions in Michigan in 2014, but it also predicts that supply will surpass the demand of nurses by 2030.
Further Reading: 5 unusual nursing careers.
The current shortage has several root causes. For instance, aging baby boomers need more care as they age, and care management needs are increasing for people living with chronic conditions. Perhaps more critically, fewer nurses are graduating from nursing schools. In Michigan, for example, more than 40 percent of working nurses are older than 55, the Michigan Annual Survey Data reports. When these nurses retire—and many of them will likely do so in the next decade—their positions will need to be filled immediately to maintain a high level of patient care. Despite this need, enrollment in BSN programs increased by only 3.7 percent in 2018, according to the American Association of Colleges of Nursing.
The state has been proactive in addressing the nursing shortage. Organizations such as the Michigan Nursing Action Coalition hold conferences, award grants, and lead webinars for nurses in an effort to improve the healthcare system with nurses at the center. They also advise medical facilities on new approaches to education, recruitment, and retention of nurses. By valuing nurses and their critical role in the healthcare system, these organizations help medical facilities fill open nursing positions and retain talented nurses.
The greatest nursing needs in Detroit.
With so many available positions and so many recruitment initiatives, Michigan is a great place to search for nursing positions. According to the Michigan Annual Survey Data, many industry sectors will see sharp spikes in demand for nurses, including insurance companies (30.2 percent), community health (29.6 percent), and home health (22.4 percent). As these nurses leave the workforce, these settings will experience a particularly strong need for nurses in the coming years.
But a search of the available nursing positions in Detroit listed on Indeed reveals that the need is widespread. Open positions appear for the operating room, in long-term care, on medical-surgical floors, in wound care, in management, in infection control, and many more.
Nurses in the Detroit metro area make good money, too. Glassdoor reports that the average salary for RNs in Detroit is around $59,000, but that figure can change depending on your employment setting and specialization. Home health nurses in Detroit, for example, earn about $69,000 a year, according to ZipRecruiter.
What the future holds.
The nursing shortage in Michigan is expected to course-correct over the next decade, so if you're hoping for a lucrative nursing position, now is the time to apply. Localities will rely on their initiatives to improve conditions to educate new nurses and retain those already in the field. For aspiring nurses, the options for obtaining a nursing education are more accessible and varied than ever before. It's a great time to become a nurse.