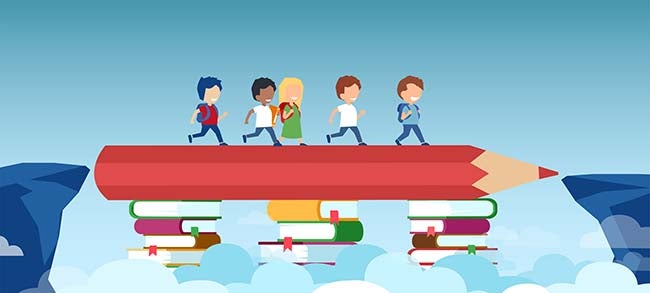 The shift to remote learning during the COVID-19 pandemic has revealed stark differences in education access among students across the socioeconomic strata. School systems and policy leaders will need to contend with the issue long after the pandemic has ended.
According to a September 2020 study from the RAND Corporation, teachers working in high-poverty areas are significantly more likely to report that their students don't have access to broadband service and digital devices at home. This digital divide not only makes remote teaching and learning challenging during the pandemic; it points to larger inequities in how students from the most vulnerable segments of society keep pace with their more privileged peers.
Technological challenges.
One in five educators in the RAND study reported technology-related challenges, such as a lack of high-speed connectivity in students' homes or families' unfamiliarity with using technology, during the pandemic that made teaching challenging. These problems were more likely to affect students from lower-income households.
"The biggest challenge [in shifting to remote learning] was not having all students engaged in learning," one teacher told researchers. "I had nine out of 22 students not participate due to language barriers, no access to working devices, tech issues, and no Wi-Fi access."
Finding solutions.
If there's a silver lining of the pandemic, it's that policy makers are now cognizant of the education access gaps that exist within their communities. To ensure that every student has equitable access to instruction in the short term, most school systems have supplied digital devices and other technologies for students to use when they're learning from home during the pandemic. In the RAND study, 78 percent of teachers said that their schools had provided students with devices, 73 percent had offered information to families on how to acquire internet access, and 45 percent had given students Wi-Fi hotspots.
However, finding long-term solutions to address what Pew Research calls the digital homework gap will be the big challenge for educators moving forward.
One policy-related action that might help would be for the Federal Communications Commission to lift the restrictions on using federal E-rate funding to extend broadband service into students' homes. The E-rate provides billions of dollars each year to bring high-speed connectivity to schools and libraries, but the program's rules currently prohibit schools from using their networks to provide home connectivity. The National Education Association is among the organizations calling to use E-rate funds to address the digital divide.
High-quality teaching matters, too.
Internet access is a good start, but as educator Kim Voge's experience reveals, equity is about more than just providing access to technology.
Voge left her elementary school classroom in 2020 to help start a fully virtual program for her district, the Placentia-Yorba Linda Unified School District in Orange County, California. Although her school system has issued Chromebooks and Wi-Fi hotspots to students who need them for remote learning, she says that some devices and internet connections cannot reliably support video and audio.
"Also, some families have many members on Wi-Fi at the same time, making a strong connection difficult," Voge said. "And, not all students have access to a quiet space to work. There may be siblings in the background. Most students prefer to keep their cameras off."
Voge and other experienced educators use a variety of instructional strategies as they try to reach all students, especially those for whom online remote learning is difficult.
"Adapting to distance learning and independent study has been a challenge for some," she says. "Our teachers create custom materials to meet the needs of the students in a variety of ways."
For instance, she says, teachers might design activities that can be completed online or offline so that students without a reliable internet connection or dedicated screen time can still complete their studies.
Closing the gap.
Closing the education access gap requires more than an internet connection and basic technologies. It requires highly skilled educators who can reach and engage their students and make instruction work effectively amid various circumstances—even after the pandemic.
A teaching degree that prepares educators for teaching in a wide range of environments and equips them with the skills needed to make learning universally accessible is another critical tool in making learning equitable for everyone.