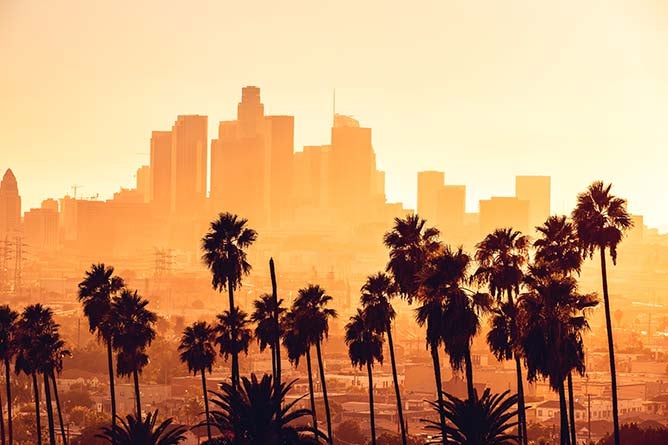 The United States is becoming more culturally diverse every year. As a result, more children and teenagers attending school have grown up speaking languages besides English, and often still primarily speak other languages in their homes. 
Many of these students need additional help to learn and speak English at school. These students are called English language learners (ELL) and often require additional teaching assistance so they can learn effectively. Pew Research reports that in 2015 there were 5 million ELL students in the United States, making them the fastest-growing student population in schools. Certain areas of the country have higher instances of ELL learners, and California has the highest number of English language learners in the U.S. 
ELL students make up 19 percent of the total enrollment in California public schools, which is more than twice the national average of 9.5 percent. Los Angeles is the largest city in California, and the second largest in the United States. Known for its diversity, L.A.'s population is roughly 50% Latinx, 11% Asian, and 10% African-American. 
L.A. currently has 74,000 teachers, and every year as more ELL students enter schools, more ELL teachers are needed to meet the demand. So, why has Los Angeles become such a hub for ELL jobs? The answer is clear—such a large city with a growing and diverse population demands more teachers who are qualified to help students who primarily speak other languages.
Because of this spike in job opportunities, California teachers may wonder how they can become qualified for ELL positions. Let's take a look at the qualities, education, and licensing you'll need in order to become an ELL teacher in L.A.
ELL job duties.
Teaching English-language learners requires an exceptional degree of patience, flexibility, and, most importantly, cultural sensitivity. Your classroom could see students from many countries, each with varying degrees of English fluency.
ELL teachers assess their students' English skills and tailor lesson plans to help their students learn the language. Like all teachers, they are responsible for developing comprehensive lesson plans, creating hands-on learning experiences, and working with the entire faculty to help students succeed. Because English instruction can be more intensive than other subjects, ELL classroom sizes might be slightly smaller than average (though, due to shortages of ELL teachers, this is by no means a guarantee).
Not all educational facilities have ELL program options. Some teachers travel between schools or school districts to help support English-language learners, and ELL teachers are often the bridge between students, parents, and schools.
There are many benefits to being an ELL teacher. Many teachers enjoy students who are eager to learn and grow in their education. Similarly, many parents are excited about the opportunity for their children to get an education and are involved in helping them succeed. Teachers are also surrounded with other cultures and traditions, and may find themselves learning a thing or two in their own classrooms.
Teaching ELL in Los Angeles.
Like any other teaching job, ELL jobs in Los Angeles require a bachelor's degree and a teaching certificate. In many cases, employers look for candidates with master's degrees in English language learning. Having a master's degree in English-language learning can give you a competitive edge in a growing market.
In a master's degree program, you'll learn about culture, language production, instruction methods, language and grammar theories, and more. These skills will all prepare you to teach students who are working to learn English, as well as other subjects.
In the state of California, teachers must have the correct certification in order to teach English language learners. There are several ways to obtain your certification in California, including a test, university coursework, or a combination of the two. When you apply to WGU's ELL program, you'll work with an Enrollment Counselor and Program Mentor who can help you understand the best way to obtain your license at the end of your program. 
If you're passionate about education and about helping students learn in the best environment possible, a job as an ELL teacher could be the right fit for you. Take advantage of the growth of ELL teachers in L.A. and seize the opportunity to get your master's degree online at WGU.