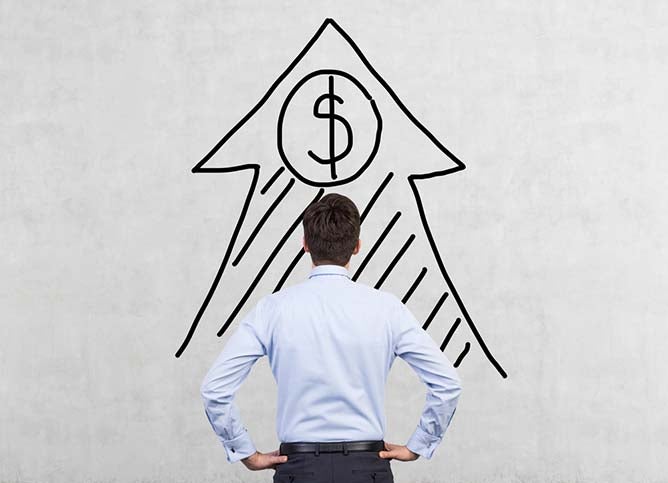 Compare pre- and post-MBA income, and there's no question: earning an MBA makes a big difference.
The Bureau of Labor Statistics notes that people in business-related jobs, even those who only hold bachelor's degrees, earn more than the average worker. An MBA could boost your salary into the stratosphere. The National Association of Colleges and Employers Salary Survey of the Class of 2019 predicts that MBA holders will earn $27,000 more than people with business-related bachelor's degrees in 2019. What's more, the $84,580 expected average salary is an 8 percent uptick from what MBA holders earned in 2018.
Let's take a look at how an MBA affects several business career salaries.
Financial director or manager.
Are you a data analysis whiz who excels at market trend research? If so, you might thrive as a financial manager. Financial managers provide advice about investment decisions, insurance options, and other financial products to businesses. They also manage accounting teams and ensure that businesses comply with local and federal financial regulations.
In addition to high salary potential, the job outlook for financial managers is good, according to the Bureau of Labor Statistics, which foresees 16 percent job growth by 2028. PayScale's MBA Paths and Their Payout report notes that bachelor's-prepared financial directors earn an average of around $104,000 a year, while financial managers with an MBA usually make around $137,000 a year.
Marketing director.
The ability to identify in-demand products and services based on industry trends is critical for marketing managers, but having a creative mind is also helpful, as marketing directors and managers also devise marketing strategies. Marketing managers need strong interpersonal skills because they work with product development staff, sales departments, and public relations teams.
While the projected job growth for marketing managers isn't as high as it is for financial managers, a projected growth of 8 percent by 2028, per the Bureau of Labor Statistics, is still faster than average. According to PayScale, the difference between a marketing director's pre-MBA average annual salary (around $101,000) and their post-MBA average salary (about $132,000) is an impressive 31 percent.
Human resources manager.
Human resources (HR) managers have many responsibilities. They oversee the administrative side of a business or organization; they hire employees, manage benefit programs, and handle disciplinary issues. Regulatory compliance is a major part of the job, meaning HR managers have to stay abreast of current employment laws and procedures.
You only need a bachelor's degree to be an HR manager, but earning an MBA can bump your salary 12 percent, from around $89,100 to around $99,900, PayScale says. An MBA can also make you more attractive to employers, the Bureau of Labor Statistics says.
IT director.
It'll come as no surprise that the market for IT directors looks strong, given that technology forms the backbone of nearly every modern business. And someone has to coordinate and manage information systems when digital platforms are on the rise.
IT directors handle the technical and strategic elements of a business's technology plans, so they must have a background in business communications, management, and information technology. While IT managers need a bachelor's degree in IT or a related field, an MBA program provides the business and leadership skills prized by the people who make hiring decisions.
Having an MBA can also lead to an impressive boost in salary. PayScale notes that bachelor's-prepared IT directors average around $119,000 a year, while those with an MBA make around $133,000, a 12 percent difference.
Having an MBA can not only make it easier to find a job, but it can also put more money in your pocket. By pursuing an MBA at a flexible, affordable online university, you could gain the skills you need to advance your career—and your earning potential.