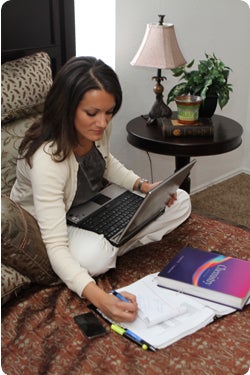 The success of earning an accredited degree online depends on clear and concise communication. For most degrees, this communication takes form in the task of writing. Correct composition is an important aspect of conveying your understanding of course material. Read on to learn more about putting your thoughts on paper.
The standard form of essay composition is the Five Paragraph Model. This type of composition allows you to introduce your topic, provide supporting information, and conclude your findings with a persuasive summation. While it is intended for five paragraphs, the body of the essay can always be lengthier to suit additional information. Below is a breakdown of each paragraph and what should be included:
Your first paragraph should grab the reader by providing an interesting fact or statement about your topic. For example, if you were writing about the U.S. wedding business, you might begin your essay with a "hook statement" such as, "The average American wedding costs $20,000 or more. In 2010, 2.3 million U.S. couples contributed $72 billion to the wedding industry."  In addition to your opening statement, your introduction should contain your thesis (e.g., engaged couples spend a large percentage of their incomes on wedding plans), an outline of what is included, and a smooth transition into the first paragraph of the Body.
The Body of your essay consists of three paragraphs of information to support your thesis. Each paragraph should introduce a new example, beginning in Paragraph 2 with the most significant point, and ending in Paragraph 4 with the least significant. Each paragraph should include the following:
A "reverse hook" statement tying it to the previous paragraph
A strong example with supporting evidence
A clear link to your thesis statement
An ending "hook statement" to transition into the next paragraph
Your Conclusion serves as an opportunity to summarize your points and reassert your thesis. Make sure to include the following:
A rhythm similar to your introduction that restates your thesis with similar (but not identical) language.
A summary of your three main points, usually no more than 2-3 sentences.
A final statement that leaves the reader with your overall findings and a feeling of empirical closure.
While composing your essay, avoid these common mistakes:
Passive voice and filler words (e.g., "I prefer language to be concise" becomes "I prefer concise language")
Veering off topic or leading away from your thesis
Restating the same facts to support each point
Forgetting to link paragraphs with "hook statements"
While the process of writing may not come easily, following an outline like the one above is a step toward conveying a purposeful message for your online university courses. Keep practicing and your writing style will come naturally.