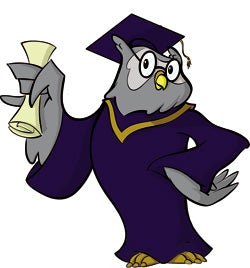 Like most online university students, our new mascot is a night owl. But while he spends his nights seeking prey and hooty-hooing in spooky old trees and barns, WGU students are often up late for another reason: They're up studying, doing household chores, finishing up a big work project, doing volunteer work… You get the idea.
Our new mascot understands. He's just like WGU's students: hard-working, wise, patient, and persistent – a perfect new addition to the WGU community. We'd ask you to welcome him to the university, but there's one thing missing: He doesn't have a name yet.
That's where you come in. We received dozens of suggested names from students, staff, alumni, and others, and we've narrowed it down to 19. Let us know what you think: Vote for your three favorite names by June 13.
In selecting this image, we looked at dozens of designs from students, alumni, staff members, and professional designers. After many revisions, we chose a design that was more "human" and friendly, knowing that our mascot will not be used as sports mascot. This mascot will not replace our logo – he is meant to be whimsical and fun. What do you think?