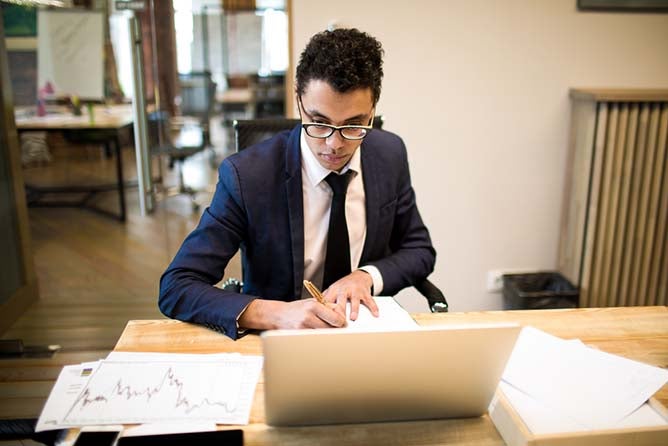 Bankers assist clients with various tasks, such as online payments, in-person withdrawals, and loan recommendations. Bankers often have degrees in business management, finance, economics, or mathematics and can begin their career after graduating with a bachelor's. 
There are several career paths within banking including investment banking, personal banking, wealth management, and bank management.
Primarily, bankers assist with transactions, deposits, and investments. However, depending on the type of banker, their day-to-day responsibilities will vary. There are three main types of bankers: personal bankers, commercial bankers, and investment bankers.  
Personal bankers often work in small retail banking branches and assist clients with their financial requirements. The responsibilities of a personal banker include: 
Opening checking and savings accounts.
Connecting clients with mortgage and auto loans. 

Helping clients with banking investments. 

Resolving customer concerns. 

Offering ancillary products to account holders. 

Selling Roth IRAs and traditional IRAs. 

Assisting clients with retirement and college planning. 
Commercial bankers work at larger banking institutions and often have more room for growth. Commercial banks can offer larger loans to clients, making commercial banks a more profitable option to larger companies. The responsibilities of a commercial banker include: 
All responsibilities listed for a personal banker. 
Working with large companies to sell loans. 

Evaluating risk levels when accepting large deposits. 
Investment bankers work with banks to help clients reach their financial goals by issuing debt and selling equity. Their responsibilities include: 
Issuing debt and selling bonds. 
Researching market conditions.

Implementing financial plans. 

Searching for new business opportunities.

Negotiating new financial deals with clients.
Whether working in personal, commercial, or investment positions, the main goal of bankers is to meet the financial goals of customers and clients while protecting the interests of the bank.
What Certifications Does a Banker Need?
Employers in retail and commercial banking don't typically require certification; however, earning certifications may prove to employers that you have the necessary skills for the job. Retail bankers may consider earning a Certified Retail Banking Professional (CRBP) from the American Association for Investment and Financial Management (AAIFM).  
The CRBP demonstrates that candidates have mastered retail management skills, the code of ethics, and are committed to AAIFM core values.
Investment bankers are required to have certifications to prove they can handle heavy workloads and understand the intricacies of markets, risk, financial modeling, and accounting.
Certifications for investment bankers include: 
Financial Industry Regulatory Authority (FINRA): Candidates must register with FINRA to work within a brokerage firm. After registering, candidates are also required to take several tests to prove they are qualified. 
Chartered Financial Analyst (CFA): The CFA is a finance certification offered through the Chartered Financial Analyst Institute.  

Financial Risk Manager (FRM): The FRM certification is a course that certifies that individuals are capable of assessing risk management and quantitative analysis. 

Financial Modeling Certification (FMVA): The Financial Modeling and Valuation Analyst certification is a finance certification that ensures individuals can interpret financial accounts and assist clients in financial decisions. 
Those interested in investment banking will also need to pass several exams: 
Series 79 exam: Also known as the Investment Banking Representative Exam, the Series 79 exam tests the competency of registered representatives. 
Securities Industry Essential (SIE) exam: The SIE exam is a FINRA exam that tests the candidates' knowledge of basic security information and procedures. 
Those interested in banking can take additional certification courses and exams as needed to prove their skills to their employer. 
What Education Does a Banker Need?
Most bankers need to receive a college degree. You may be able to work as a banker with just a high school diploma by applying for an internship program, but advancement opportunities and access to management or leadership positions will typically require a university degree in a relevant field. 
The most common degrees for bankers include:
Two-year associate degree in banking; 
Those interested in banking positions with higher salaries, such as investment banking, will need to pursue a master of business administration degree. Earning a degree in business management or business administration will also help you prepare for management promotions within a banking institution.
Business Management – B.S. Business Administration
Hone your business acumen and garner added respect:...
Hone your business acumen and garner added...
Hone your business acumen and garner added respect:
Time: 70% of graduates finish within 41 months.
Tuition and fees: $3,720 per 6-month term.
Sample careers and jobs this business degree will prepare you for:

Account executive
Business analyst
Program manager
Director or senior director
Vice president
This online degree program is an excellent choice for kick-starting your organizational management career.

College of Business
Master of Business Administration
The flexible MBA program you need, focused on business...
The flexible MBA program you need, focused on...
The flexible MBA program you need, focused on business management, strategy, and leading teams:
Time: Graduates can finish in 12 months.
Tuition and fees: $4,675 per 6-month term.
Sample careers and jobs this business degree will prepare you for:

President and CEO
Vice president
Executive director
Chief strategic officer
Our competency-based model gives you an innovative learning experience you won't find anywhere else—and our MBA grads tell us they loved accelerating their program to see a faster ROI.
College of Business
---
Our Online University Degree Programs Start on the First of Every Month, All Year Long
No need to wait for spring or fall semester. It's back-to-school time at WGU year-round. Get started by talking to an Enrollment Counselor today, and you'll be on your way to realizing your dream of a bachelor's or master's degree—sooner than you might think!

---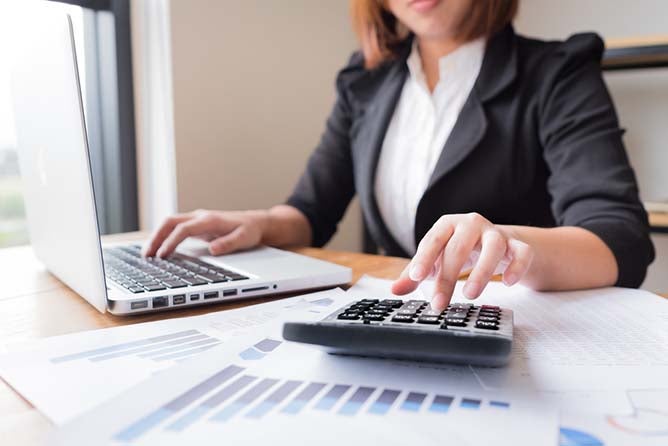 What Skills Does a Banker Need?
Bankers will need myriad skills to help them communicate with clients, navigate finances, and stay organized. Some of the most essential skills include: 
Microsoft Office. Bankers must have the skills to use Excel and PowerPoint regularly.
Sales experience. Many employers prefer bankers to have sales experience to better sell bank products and services to new and existing clients. 

Numerical skills. Bankers need to calculate APR rates and other finance-related math equations quickly.

Time management. Investment bankers are infamous for working 15-hour days. They need to be adept at managing their time. 

Communication. Bankers communicate with clients, customers, and coworkers regularly to ensure that all processes are working smoothly. 
How Much Does a Banker Make?
$32,620
According to the U.S. Bureau of Labor Statistics (BLS), a bank teller's salary is $32,620 a year, or $14.68 an hour. Positions as bank tellers are often entry positions and can advance their careers through promotions. The top 10% of bank tellers earn $41,220 and the lowest 10% earned $24,660 in 2020. 
Investment bankers can earn over $100,00 a year but work over 100 hours per week. On average, they make between $25 and $35 an hour. 
Location, skill level, and experience may influence a banker's salary. 
What Is the Projected Job Outlook?
5%
According to BLS, the job outlook for bank tellers is expected to decline by 15% by 2029.  Bank tellers traditionally work on-site and help those who enter the location for in-person advice. As more banks open online services and mobile app payment options, the demand for bank tellers and on-site bankers will continue to decline. 
BLS suggests that the job outlook for business and financial occupations as a whole (which includes many banking careers) is expected to grow by 5% by 2021, adding 476,200 new jobs. 
Bankers can also enroll in certification courses to ensure they have the necessary skills needed to enter the banking industry.
Where Do Bankers Work?
Varies
Bankers can work in several different types of banking institutions including retail, commercial, investment, private, central, online, or mutual banks.
Each institution will have different requirements for bankers to join their teams. For example, investment banks prefer candidates with MBAs to ensure that the employees have an in-depth understanding of how businesses run. In comparison, a banker working in a retail bank may only need a bachelor's degree in a related field.