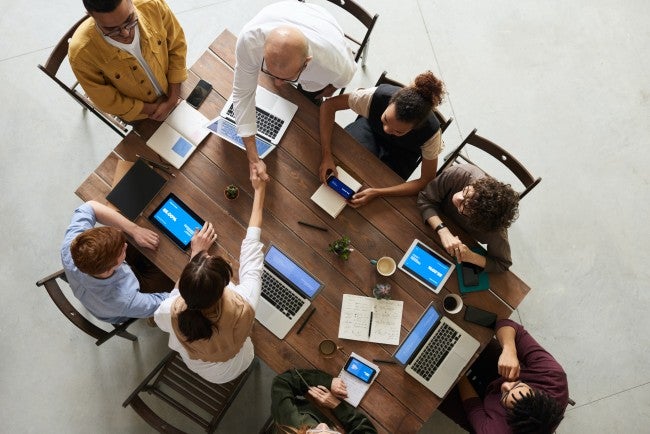 For many students, a bachelor's degree in business management is exactly what they need to propel their career forward and take it to the next level. A business management degree gives students an overview of all different areas of business including accounting, operations, marketing, human resources, and more. Business management coursework focuses on giving students an understanding and experience in the overarching areas of business that will be important for their career. 
But many students wonder exactly what kind of careers they can pursue with a bachelor's degree in business management. It's important to understand your career options before you graduate with a bachelor's degree so you know what you are ultimately aiming for.
What is Business Management?
Business management is a broad term that refers to the discipline of managing the operations of or within a business. While it's difficult to give an exact business management definition, it generally entails coordinating and organizing general or specific business activities to help the organization thrive. It's not uncommon for a business manager to have several direct reports who manage specific areas of the business. 
Someone working in business management can oversee activities ranging from strategic and financial planning to production, resource management, and marketing. They can also work in specific fields or areas of a business. For instance, one business management professional might work in manufacturing while another may be in charge of all finances. Regardless of title or focus area, everything a person in business management does has the objective of helping the business succeed. It should also be noted that in business management, a good manager strives not only to help the business, but also support the employees responsible for building it.

What is a Business Management Degree?
Business management is a versatile degree program pathway that can prepare you for a wide variety of industries. Every industry and every company utilizes best business practices to run smoothly, so with a business management degree you can work in almost any industry.
What Industries Can You Work in With a Business Management Degree?
Some popular industries for business management include:
Finance
Healthcare operations
Manufacturing
Retail
Nonprofit
Government
Private companies
With this degree program, the door is wide open for you. You can choose the industry and position you are passionate about, and utilize your knowledge of business practices to help advance your career and create growth for a company. 
Can a Business Management Degree Set You Apart When Looking for Jobs?
Employers highly value bachelor's degree graduates when searching for employees, and many employment opportunities today will require at least a bachelor's degree in order to be qualified. Whatever industry you're interested in, employers and executives can see great value in a business management bachelor's degree program graduate.
What Careers Can You Pursue with a Business Management Degree?
While a bachelor's degree in business management can help you progress your career on many different paths, there are some popular options that many graduates gravitate toward with this degree. Some of the best and most popular business management careers include:
A degree in business management can help prepare you to be a sales representative or even a sales manager. Sales representatives work directly with clients to sell them services or products, and then often manage that relationship to help meet their needs. Millions of companies have sales representatives that focus on getting their product or service out there. Some sales representatives directly sell a product, like cars or furniture. Other sales representatives sell software programs or consultation services. And other sales representatives may sell more abstract services like ad space on a website or sponsorship opportunities. 
Sales representatives utilize their business management degree to understand finance, marketing, and business strategy. This degree and what they learn in their courses helps them make connections and talk expertly about their product, how their business is performing, and more. 
What is the Salary for a Sales Representative?
The average yearly salary for a sales representative in 2021 is about $57,000, but that number can vary greatly. The size of the company you work for, the product or service you are selling, and the commission you can make off of sales all directly impact how much you can earn. Having a higher education degree can also help you earn more money as a sales representative. It's expected that by 2028, over 20,000 more sales representative jobs will open up in the United States. If you're pursuing a business management degree, a career in sales could be a great path for you to follow. Your coursework will give you experience in finance, accounting, and marketing which can help you as a sales employee.
A business operations manager is responsible for all of the ins and outs of how an organization runs. They An operations manager look at all the systems and processes and help evaluate the best way to do them. They look for efficient solutions, create organization within a company, and oversee how everything works together. For example, in a manufacturing company the operations manager will look at the schedule for workers, the process for creating products, the organization system for storage and delivery, and help ensure that all of these processes run smoothly. They may help research and introduce a new scheduling system for workers and organize the best way for all the work to get done efficiently. 
What is the Salary for an Operations Manager?
The median yearly salary for an operations manager in 2021 is around $106,933, but can range from $78,000 to $129,000 or more. Your salary level will largely depend on the size of the organization you work for and the complexity of their system. Your title will also impact how much you can earn. There are business operation specialists up to the Chief Operating Officer, and the different titles in between all have different salary levels. This field is expected to grow about 7% by 2028, a bit faster than the national average for job growth. A business management degree can be a great tool to help you be prepared for this exciting career path. A business degree will give you extensive experience in accounting, finance, operations, and strategy which will be important for your employment.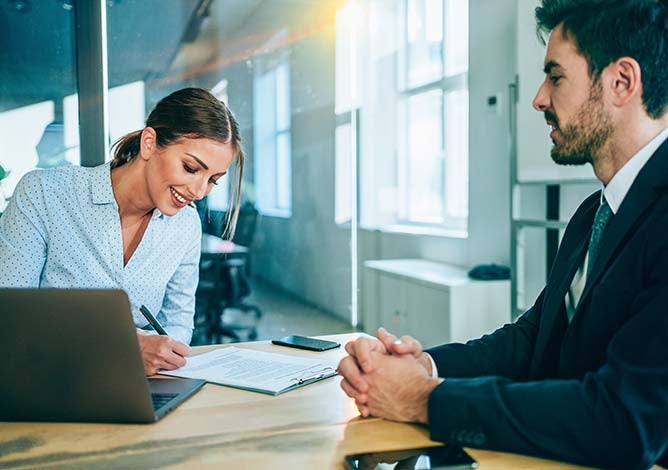 There are many careers within banking that can be a good fit for business management degree graduates. Investment banking, personal banking, wealth management, and even bank management are all great paths for those with a business management degree. Bankers can work for large investment firms or for personal banks that businesses and individuals use. Personal bankers work with clients on their investments, financial needs, mortgage and auto loans, and more. Conversely, commercial bankers are in charge of helping businesses set up their accounts, get loans, manage their funds, and more. Investment bankers help large companies raise capital and follow regulations with their money. They look at the best ways to invest and help organizations do so in a financially sound way, for a fee. All of these kinds of banking career paths are available if you have a degree in business management. 
What is the Salary for a Banker?
The kind of banking you choose to do will greatly impact your salary level. As of 2020, personal bankers or tellers make an average of $32,620 per year according to the BLS. Commercial bankers earn an average salary of around $91,000 per year, and investment bankers earn more than $101,000 per year. This greatly depends on where you work, the kinds of clients you handle, and more. Your degree can help you earn more money as well. The BLS says that financial services jobs like banking are expected to grow 4% by 2030, about as fast as the national average. Business management programs focus on accounting and finance, both of which will be crucial in helping you prepare for a banking career.
Financial advisors help individuals learn about their investment, insurance, and retirement options. They often work for independent organizations to help clients learn about their investment options, insurance policies, and more. They take money from clients and help them invest it in mutual funds, CDs, stock market purchases, and more. They give regular reports and updates to clients about how their money and accounts are performing. They're responsible for researching good investment opportunities, helping explain insurance and retirement options to clients, and more. 
What is the Salary for a Financial Advisor?
The average salary for financial advisors in 2021 is around $60,000 per year, with the top 10% of the profession making more than  $111,000 per year. Financial advisors often work on commission, so their salary level will depend on the number of clients they have. The profession is expected to grow 7% by 2028, a bit faster than the national average. A business management career is ideal for financial advisors because it will help them learn about finances, as well as give them strategies for finding new clients and connecting with them. Accounting, economics, and finance courses in a business management bachelor's degree program can help you be prepared for this career.
Managers are tasked with maintaining organization and efficiency inside a company. Managers often hire and train new employees, plan schedules, give reports and presentations to higher executives to show how a company is performing, plan team meetings to increase morale and productivity, and create and maintain budgets for the organization. Managers may be over a specific area or team or may have broad scope into a branch or region. Managers are needed for hierarchical structure in every industry, so any field you are interested in may have opportunities for management. 
What is the Salary for a Manager?
Managers make an average annual salary of ​​$109,760, according to the BLS, but this can vary. Your level of education, the number of people you manage, and the size of your organization will all impact your salary level. Managers are always needed in organizations, so the job outlook for this field is good. If you want to be a manager, it's important to find a field you're passionate about and gain some experience so you can work your way up. 

A business management degree is a great place to start on your career path, but you may also need to get a master's degree in management or business administration to be more qualified to lead a team. In order to be an effective manager, completing coursework in marketing, human resources, strategy, and operations can be beneficial.
If you're thinking about pursuing a business management degree, there are many exciting career paths you can follow after graduation. A business management degree gives you the legitimacy, skills, and credentials that you need to succeed in your job. A business management degree is a perfect option for students hoping to work in diverse industries and fields, giving them a business understanding that they will need to be successful. .