College Professor Career Guide
How to Become a College Professor
Professors, also known as postsecondary academic instructors, are experts in their specific academic subject or field. They are the highest-ranking teachers at a university, professional school, junior or community college, or career or vocational school. 
While some professors teach large classrooms of several hundred students made up of many different ages and backgrounds, others instruct much smaller classes between 30 and 40 students. Professors also frequently conduct seminars consisting of just a few students, along with subject-specific laboratories.
In addition to teaching, tenured professors (those hired by a university full-time and who cannot be fired without just cause) also conduct research, publish scholarly articles and books, and write critical reviews about their chosen field. This is compared to adjunct professors (those who teach part-time and do not have tenure), which spend most of their time teaching students.
To remain up-to-date on developments in their field, tenured and non-tenured professors typically read scholarly publications, communicate with their colleagues, and attend professional conferences.
With such a positive job outlook over the next ten years, a career as a professor might be right up your alley.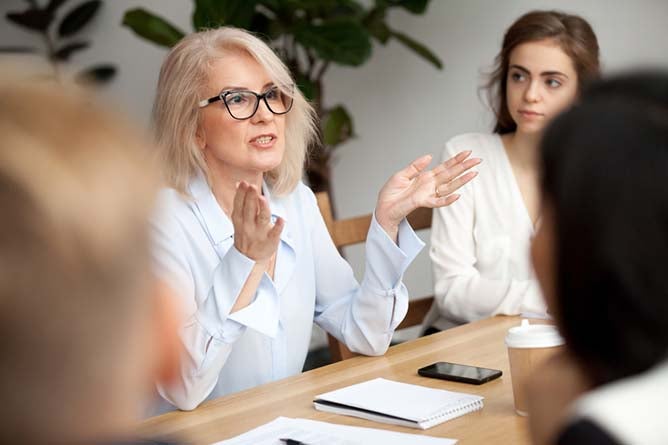 What Are The Responsibilities of a Professor?
Some of the day-to-day responsibilities for professors include:
Teaching courses — Even within their chosen field, professors may teach a variety of subjects. For example, a math professor might teach courses in algebra, calculus, statistics, geometry, and differential equations.
Helping students increase their knowledge — Professors help their students improve their career skills and achieve their degree, certificate, or certification. They also grade papers and tests, assess each student's progress, and advise students about which classes they should take based on their educational goals.

Developing curriculum — Professors create and implement different instructional plans (also frequently referred to as course outlines or syllabi) for students' areas of study, which must meet the department and college's standards. Part of this also involves planning different lessons and assignments.
Researching — This means conducting experiments to stay on top of innovations and advancing knowledge in their field. This also involves publishing original research in books and academic journals.

Supervising graduate students — If a graduate student is pursuing a doctoral degree, professors help make sure they're on track.

Serving on committees — These committees review and recommend policies (including budgetary items) and help make recommendations for hiring and promotion decisions within their department.
Compared to professors, teachers can work outside university settings, including elementary, junior high, and high school settings. Teachers are also only required to have a bachelor's or master's degree and focus on providing students with the foundational knowledge they'll need to pursue a postsecondary degree, depending on where they teach. Comparatively, most professors need a Ph.D. in their field.
What Are The Differences Between a Professor and a Lecturer?
Although lecturers and professors work in similar settings teaching postsecondary students, they typically have several different responsibilities and daily tasks. Typical lecturer duties include:
Teaching a single course via classes, seminars, and lectures, versus a wide variety of courses taught by tenured professors.
Using their (often significant) career experience to help students learn.

Creating course syllabi.

Outlining class structure.

Contributing to the development of the department to which they belong.

Advising students about not only their education but also on a professional level. 
Lecturers also generally have primary careers outside the classroom and teach on a part-time basis. However, some lecturers may work full-time at different learning institutions. 
If you're a lecturer who wants to eventually have a career as a full-time, tenured professor who teaches many different subjects, you'll likely need a Ph.D. in your field while working part-time for several years.
What Is an Adjunct Professor?
For the most part, adjunct professors — also known as contract, contingent, and non-tenured professors — are hired by colleges and universities on a part-time, contractual basis. Compared to tenured professors, who cannot be fired without just cause, such as incompetence, insubordination, fraud, or the abuse of other school guidelines and rules, adjunct professors can be let go at any time and for just about any reason.
On the other hand, while adjunct professors teach many of the same courses as full-time professors, they're often not required to perform as much academic research. Adjunct professors are also often paid less than full-time professors. Still, some benefits may outweigh their lower pay, such as not having to: 
Publish their research findings in academic journals and books.
Serve on committees.

Oversee doctoral students.
Today in the U.S., adjunct professors outnumber tenured professors in higher education. With these details in mind, this guide focuses on the pathway to becoming a full-time, tenured professor.
What Education Does a Professor Need?
Educational requirements for professors can vary by state and institution. With this said, if you want to teach part-time as an adjunct professor at a community college, you might only need to obtain your master's degree, along with significant career experience. 
On the other hand, if you'd like to teach at a four-year university or college and follow a tenure track, you'll likely need a Ph.D. to work as a professor. These requirements are in addition to relevant certifications and licensing, many of which involve additional instruction and testing.
These education options can help give you the skills you'll need to become a successful professor. They can:
Establish yourself as an expert and a leader in your field.
Help you match your education with your real-world experiences.

Provide you with the skill set you need to design a curriculum and instruct a class.

Allow you to grow as an effective, innovative teacher.

Allow you to create engaging, meaningful, and memorable courses.
With these details in mind, let's dive in and take a closer look at the skills you'll need to become a successful professor.
Best Degree for College Professors
Educational Leadership – M.S.
An online master's degree for current teachers looking to move...
An online master's degree for current teachers...
An online master's degree for current teachers looking to move into a school or district leadership position, like principal, vice principal, or administrator.
Time: 73% of grads earned this degree within 24 months.
Tuition and fees: $3,935 per 6-month term.
Coursework in this program includes:

Process management
Strategic planning
Performance excellence
Governance, finance, law, and leadership
Measurement, analysis, and knowledge management
Workforce focus
Other courses, including a capstone project and a series of performance tasks to take place under the leadership of a practicing state licensed school principal or assistant principal in a practicum school site (K–12). 
Put your leadership skills to good use—in the service of America's children—with this education master's degree. 
States that do not accept this program: Alabama, Connecticut, Georgia, Hawaii, Iowa, Kansas, and Minnesota.
Teachers College
---
Our Online University Degree Programs Start on the First of Every Month, All Year Long
No need to wait for spring or fall semester. It's back-to-school time at WGU year-round. Get started by talking to an Enrollment Counselor today, and you'll be on your way to realizing your dream of a bachelor's or master's degree—sooner than you might think!

---
What Skills Does a Professor Need?
Some of the core skills you'll need to successfully work as a professor include:
High knowledge level — To ensure students receive the education they need to pursue their fields of study, professors need to have intimate knowledge of their subject matter.
Verbal and communication skills — Professors are responsible for imparting crucial knowledge and skills to their students, which requires excellent verbal skills and the ability to communicate effectively.

Organization — Between instructing students, coming up with course materials, researching, and staying abreast of recent changes in their field, professors must have solid organization skills to remain on track.

Positive personality traits — To become a successful professor, you'll need to be self-confident, enthusiastic about your field of study, and have a willingness to help students succeed.

Interactive skills — Professors interact with a wide variety of individuals daily, including other students and faculty.

Flexibility — As a professor, you'll need to effectively communicate with students who have a wide range of learning styles and be open to different approaches.
Commitment — Professors need commitment to their students, including a sincere desire to teach, doing what needs to be done to help them obtain their degree, and the ability to accept criticism and implement changes accordingly.
How Much Does a Professor Make?
$80,790
The U.S. Bureau of Labor and Statistics (BLS) reports that the 2020 median pay for professors is $80,790 per year. 
Some of the factors that can influence how much a professor earns include: 
-Your level of education (master's versus Ph.D.)
-Which subjects you instruct
-Whether you're adjunct or tenured
-If you work at a community college or a four-year university
-If you work at a public or private university
-Years of relevant job experience
What Is the Projected Job Growth?
9%
According to the BLS, the job outlook for professors and postsecondary teachers is positive. Between 2019 and 2029, the field is expected to grow by 9%, which is much faster than average and translates into an additional 121,500 jobs. Factors driving this change include:
-An increase in students pursuing higher education
-State and local government budgets
-An increased number of open positions for part-time, rather than full-time, professors
Where Do Professors Work?
Universities
Professors can work in public or private universities to teach students at the college level. They may work for community colleges, online colleges, or other trade schools as well. Being a professor doesn't mean you are only able to teach in traditional classrooms—there may be opportunities for you to take your teaching passion and instruct students in unique ways