Instructional Technology Specialist Career
How to Become a Instructional Technology Specialist
It's safe to say that technology in the classroom is no longer a trend; it's become the new normal. In fact, about 65% of educators say they rely on digital learning tools—like online textbooks, interactive whiteboards, and computer-based testing—to teach every day.   
Instructional technology is the byproduct of this shift. As the name suggests, instructional technology refers to technology used for education. The goal of instructional technology is to provide solutions and training to improve learning through digital tools. Instructional technology specialists support this goal by working with teachers and administrators to integrate technology in schools.

As schools continue to utilize technology for teaching, this job will be in high demand for the foreseeable future. If a career in shaping student learning is something you're after, then read on to learn how to become an instructional technology specialist. 
What Is an Instructional Technology Specialist?
Also known as educational technology specialists, instructional technology specialists are well versed in technology and skilled in teaching. A big part of their job is to connect students and educators with the right digital resources so that they have better learning experiences. 
Instructional technologists are constantly on the lookout for the latest tech tools that can support educational success. They also train teachers and school administrators on how to use technology in the learning process.   
 
As an instructional technology specialist, you can work virtually anywhere learning happens, including elementary, middle, and secondary schools; colleges or universities; government agencies; or corporations.
What Does an Instructional Technology Specialist Do?
Instructional technology specialists have a hand in researching, implementing, and maintaining educational technology for all types of learning settings. They often work alongside school administrators and instructional coordinators in curriculum design to introduce new technologies for classroom instruction—or to tweak existing ones.   
To give you an idea of what an instructional technology specialist does, here's a glimpse into what your day-to-day might look like in this role:
Developing computer training materials and teaching educators how to set up and use computer applications and technologies. 
Gathering and interpreting information about the effectiveness of a program and providing input in the program evaluation.

Identifying new hardware and software programs that could benefit specific learning environments.

Troubleshooting issues with hardware or software applications. 

Supporting the use of computers in classrooms.

Acting as a liaison between local, state, and federal agencies.

Auditing a school's current technology to find opportunities for improvement.

Communicating with school representatives about the benefits of specific technologies over others.

Collaborating with school representatives and IT team members.

Updating platforms and devices to meet changing student and educator needs.
How Do I Become an Instructional Technology Specialist?
Step One: Earn your undergraduate degree.  
To get started on this career path, you'll need a bachelor's degree. Many people who become instructional technologists have a degree in education, computer science, information technology, or a related field. 
 
Step Two: Earn your master's degree in an educational field.  
A master's degree in learning experience design and educational technology can be a good option for aspiring instructional technologists. This degree will deepen your knowledge of fields like design analysis, research foundations, measurement and evaluation, and literature review.  
 
Step Three: Gain experience.  
Many employers prioritize applicants who have at least a few years of experience in an academic setting, preferably where they maintained technology-related responsibilities. 
 
Step Four: Check with your state about licensure and certifications.  
Once you complete the required level of education, you'll need to meet your state's requirements for instructional technology specialists. For instance, your state might require you to pass a test to become licensed or to earn an instructional technology specialist certificate.  
Step Five: Apply for jobs. 
Once you have all the necessary education and skills, the next step is to start applying to open instructional technology specialist jobs at schools, private companies, government institutions, and more.

Best Degrees for Instructional Technology Specialists
Learning Experience Design and Educational Technology – M.S.
The M.S. in Learning Experience Design and Educational...
The M.S. in Learning Experience Design and...
The M.S. in Learning Experience Design and Educational Technology from WGU is for instructional designers tasked with creating engaging and immersive virtual learning experiences that can substitute for on-ground instruction.
No teaching license required.
Time: 70% of grads finish similar programs in 18 months
Tuition and fees: $3,490 per 6-month term
This program includes two tracks for students:
The K-12 Learning Designer pathway
The Adult Learning Designer pathway
Coursework in this program includes:
Learning experience design
Instructional technology
Curriculum planning
Develop training and instruction expertise to help you in the classroom, in educational settings, or in corporate world.
Teachers College
---
Our Online University Degree Programs Start on the First of Every Month, All Year Long
No need to wait for spring or fall semester. It's back-to-school time at WGU year-round. Get started by talking to an Enrollment Counselor today, and you'll be on your way to realizing your dream of a bachelor's or master's degree—sooner than you might think!

---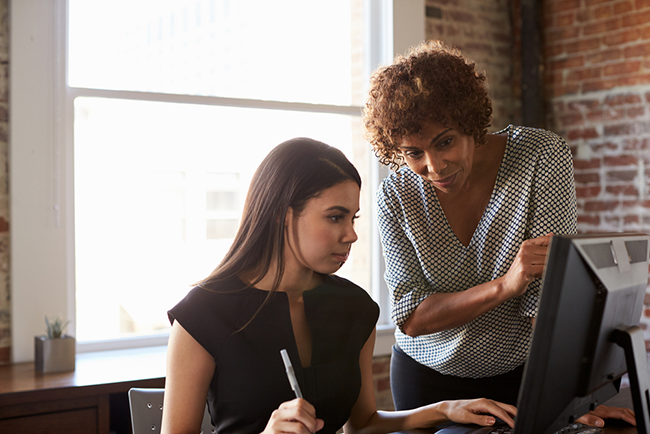 What Skills Does an Instructional Technology Specialist Need?
To excel as an instructional technology specialist, you'll need a range of hard and soft skills, including:  
Tech savvy: You should understand how the technology and software commonly used in educational settings functions. This is key in teaching these technologies to others. 
Good communication: To effectively teach students, educators, and staff how to use various forms of technology, you need to be able to clearly and effectively explain these concepts. 
Creative problem-solving: When troubleshooting technological problems or training others on how to use a form of instructional technology, creativity is key in solving problems and working around roadblocks.

Organization: You must be highly organized to manage the complexities of different instructional technologies across many different users in an educational system like a school.

Research: Strong research skills are necessary to keep up with educational trends and innovations. This will also be key as you determine what technologies will best meet a learner's needs. 
How Much Does an Instructional Technology Specialist Make?
$63,131
The average annual instructional technology specialist salary is $63,131, but the range typically falls between $54,223 and $73,360, according to Salary.com. 
What Is the Projected Job Growth?
10%
Demand for instructional technology specialists is strong. According to the U.S. Bureau of Labor Statistics (BLS), employment for all instructional coordinator careers is expected to grow by 10% from 2020 to 2030.  
Where Does an Instructional Technology Specialist Work?
Varies
Instructional technology specialists can work in a variety of learning settings, including: 
-Elementary and middle schools
-High schools

-Colleges and universities

-Private companies

-Government institutions

-Trade schools 

-Third-party curriculum providers

If you're interested in becoming an elementary school teacher, we encourage you to check out the bachelor's degree in elementary education at WGU. All the coursework at WGU, with the exception of student teaching, is completed online and on the student's schedule. Our competency-based model allows students to complete courses as soon as they demonstrate mastery. That means you can live your life uninterrupted while earning a gold-standard teaching education. At WGU, you'll be able to observe what effective and empathetic teaching looks like, so that you can take what you learn with you into the classroom when you become an educator yourself.
Frequently Asked Questions
How much do instructional technology specialists make in school districts?
Instructional technology specialists working in school districts typically make between $54,000 and $73,000, according to Salary.com. 
What are some instructional technology examples?
The following are educational technology tools you'll likely come into contact with as an instructional technology specialist: 
Interactive whiteboards
Podcasts

Blogs 

Virtual reality headsets 

Websites 

Online courses

3D printing 

Videoconferencing