Electronic Health Records Trainer Career Guide
How to Become an EHR Trainer
Among other advancements in medical technology, electronic health records (EHRs) are changing the way that healthcare professionals interact with patient data. Nurses, doctors, and other healthcare staff utilize EHRs to keep track of a patient's treatment plans, medical history, active medications, and other details. To update care providers on correct EHR use, many healthcare organizations employ EHR trainers.
Electronic health records trainers help educate healthcare professionals as EHR programs evolve and change. In larger medical organizations, EHR trainers might also be responsible for implementing training programs across the healthcare campus.
If you have a passion for healthcare and technology, and you're looking to put your teaching skill set to use, the career of an EHR trainer is ideal for you.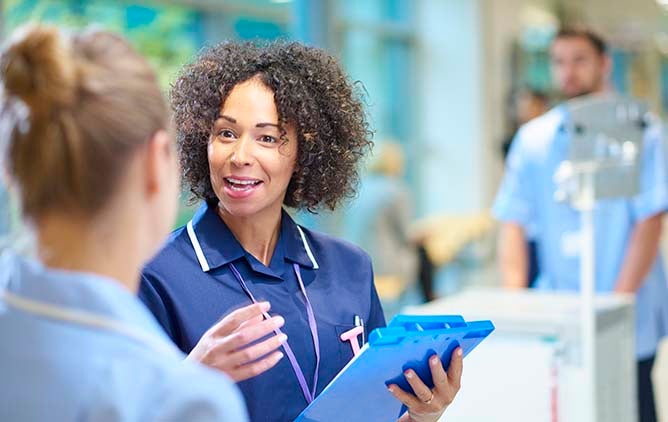 The role of an EHR trainer is one of several careers for individuals who have obtained a health information management degree. As an EHR trainer, you'll be responsible for training healthcare professionals in the proper use of electronic health records. You'll also need to re-educate healthcare employees as EHRs evolve over time. The education you provide will inform informatics and data understanding at your location, helping employees integrate science and analytics to improve patient outcomes.
EHR trainers need to obtain an undergraduate degree before they can be considered for hire. In addition, some employers may require that EHR trainers have at least a few years of experience in a healthcare setting.
What Does an EHR Trainer Do?
An EHR trainer fulfills a wide variety of responsibilities. On some days, you might spend time researching evolutions in EHR technology. On other days, you'll spend hours educating healthcare professionals on the proper use of all EHR materials.
The exact responsibilities of an EHR trainer include:
Training doctors, nurses, and other healthcare professionals in the correct use of electronic health records.
Running training seminars to familiarize entire healthcare organizations with correct EHR protocols.

Updating training seminars to best reflect any recent changes to EHR materials.

Researching any new developments to EHR use and processes.

Assisting healthcare leadership staff in implementing EHRs across the organization.

Addressing any incorrect use of EHRs across a healthcare organization.

Communicating with employees in a healthcare organization.
These and other responsibilities help EHR trainers implement EHR policies that benefit patient treatment and recovery.
What Education Does an EHR Trainer Need?
Before you can begin work as an EHR trainer, you'll need to satisfy a few educational requirements. First, you'll need to obtain a valid healthcare degree so you can develop fundamental skills that will be meaningful in your career.
You'll further your education by obtaining a bachelor's degree in health information management. This further develops your abilities in nursing theory, systems analysis, data modeling, and healthcare communication. You'll also gain valuable field experience to help put your skills to use before your professional career begins.
Health Information Management – B.S.
A program designed for future leaders in HIM:...
A program designed for future leaders in HIM:...
A program designed for future leaders in HIM:
Time: 60% of grads earned this degree in 36 months or less.
Tuition: $4,085 per 6-month term.
Some careers and jobs this degree will prepare you for:

Director of informatics
HIMS chief
Information systems auditor
Outpatient coder
Health records manager
This CAHIIM-accredited program makes you eligible for the RHIA exam. 
College of Health Professions
---
Our Online University Degree Programs Start on the First of Every Month, All Year Long
No need to wait for spring or fall semester. It's back-to-school time at WGU year-round. Get started by talking to an Enrollment Counselor today, and you'll be on your way to realizing your dream of a bachelor's or master's degree—sooner than you might think!

---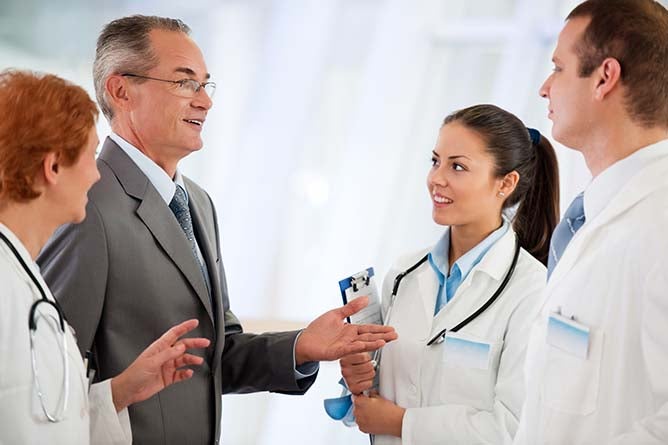 What Skills Does an EHR Trainer Need?
EHR trainers depend on a wide variety of skills each day. The skill set of an EHR trainer helps them provide effective, relevant instruction on any changes to existing EHR protocols.
The skills an EHR trainer needs include:
Instruction: The ability to teach healthcare professionals about any changes or updates to existing EHR parameters.
Research: The ability to identify any EHR changes, updates, or any other findings relevant to EHR instruction.

Public speaking: The ability to confidently address groups of gathered healthcare professionals, answering any questions they might have about EHR use.

Patient management: The ability to leverage EHRs in a healthcare setting, in a way that allows patients to pursue improved outcomes.

Interpersonal communication: The ability to correspond effectively with healthcare professionals, employees, and executives.
Problem-solving: The ability to identify and solve EHR-related problems that a healthcare organization might face.
Time management: The ability to prioritize tasks according to importance and relevance.
How Much Does an EHR Trainer Make?
$79,727
The exact income of an EHR trainer varies based on a number of factors, including your employer, employer's location, employer's private or public healthcare funding, your years of experience, and your education. On average, the annual salary of an EHR trainer is $79,727, with a range of roughly $62,131 to $103,928.
What Is the Projected Job Growth?
8%
Where Do EHR Trainers Work?
Varies
EHR trainers may work in a variety of locations. In some cases, EHR trainers might be contracted to educate healthcare employees after a sizable EHR update. In other cases, EHR trainers are employed internally by a healthcare organization.
EHR trainers might work in one, or all, of the following locations: hospitals, inpatient or partial hospitalization facilities, outpatient facilities, emergency or trauma clinics, nursing homes, long-term care centers or private doctors' offices.
EHR Trainer FAQ's
How do I become an EHR trainer?
To become an EHR trainer you will typically need to earn Epic/Cerner or similar certification and have between 2-4 years of experience.  
How do I get EHR certification?
In order to get EHR certification, you must pass a certification exam. To take the exam, you must have at least a high school diploma, have completed a health records training or education program within the last five years, and have at least one year of supervised work experience within the last three years.  
How much does an EHR trainer make?
Pay rates for EHR trainers vary based on many factors including who you work for and where, whether your organization is public or private, your years of experience and education. However, the pay for EHR trainers ranges from $62,131 to $103,928, and averages $79,727.