Health Information Technician Career Guide
How to Become a Health Information Technician
Now is an extremely exciting time to explore careers in the intersection of healthcare and IT. As our healthcare systems continue to advance with technology improvements and federal and state investments, competitive roles are becoming available all over the United States. 
One role with expected growth is that of a health information technician—a role that uses technical expertise to ensure a patient's health data remains accurate and secure at all times.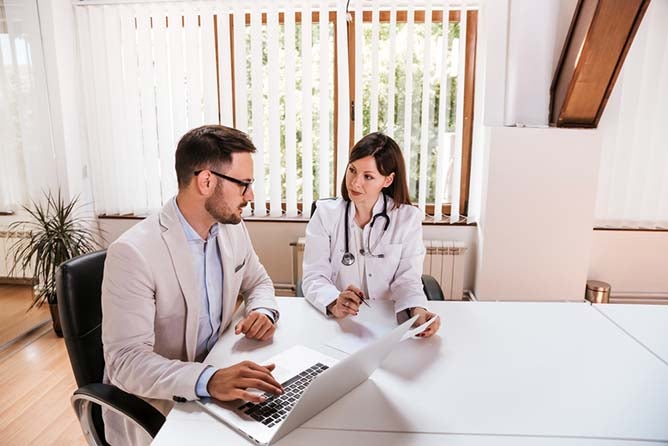 What Is a Health Information Technician?
A health information technician is someone who values compliance, accuracy, and functionality. They are the protector of patients' electronic health records (EHRs), verifying that they are correct, accessible, and secure. 
Health information technicians have an interest in both technology and healthcare industries and can come from a diverse range of backgrounds. They don't shy away from problem-solving and are motivated by fast-paced, changing environments. 
What Does a Health Information Technician Do?
Health information technicians gather information from patients' treatments and follow-ups in order to analyze and provide data to any legal requests, authorizations and record requests. They also provide administration support to other staff in the health information management departments. Their day-to-day can consist of varied responsibilities surrounding patient data. Common tasks include: 
Reviewing patient data and medical records for accuracy and quality control. 
Organizing and maintaining patient data for clinical databases and registries. 

Tracking patient outcomes for quality assessment purposes.

Using classification software to code and categorize health information and medical records for insurance reimbursement and data analysis purposes. 

Electronically recording data for collection, storage, analysis, retrieval, and reporting.

Maintaining confidentiality, security, and accessibility of medical records, including prescriptions and treatment histories.
How Do I Become a Health Information Technician?
Health information technicians typically hold a bachelor's degree in a healthcare-related field and possess industry knowledge before entering their role. A Bachelor of Science in Health Information Management is a degree that sets candidates up with the education requirements, certifications, and experience qualifications to enter HIT roles with confidence. Key subject areas of the program include: 
Healthcare Ecosystems 
Intro to Healthcare IT Systems

Health Information Law and Regulations 

Healthcare Information Systems Management 

Foundations in Healthcare Data Management 

Medical Terminology 

Pathophysiology 

Introduction to Pharmacology 

Classification Systems 

Healthcare Compliance 

Healthcare Statistics and Research 

Healthcare Reimbursement 

Quality and Performance Management and Methods 

Healthcare System Applications 

Data Analytics
Candidates will also need to pass a Registered Health Information Technician (RHIT) exam from the American Health Information Management Association. 
Best Degree for a Health Information Technician:
Health Information Management – B.S.
A program designed for future leaders in HIM:...
A program designed for future leaders in HIM:...
A program designed for future leaders in HIM:
Time: 60% of grads earned this degree in 36 months or less.
Tuition: $3,998 per 6-month term, plus a Health Professions Student Fee of $350.
Some careers and jobs this degree will prepare you for:

Director of informatics
HIMS chief
Information systems auditor
Outpatient coder
Health records manager
This CAHIIM-accredited program makes you eligible for the RHIA exam. 
College of Health Professions
---
Our online university degree programs start on the first of every month, all year long.
No need to wait for spring or fall semester. It's back-to-school time at WGU year-round. Get started by talking to an Enrollment Counselor today, and you'll be on your way to realizing your dream of a bachelor's or master's degree—sooner than you might think!

---
Do I Need a Certification for This Position?
There are multiple health IT certifications available to those interested in becoming a health information technician. While some of these certifications are not required, they do give candidates a competitive edge when applying for jobs. The bachelor's in health information management at WGU includes the following certifications: 
Registered Health Information Administrators (RHIA) exam. WGU's program is accredited by the Commission on Accreditation for Health Informatics and Information Management Education (CAHIIM). Completion of this degree qualifies you to sit for the RHIA exam and become a credentialed health information administrator. 
Certified Professional Coder (CPC). Students who complete the Medical Coding Career Accelerator Program (MCCAP), which includes industry-recognized medical coding certifications, will earn a Certified Professional Coder (CPC) credential—the most recognized medical coding certification in the healthcare industry.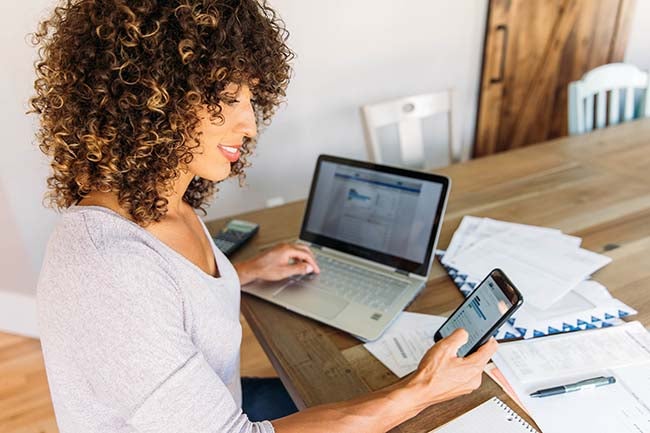 What Skills Does a Health Information Technician Need?
If you are interested in pursuing a health information technician role, it is crucial to have a basic understanding of the healthcare field, an interest in analytical processes, and a balance of soft skills that allow you to function with cross-divisional team members and providers. Some commonly listed skills in HIT job descriptions include:
Highly organized, with an ability to keep records and assess incoming data 
Detail-oriented, paying special attention to each patient's specific needs 

Respect for compliance and confidentiality 

Excellent communication skills when conversing with medical teams, insurance providers, and patients
Problem-solving mentality, with an ability to think quickly and shift gears in a constantly changing environment 

Healthcare industry knowledgeable, with an understanding of terms, roles, and functions

How Much Does a Health Information Technician Make?
$42,241
In 2021, health information technicians made an average of $42,241 per year, with the typical range falling between $37,303 and $48,224. Level of education, certifications, and years of experience are the most common factors contributing to higher annual pay. 
What Is the Job Outlook for a Health Information Technician?
8% Growth
Medical record and health information specialist roles are projected to grow 8%, which is faster than the national average for all occupations, according to the U.S. Bureau of Labor Statistics. This rise can be attributed to an aging population requiring more medical services and a need for technical experience within field roles like a HIT.  

Where Does a Health Information Technician Work?
Varies
Health information technicians work in the medical industry, typically in hospitals, physicians' offices, or administrative offices. They can also find roles in nursing homes, home health agencies, mental health facilities, and public health agencies. Anywhere that stores patient data or health information may need a health information technician. 
Health Information Technician FAQ's
Is health information technician a good career?
Health information can be a very good career for those that have the right interests. It's a great way to enter the health care industry and is expected to grow by 9% between 2020 and 2030.  
How long does it take to get a degree in health information technology?
It usually takes between 2-4 years depending on your current qualifications. Health information technologists typically have a bachelor's degree in a related field such as Health Information Management, but the most important requirement is an RHIT certification from the American Health Information Management Association (AHIMA). In order to earn the certification you must complete an approved academic program and pass the examination.