Medical Records Technician Career Guide
How to Become a Medical Records Technician
Healthcare facilities record and maintain a massive amount of patient health information every day. Medical records technicians (MRTs) keep all of that information organized, updated, and secured. 
 
Although they don't provide direct patient care, MRTs play an important role in the healthcare system. They make sure that patient electronic health records (EHRs) are correct, accessible, and secure, which in turn helps healthcare facilities run more efficiently. Additionally, many financial transactions in healthcare rely on the work of MRTs to ensure accurate payments to providers and accurate billing to patients.
If you have strong organizational skills and pay close attention to details, this job might be for you. Keep reading to learn more about what it takes to become a medical records technician.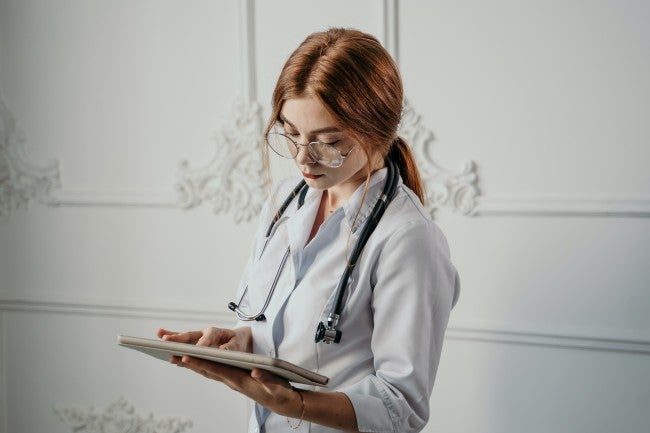 What Is a Medical Records Technician?
MRTs are healthcare professionals who specialize in medical coding systems and digitizing patient information into accurate electronic health records. Some of the patient information they work with includes:  
Reason for visit
Symptoms exhibited 
Diagnosis given 

Test results 

Treatments prescribed 

Further tests needed 
MRTs code and categorize this patient information for insurance reimbursement purposes, for databases and registries, and to maintain patients' medical and treatment histories. It's also their job to properly handle patient information so that it's kept secure and confidential, according to HIPAA compliance standards.  

You can also find the role of medical records technician listed under titles such as "health information technician," "health information specialist," and "health information management technician."
What Does a Medical Records Technician Do?
As an MRT, you'll handle a variety of administrative tasks, mostly related to the organization and protection of patient medical records. Some of these responsibilities can include:
Reviewing patients' records for timeliness, completeness, and accuracy.
Organizing and updating information in clinical databases or registries.

Creating and maintaining medical records.

Collaborating with other healthcare staff to ensure an organized workplace.

Communicating details to healthcare providers and insurers.

Using classification systems to assign clinical codes for insurance reimbursement and data analysis.

Electronically recording data for collection, storage, analysis, retrieval, and reporting.

Maintaining confidentiality of patients' records.
How Do I Become a Medical Records Technician?
Becoming a medical records technician involves the completion of a training program—usually a certificate or associate degree. But if you really want to stand out to potential employers, consider the following educational path:  
Earn your bachelor's degree: A health information management degree is a great way to get ahead in this career field. This type of degree program covers both the healthcare fundamentals involved in medical records as well as the technical aspects and software systems that record technicians need to know in order to be successful. 
Get certified: Many employers prefer applicants with certifications, such as the Registered Health Information Technician (RHIT). The American Health Information Management Association (AHIMA) offers this credential to those who complete the training and pass a written examination. You can also get certified through the Professional Association of Healthcare Coding Specialist (PAHCS) or the Board of Medical Specialty Coding & Compliance (BMSC).

Pursue a specialty: Each workplace for medical records technicians meets the needs of different health conditions, age groups, and communities. Consider if there is a healthcare setting that appeals to you. If so, then seeking a specialty certification can maximize your skills and help you remain competitive in this field.
Best Degrees for a Medical Records Technician
Health Information Management – B.S.
A program designed for future leaders in HIM:...
A program designed for future leaders in HIM:...
A program designed for future leaders in HIM:
Time: 60% of grads earned this degree in 36 months or less.
Tuition: $3,998 per 6-month term, plus a Health Professions Student Fee of $350.
Some careers and jobs this degree will prepare you for:

Director of informatics
HIMS chief
Information systems auditor
Outpatient coder
Health records manager
This CAHIIM-accredited program makes you eligible for the RHIA exam. 
College of Health Professions
Healthcare Management – B.S. Business Administration
You can become a healthcare industry leader:...
You can become a healthcare industry leader:...
You can become a healthcare industry leader:

Compare with B.S. Health Information Management
Time: 73% of graduates finish within 30 months.
Tuition: $3,575 per 6-month term.
Sample careers and jobs this business degree will prepare you for:

Health information manager
Community service manager
Clinical manager
Medical records manager
Social service manager
The online courses in this career-focused business degree program will prepare you with management-level skills and an up-to-date understanding of our healthcare delivery system.

College of Business
---
Our online university degree programs start on the first of every month, all year long.
No need to wait for spring or fall semester. It's back-to-school time at WGU year-round. Get started by talking to an Enrollment Counselor today, and you'll be on your way to realizing your dream of a bachelor's or master's degree—sooner than you might think!

---
What Skills Does a Medical Records Technician Need?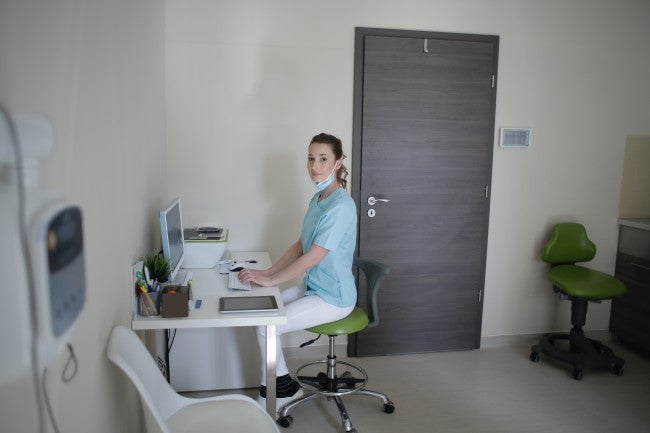 Some commonly listed skills in MRT job descriptions include:
Knowledge of electronic medical record management systems such as RXNT and AdvancedMD.
Attention to detail.

Ethical integrity.

Experience in data encryption and protection.

Ability to use computers and different kinds of software.

Extensive experience in categorizing and coding written and spoken patient information.

Proficiency in medical terminology and collaborating with healthcare professionals.

Ability to maintain and update medical records.

Ability to perform detailed tasks under pressure.

Excellent written and verbal communication skills.
MRTs are highly organized, tech-savvy, and detail-oriented individuals. To enter this career field, it's important to have a basic understanding of the healthcare system, an interest in medical coding, and a balance of soft skills that allow you to work with insurance companies and providers. 
How Much Does a Medical Records Technician Make?
$44,090
The median annual wage for medical records and health information specialists is $44,090, according to the U.S Bureau of Labor Statistics (BLS). The lowest 10% earned less than $28,800, and the highest 10% earned more than $73,370.
What is the Projected Job Growth?
9%
According to the BLS, the employment for medical records and health information specialists is projected to increase by 9% from 2020 to 2030, with 37,100 new jobs expected during that timeframe.
Where Do Medical Records Technicians Work?
Varies
Many types of healthcare facilities employ medical records technicians, some of which include doctors' offices, hospitals, insurance companies, and health technology companies.
Frequently Asked Questions
Do I Need a Degree for This Profession?
A high school diploma or equivalent and experience in a healthcare setting are enough to qualify for some positions, but others require postsecondary education.
Do I Need Certifications for This Profession?
Employers may prefer to hire medical records and health information specialists who have certification, or they may expect applicants to earn certification shortly after being hired.
Certifications available for medical records and health information specialists include the Certified Professional Coder (CPC), the Certified Coding Associate (CCA), and the Registered Health Information Technician (RHIT).
Some certifications require candidates to pass an exam. Others require graduation from an accredited program. Many coding certifications also require coding experience in a work setting. Once certified, specialists typically must renew their certification regularly and take continuing education courses.
How Long Does It Take To Become a Medical Records Technician?
It depends on your educational path. Many employers prefer medical records technicians to have a bachelor's degree in a related field such as health information management. At WGU, students can earn their health information management bachelor's degree in as little as 36 months.