WESTERN GOVERNORS UNIVERSITY
WGU Onward with Learning (OWL) transfer program.
Learn how WGU can help remove barriers to transfer.
The OWL Transfer Program is designed to help community college students, like you, reduce the time it takes to earn a bachelor's degree by removing barriers and offering guaranteed credit transfer. By participating, you are guaranteed admission into select majors and your earned associate degree transfers seamlessly into a bachelor's degree in the fields of business, education, IT, or health professions. With WGU's competency-based education, you can earn your bachelor's degree in as few as 18 months.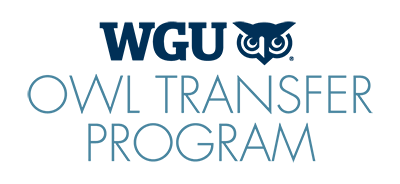 The program will provide three free transfer preparation courses and regular emails and contact to nurture you through your associate degree, provide transfer benefits to WGU, and allow you to experience what a day in the life of a WGU student looks like. View the informational video on this page for more details about WGU's OWL Transfer Program.