WAKE FOREST— Despite the rainy weather outside, nothing could dim Shellie Hughes' smile as she and several coworkers gathered for a special scholarship presentation on Nov. 12. Hughes, a coordinator with CenturyLink, the second largest U.S. communications provider to global enterprise customers, was presented with a $2,000 institutional partner scholarship from WGU North Carolina, the state affiliate of the national nonprofit online Western Governors University.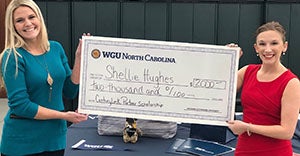 Hughes is working toward her Master of Science Management and Leadership degree and will use the scholarship to help offset the cost of tuition. CenturyLink is an institutional partner with WGU, and as such, promotes employee professional development and continuing education. Hughes won the scholarship based on her academic record, readiness for online study at WGU, and current competency in the field of information technology.
WGU is an accredited online university offering more than 60 bachelor's and master's degree programs. The university has more than 100,000 students enrolled nationwide, including more than 2,600 in North Carolina.
"Shellie is a bright young woman who would be an asset to any organization," said WGU North Carolina Strategic Partnerships Manager Lynne Barbour, who presented the scholarship. "One of my favorite parts of this job is traveling throughout the state and presenting scholarships to deserving individuals who are seeking to further their careers through education, and Shellie definitely exemplifies that desire."
For more information about WGU North Carolina, visit https://www.wgu.edu/north-carolina.html.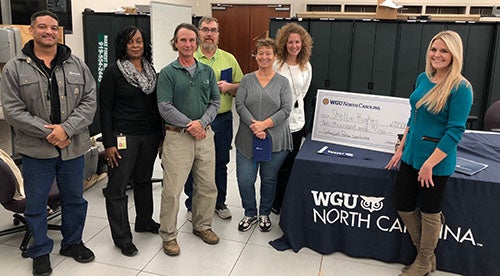 Shellie Hughes, right, pictured with her coworkers at CenturyLink.