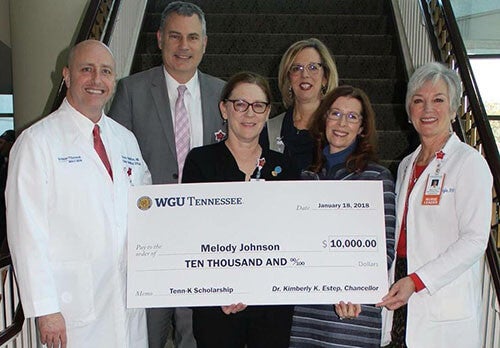 Melody Johnson, a 2017-18 Tenn-K recipient, celebrates with TriStar Summit colleagues and WGU Tennessee's chancellor, Dr. Kimberly Estep, after being surprised with the award.
NASHVILLE – For the fourth consecutive year, WGU Tennessee, a state-endorsed nonprofit university, will award $10,000 scholarships to up to 10 Tennesseans as part of its "Tenn-K" scholarship campaign.
"Cost is often the biggest barrier adults face when deciding whether or not to go back to school," said Dr. Kimberly K. Estep, WGU Tennessee chancellor. "Our scholarship offerings, and especially the Tenn-K Scholarship, help us in our mission of expanding Tennesseans' access to quality, affordable higher education."
Last year, nine Tennesseans earned Tenn-K Scholarships, WGU Tennessee's largest annual scholarship. With WGU's already-low tuition of about $3,500 per six-month term for most programs, the Tenn-K scholarship covers approximately 70 percent of recipients' tuition costs, on average. The application deadline is March 15, 2019.
With the cost of college consistently rising across the country, WGU Tennessee aims to alleviate the financial burden of higher education for its students. Since launching in 2013, WGU Tennessee has awarded more than $2 million in scholarships to Tennesseans, with more than $225,000 resulting from Tenn-K awards.
Tenn-K scholarships are awarded based on the applicants' academic records, readiness for online study, and demonstrated financial need, as well as other considerations. Recipients are awarded four installments of $2,500 per six-month term, dispersed over their first four terms.
Launched by Gov. Bill Haslam in July 2013 as part of his "Drive to 55" initiative, WGU Tennessee is an online, accredited, nonprofit university established to meet the needs of working adults who wish to complete a bachelor's or master's degree and advance their careers. Students from all 95 counties are enrolled in WGU Tennessee, which was created through a partnership between the state of Tennessee and nationally recognized Western Governors University. With every Tennessee county represented in its student population, more than 2,000 Tennesseans have graduated since the university's inception, and 4,000-plus are currently enrolled.
Click here to learn more about the Tenn-K Scholarship.