DALLAS — Tiffanie Gradick tried returning to school 16 years ago, but she wasn't ready. Then four years ago, her life changed and this mother of three was ready to prove to herself and her children that you can accomplish great things.
Gradick works for the Garland ISD as a vocational adjustment class (VAC) job coach for Special Education 12th graders. She assists students with on the job training and job placement at the end of the school year. "It is such a rewarding job," she says. "This is my passion. I have learned so much about classroom management and the children— everyone is different and has their own way of learning and understanding."
In October, Gradick enrolled in WGU Texas' Bachelor of Arts in Special Education degree program. "Now is the perfect time to pursue my dream. It was time four years ago, and now I'm ready." She wants to continue working for the school district after she graduates and continue her education to become an Autism Specialist or Speech Pathologist.
To help make that dream a reality, WGU Texas awarded Gradick a $2,000 Become a Teacher Scholarship during a surprise presentation at her school. Her Garland ISD co-workers have cheered her on and supported her going back to school and are ready to see her succeed.
As a WGU Texas student, Gradick appreciates the resources and level of one-to-one support. The competency-based format has allowed her to accelerate and move quickly through coursework. She has completed seven courses and is on track to graduate in January 2020. WGU Texas' competency-based learning model is ideal for adult learners who want to continue pursuing their education because it accommodates different learning styles, time constraints and a wide range of existing knowledge and skills.
"My oldest child will be attending high school soon and I want to prove you can do anything you put your mind to," she said. "Earning this degree is just the start of my journey to be able to do what I love!"
The WGU Become a Teacher Scholarship is worth up to $2,000 and can be applied toward any of WGU's Teachers College degree programs leading to teacher licensure. Applications are accepted through December 31, 2018.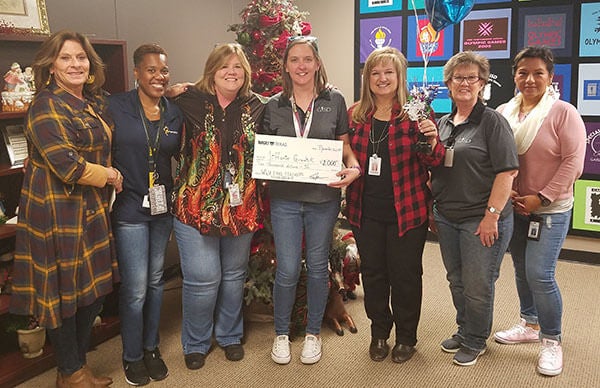 Tiffanie Gradick (center) with Garland ISD coworkers.