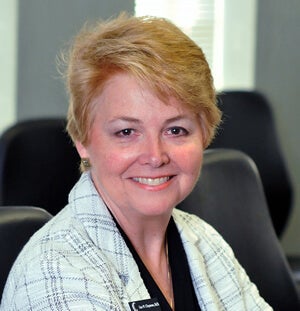 RALEIGH — WGU North Carolina, an affiliate of the national online nonprofit Western Governors University, has announced that Central Carolina Community College President Dr. Lisa M. Chapman will join its Board of Advisors. Earlier this year Dr. Chapman and WGU North Carolina Chancellor Catherine Truitt signed a Memorandum of Understanding that will ease the transition for CCCC graduates to pursue bachelor's degrees offered by WGU, provide tuition discounts, and provide access to scholarship funds.
Dr. Chapman became president of Central Carolina Community College on April 1, 2019. Prior to that, she served as senior vice president/chief academic officer at the North Carolina Community College System office in Raleigh. Before going to the state level in 2014, Dr. Chapman had been with CCCC for 27 years. At the college, she held the positions of instructor, chair of the Math and Science Department, academic dean, vice president of academic affairs/chief academic officer, and executive vice president of instruction/chief academic officer.

WGU is an accredited online university offering more than 60 bachelor's and master's degree programs in healthcare, IT, business and K-12 education. The university has more than 115,000 students enrolled nationwide, including about 3,000 in North Carolina. Tuition is around $3,225 per six-month term for most degree programs.
"I've known Dr. Chapman for a long time, and it is an absolute honor to have her join WGU North Carolina's Board of Advisors," said Chancellor Truitt. "She will do an excellent job advocating for North Carolina's community college students, and will help us further align our efforts to develop an educated and highly employable workforce in rural North Carolina."
"I am honored to engage as a member of the WGU NC Board of Advisors, working with Chancellor Truitt to ensure the partnership between WGU NC and our colleges effectively and consistently serve our community college graduates," stated Dr. Chapman. "I appreciate the additional, affordable, seamless baccalaureate pathways provided for our graduates as we partner to meet our workforce needs throughout the state."
For more information about WGU North Carolina, visit www.wgu.edu/north-carolina.html. To learn more about Central Carolina Community College, visit www.cccc.edu. 
About Central Carolina Community College
Central Carolina Community College offers a wide variety of programs at its three campus locations and multiple instructional locations throughout Chatham, Harnett, and Lee counties. Within these programs, students can earn associate degrees or college transfer credits, diplomas, or certificates. Some programs are offered entirely, or in part, via online distance education. In addition, CCCC offers courses in such areas as Short-term Job Training, College & Career Readiness, Personal Interests, Business & Industry, and Emergency Services Training. CCCC is fully accredited by the Southern Association of Colleges and Schools.