KENT – This evening, WGU Washington inducted Amy Anderson into the university's Sage Society. Similar to a hall of fame, the Sage Society honors and celebrates individuals committed to high-quality education and the pursuit of learning opportunities for others.
Anderson is a Government Affairs Director for the Association of Washington Business (AWB). Her areas of focus include education and workforce development. She works with elected officials, policymakers, and business leaders to ensure Washingtonians have access to educational programs tailored to key, workforce needs. Her efforts have led to the establishment of internships and job shadowing opportunities for students, externships for instructors, and procurement of state-of-the art training equipment for schools.
Anderson formerly served as Director of the AWB Institute, a nonprofit organization pursuing, among other objectives, high-quality, job-skills training and career-advancement opportunities for Washington workers. From 2015-2018, she led Leadership Washington, the state's premier, nine-month development program for emerging leaders across many, important industries.
Prior to joining the AWB, Anderson spent seven years heading the policy and workforce efforts at Greater Spokane Incorporated.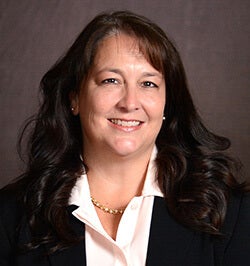 While there, she developed the Career Awareness Program, an initiative fostering understanding of career and training opportunities in the Inland Northwest. It is regarded nationally as a model for expanding on-the-job learning and collaboration between education and industry.
"Our state's economy is among the most advanced and diverse in the nation, providing incredible opportunity for Washington workers," said Dr. Tonya Drake, Chancellor at WGU Washington. "Amy is a leader in that area, working hard to align visions and guide decisions that smooth the pathway for students to great, in-demand jobs across the state. Her achievements exemplify the spirit of WGU Washington's Sage Society, and I'm delighted the university has honored her in this way."
Anderson was inducted into WGU Washington's Sage Society during a brief ceremony this evening at The Heritage Room in downtown Olympia, Washington.