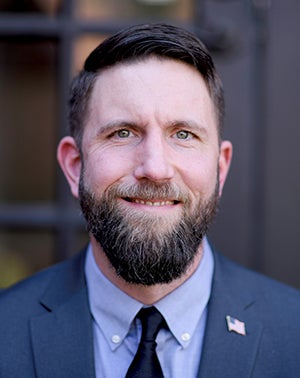 RAEFORD — WGU North Carolina, an affiliate of the accredited online Western Governors University, has announced that Michael Merzke has been hired as a Strategic Partnerships Manager, Military Outreach. In this newly created role, Merzke will develop and strengthen relationships with all branches of the armed forces and military-related organizations throughout North and South Carolina. 
Merzke retired from the U.S. Army as a Sergeant Major after more than 24 years of service. He is one of eight new staff members WGU has hired nationwide to further military relations. WGU has been named a Military Friendly® School for the past 11 years. 

"There are 16 military bases throughout the Carolinas, and North Carolina has the third largest military population in the country," said Kimberly Estep, Vice President of the Southeast Region for Western Governors University. "Mike is dedicated to helping veterans, service members, and their families improve their lives, and we are delighted to have him on our team."
Designed for working adults, WGU offers an asynchronous, competency-based model that allows students to log in and access coursework at a time convenient for them, and to accelerate at their own pace. WGU's tuition is around $3,250 per six-month term for most undergraduate degree programs, and students can take as many classes as they and their mentors are comfortable with within a term. More than 3,900 students are currently enrolled throughout North Carolina, and about one in five of them are affiliated with the military community. 
Merzke lives in Raeford, North Carolina, with his wife and son. He is an avid runner and woodworker (also owning his own custom woodworking company) and volunteers with Veterati, Team Rubicon, Falcon Children's Home, and Team Red, White & Blue. Merzke earned his Bachelor of Science degree in liberal studies with a concentration in leadership from Purdue University Global, and is currently working toward his MBA at Duke University's Fuqua School of Business. 
For more information about WGU North Carolina, visit nc.wgu.edu or speak to an enrollment counselor at 866-903-0109. To learn more about military tuition assistance, visit www.wgu.edu/financial-aid-tuition/military-va.html.