KENT – Dr. Tonya Drake, regional vice president of Western Governors University's Northwest Region and chancellor of WGU Washington, was appointed to the Association of Washington Business' (AWB) board of directors during the group's annual Policy Summit in Spokane Sept. 16.
"At WGU Washington, we work closely with the business community to ensure our programs degree meet the latest, highest industry standards—and our graduates are ready to fill in-demand positions and make meaningful impacts in the workplace," said Drake. "Since our university launched a decade ago, the AWB has played a vital role in our significant success in this state. It's an honor to represent our university on the AWB's board and carry our shared mission forward."
AWB serves as the state's chamber of commerce and has a membership that includes business owners and executives, thought leaders and industry groups as well as chambers of commerce across the state.
"We're pleased to welcome Dr. Drake to the AWB board of directors," said AWB President Kris Johnson. "One of the biggest challenges facing employers today is finding skilled, trained and educated workers to fill open positions. Meeting this challenge will require employers and educators to work together to find new solutions, and Dr. Drake's experience and background will be a tremendous asset for the employer community."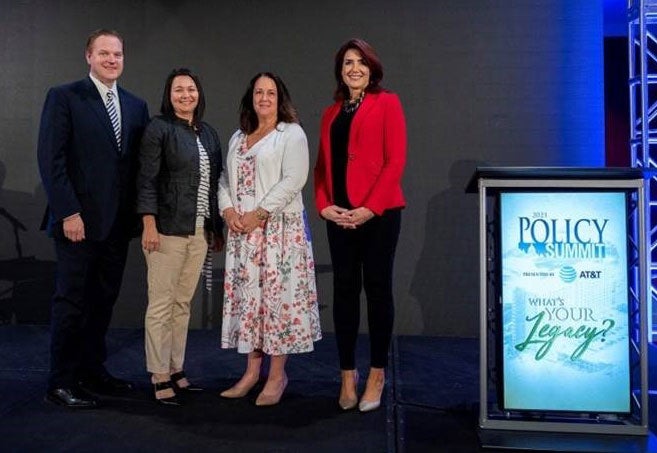 (l to r): AWB President Kris Johnson with new AWB Board member Dr. Tonya Drake, chancellor of WGU Washington, on Sept. 16 at the Davenport Grand in Spokane. They are joined by AWB Government Affairs Director Amy Anderson and AWB Board Chair Paula Linnen, executive director of external affairs and PNNL.