KENT – As nationally recognized Western Governors University surpasses the quarter-million graduates milestone, the epicenter of the celebration is in the South Puget Sound area. The online, nonprofit university identified Marissa Price of Olympia as its 250,000th graduate. Price earned a bachelor's degree in human resources management. 
"I wanted to enter the human resources field and kept on applying for jobs but didn't get them since I needed a degree," said Price. "WGU created an opportunity for me where I didn't have to take time off from work and where I could afford it with help from my employer. There's no way that I could have done it any other way without the path that WGU offered me."
"Congratulations to Marissa and to all our graduates! WGU wouldn't be the university it is today without each of you," said WGU President Scott Pulsipher. "This milestone represents 250,000 lives changed and countless more impacted by WGU's mission to make higher education more accessible. I extend my sincere gratitude to everyone who has played a role in our students' success."
Price said she dealt with many life-changing events that could have derailed her dream of graduating, but with the help and encouragement of the WGU Program Mentor, she stayed on course and was able to finish her degree in her own time. 
"No other school would have given me the time I needed to balance my work and personal life," said Price. "My advice to anyone out there who wants to go to college is that you have more time than you think you do and resources and support available. I am proof of that. I wanted to climb higher, and now I'm in the field of my chosen career." 
"WGU has proven to be an important member of the higher education family," said Gov. Jay Inslee. "It's fitting WGU's 250,000th graduate hails from Washington. Marissa is a shining example of all the hardworking, driven Washingtonians who want to improve their lives and strengthen their communities through the power of education."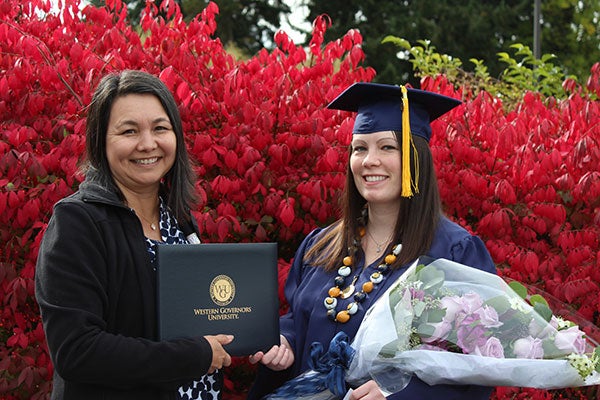 Tonya Drake, Northwest Region VP and Marissa Price, WGU's 250,000th graduate
WGU was established in 1997 by former Washington Gov. Mike Lowry and 18 other U.S. governors. Today, it is a leader in delivering respected, workforce-focused higher education. Its students and graduates live in all 50 states and on U.S. military bases around the world—but more of them call Washington home than anywhere else. Right now, nearly 13,000 students and 28,000 graduates live in The Evergreen State.

The success of the university in the state is due, in part, to its locally based affiliate WGU Washington. Elected officials and decision makers created WGU Washington in 2011 to increase access to high-quality, in-demand degree programs and ensure Washingtonians are prepared to meet the evolving demands of the modern economy. Though the university experience is the same for people in Washington as in other areas, the state affiliation includes access to the state's financial aid programs and other benefits for students.
"Across the socio-economic spectrum, WGU has offered educational opportunity and attainment to students who may not have the option to move to attend a brick-and-mortar school or simply cannot afford to attend college without working due to their family or economic situation," said Tonya Drake, Northwest Region vice president and chancellor of WGU Washington. "We know, and Marissa demonstrates, that when you focus on students and their success, you open doors for hundreds of thousands of people from every background and life experience to reach their educational and career goals."
WGU offers more than 60 career-ready bachelor's and master's degree programs in business, IT, teaching, and healthcare, including nursing. The university's online, competency-based model allows students to study and learn whenever and wherever it is convenient and at a pace that fits their lifestyles. WGU is self-sustaining and receives no direct funding from the government. And its tuition is about half the cost of similar institutions. All those factors make it an excellent choice for working adults and students from traditionally underserved populations.