SALT LAKE CITY—Western Governors University (WGU) and the United States Hispanic Chamber of Commerce announced a collaboration featuring a community outreach scholarship that will help increase access to education for Hispanics by providing an affordable, competency-based, online education that fits the needs of working adults and business owners.
The WGU Community Outreach Partnership scholarship will award $5,000 to each recipient, providing an affordable and accredited way to advance careers by completing an online bachelor's or master's degree.
The purpose of the collaboration between WGU and the USHCC is to reach the Hispanic population via USHCC's national network and present WGU's educational options and scholarships in support of the university's mission to create pathways to opportunity. USHCC actively promotes the economic growth, development, and interests of its members, which include corporations, Hispanic enterprises, and local chambers of commerce.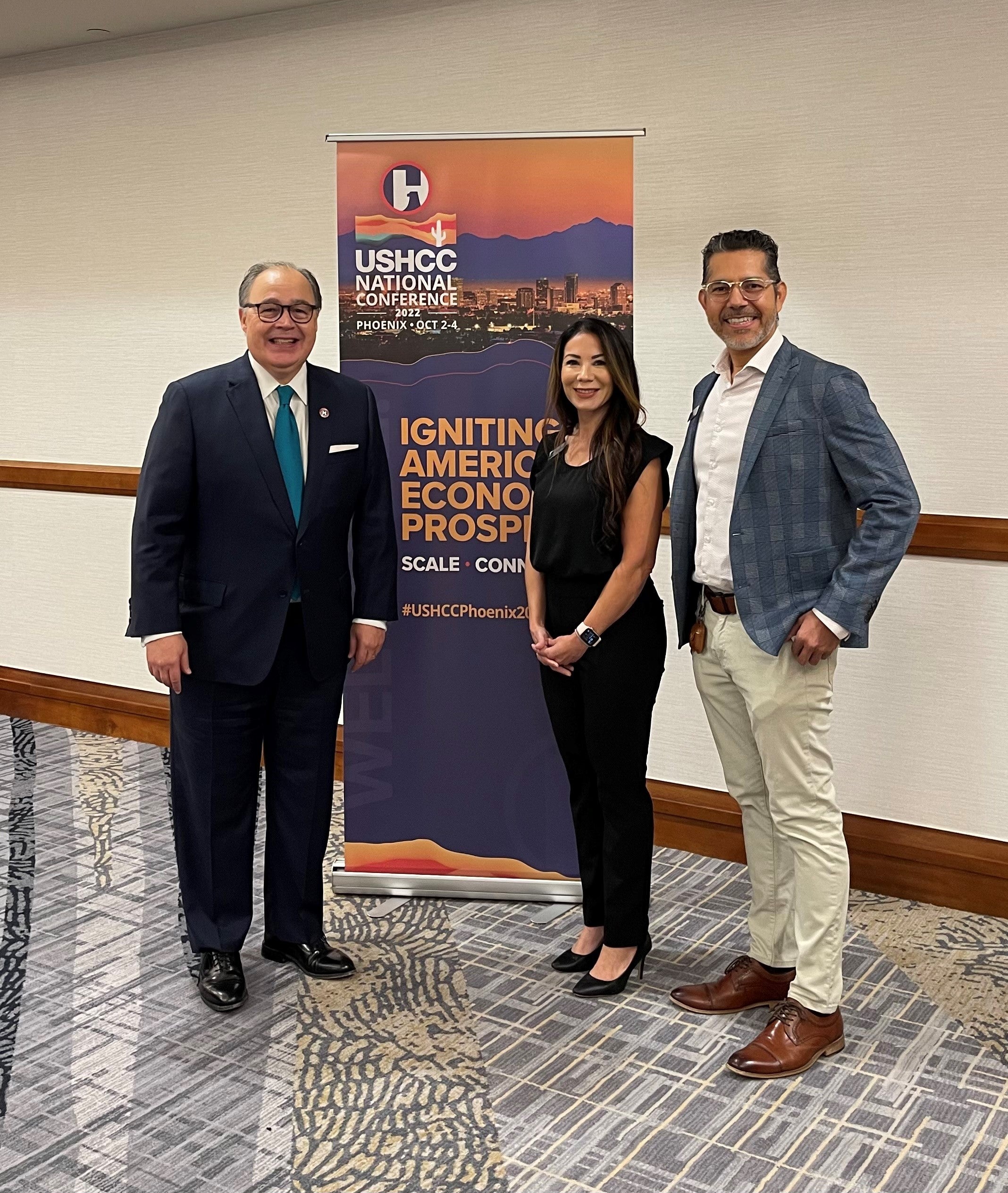 United States Hispanic Chamber of Commerce President and CEO Ramiro A. Cavazos, left, stands with Western Governors University's Strategic Partnerships Manager Nikki Torres and Director of Regional Operations Ismar Vallecillos at the Chamber's annual convention in Phoenix, Arizona, Tuesday, Oct. 3rd.
---
"We are excited to partner with the USHCC to help increase access to higher education and the impact that education can have in Hispanic communities. Being Hispanic myself, I have a special love for my community," said WGU Senior Vice President of Regional Operations Gene Hayes. "WGU remains true to its mission to change lives for the better by creating pathways to opportunity. Our promise is to make education work for everyone."
USHCC President and CEO Ramiro A. Cavazos echoed the Chamber's excitement over the collaboration and the opportunities it will create for the Hispanic community.
"The Chamber has long supported and invested in equitable access for all. Our partnership with WGU mirrors our mission of building an ecosystem to accelerate Hispanic business growth and prosperity," Cavazos said. "One of the best ways to accomplish more equity is to extend access to higher education, which these scholarships will do."
Under the terms of the partnership, USHCC members—or anyone who is informed by employees or members—are eligible to apply for this scholarship. WGU's Community Outreach Scholarship partners with several community and nonprofit organizations around the country to continue to expand access to higher education for historically underserved populations.
Nikki Torres, strategic partnerships manager for WGU and a member of the Tri-Cities Hispanic Chamber of Commerce in Washington state, was instrumental in connecting the university to the national chamber. For Torres, who is a first-generation college graduate herself, the partnership is deeply gratifying.
"This will broaden the opportunity for so many hard-working families. The Chamber helps empower and support so many Hispanic-owned businesses by providing training and advocacy," Torres said. "It really does take a village, and this partnership will expand affordable education for more deserving people."
The partnership announcement comes during National Hispanic Heritage Month (Sept. 15-Oct 15), which celebrates the histories, cultures, and contributions of Americans whose ancestors came from Spain, Mexico, the Caribbean, and Central and South America. The observation started in 1968 under President Lyndon Johnson and was enacted into law on August 17, 1988.
About WGU
Established in 1997 by 19 U.S. governors with a mission to expand access to high-quality, affordable higher education, online, nonprofit WGU now serves more than 130,000 students nationwide and has more than 280,000 graduates in all 50 states. Driving innovation as the nation's leading competency-based university, WGU has been recognized by the White House, state leaders, employers, and students as a model that works in postsecondary education. In just 25 years, the university has become a leading influence in changing the lives of individuals and families and preparing the workforce needed in today's rapidly evolving economy. WGU is accredited by the Northwest Commission on Colleges and Universities, has been named one of Fast Company's Most Innovative Companies, and has been featured on NPR, NBC Nightly News, CNN, and in The New York Times. Learn more at www.wgu.edu.
About USHCC
The United States Hispanic Chamber of Commerce (USHCC) actively promotes the economic growth, development, and interests of more than 4.7 million Hispanic-owned businesses, which combined, contribute over $800 billion to the American economy every year. It advocates on behalf of its network of more than 250 local chambers and business associations nationwide, and partners with more than 260 major American corporations. Learn more at www.USHCC.com.