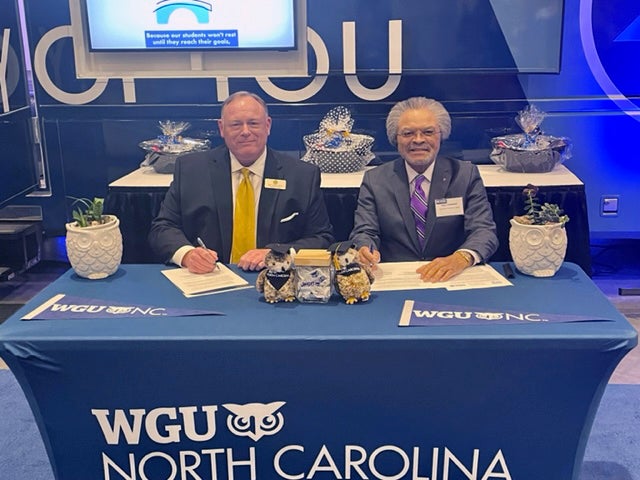 Dr. Ben Coulter and Dr. Algie Gatewood
GRAHAM, N.C. — During a ceremony on October 9 at the North Carolina Community College System Conference in Raleigh, Dr. Algie Gatewood, President of Alamance Community College, and Dr. Ben Coulter, Chancellor of WGU North Carolina, signed a partnership agreement linking the two institutions of higher learning.
As part of the terms, ACC graduates will receive credit for their completed coursework and will be able to transfer seamlessly to WGU to pursue bachelor's degrees. Additionally, ACC graduates, staff, and faculty will be able to apply for specially designated WGU Community College Partner Scholarships valued at $2,500 each.
"We are proud to collaborate with WGU North Carolina to offer the students of Alamance Community College even more opportunities for growth and learning," said Dr. Gatewood. "WGU North Carolina removes the barriers of higher education by making education accessible with an online format and a flexible learning model to meet our students right where they are."
"Alamance Community College has a proud tradition of educating adults and preparing them for meaningful careers since 1958," said Dr. Coulter. "As North Carolina's workforce needs continually change, ACC has consistently aligned its curriculum and offerings to keep pace with those dynamic requirements. WGU North Carolina is honored to partner with ACC to meet the demands of 21st-century learners preparing themselves for the ever-changing landscape and provide opportunities for continuing their educational journey."
Founded in 1997, WGU is a fully accredited, nonprofit online university offering more than 60 bachelor's and master's degree programs in healthcare, IT, business, and K-12 education. The university has more than 147,000 students enrolled nationwide, including more than 4,300 in North Carolina. Tuition is around $4,000 per six-month term for most degree programs. As a competency-based university, WGU offers students the option to take as many courses as they want per term with the consent of their assigned program mentor.
WGU North Carolina officially launched as an affiliate in October 2017 through a partnership between the State and Western Governors University. More than 6,600 WGU graduates reside across all 100 counties in North Carolina.
To learn more about Alamance Community College, visit www.alamancecc.edu.