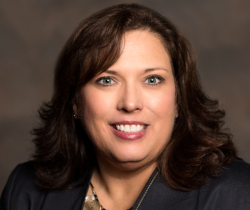 Dr. Angela Hinson Quick
Durham, N.C. – WGU North Carolina Chancellor Ben Coulter, Ed.D., has announced that Angela Hinson Quick, Ed.D., MBA, has joined the organization's Board of Advisors. Celebrating its fifth year in the state, WGU North Carolina is an affiliate of Western Governors University, established 25 years ago by a bipartisan group of governors to meet changing workforce needs.
Dr. Quick is presently Vice President for Improving the Human Condition (ITHC) at RTI International but will transition to Senior Vice President of Education in October. In addition to serving as a teacher and principal, she has also been Deputy Chief Academic Officer with the North Carolina Department of Public Instruction, and Senior Vice President of Talent Development at NC New Schools.
Dr. Quick earned a Bachelor of Science degree in biology secondary education from Appalachian State University, a Master of Science degree in secondary science from the University of South Carolina, and a Doctorate of Education degree in educational leadership and administration from Cambridge College. Earlier this year, she earned an MBA from Western Governors University. Dr. Quick lives with her family in Willow Spring, North Carolina.
"Dr. Quick is not only an accomplished educator and business leader, she is also passionate about expanding pathways to success for all learners," said Coulter. "Further, as a recent WGU graduate and appointee to our Southeast Regional Distinguished Alumni Council, she can provide firsthand insights, enhancing the accuracy of our student-centric initiatives and programs. We are honored to welcome Dr. Quick to our board."
WGU is a fully accredited, nonprofit online university offering more than 60 bachelor's and master's degree programs in healthcare, IT, business, and K-12 education. The university has more than 135,000 students enrolled nationwide, including more than 4,000 in North Carolina. Tuition is around $4,000 per six-month term for most degree programs. As a competency-based university, WGU offers students the option to take as many courses as they want per term with the consent of their assigned program mentor.
For more information about WGU North Carolina, visit nc.wgu.edu.