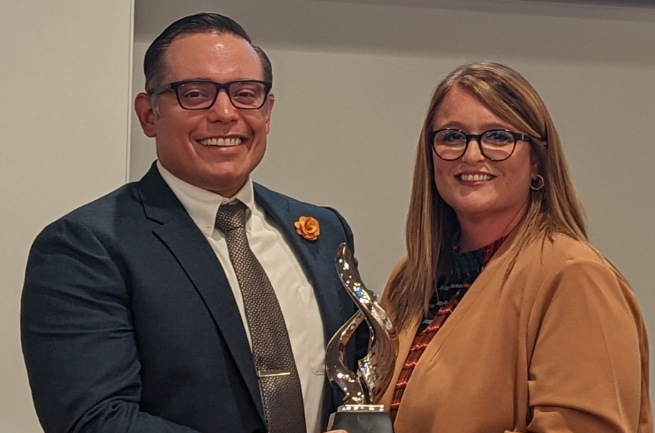 TULSA, Okla. – (September 28, 2022) Western Governors University (WGU) is recognizing its Native American students and graduates for Indigenous People's Day.  According to the National Center for Education Statistics the college enrollment rate for American Indian/Alaska Native was lower than every other ethnicity in 2017 at just 20 percent. WGU is working to change that by making education accessible to everyone.   
In WGU's South Region alone, the nonprofit, online university has more than 270 current students and more than 680 graduates who identified as Native American or Alaska Native. The South Region consists of Oklahoma, Arkansas, Louisiana, New Mexico and Texas.   
One such graduate, Ashlei Ashmore, who earned her bachelor's degree in healthcare management at WGU in 2018, was recently announced as a 2022 recipient of WGU's Distinguished Graduate Award. The award is given to select graduates whose work or volunteer efforts go above and beyond what is required by their employment, and who have made a significant positive difference in their community or career field.  
"WGU offered me the ability to go back to school and further my career without taking any time away from my family. Having that flexibility in my schedule was so important to me and the doors this new degree opened for me has helped my family in incredible ways," said Ashmore.  
After graduating, Ashlei was hired as the director of operations of Oklahoma State University's College of Osteopathic Medicine at the Cherokee Nation, which is the only tribally affiliated medical school in the nation. 
"This is one of those dream jobs that I couldn't have imagined for myself, and I still get to serve my tribe, even though I'm not with the tribal government anymore," Ashmore said. "The best part is knowing the difference that I was able to make for others by furthering my education. When WGU announced I received the Distinguished Graduate Award, one of my former colleagues at Cherokee Nation reached out to let me know she had pursued a degree with WGU after hearing my story. I had no idea that I would get to make that kind of impact on people."
WGU is a fully accredited, nonprofit online university offering more than 60 bachelor's and master's degree programs in healthcare, IT, business, and K-12 education. The university has more than 136,000 students enrolled nationwide, including more than 17,000 in the South Region.  
"At WGU, we believe it is important to make higher education affordable and accessible to all students, including our Native American population who are often underrepresented," said Linda Battles, Regional Vice President for the South region. "We're proud to honor graduates like Ashlei, who are making a difference for their communities in getting their degree and furthering their career path."
In August, WGU announced it had received nearly $1 million from Reboot Representation to support a significant increase Black, Latina, and Native American (BLNA) women earning bachelor's degrees from the university's College of Information Technology by 2025.
Black, Latina, and Native American women represent approximately 16 percent of the US population, yet they make up only 4 percent of students obtaining bachelor's degrees in computing.  WGU is focused on changing that through targeted outreach and customized student support from enrollment to completion. 
For more information on WGU, visit www.wgu.edu or follow the university on Facebook, Twitter, Instagram, and LinkedIn.