Best Online Accounting Degree
What is the Best Online School for Accounting?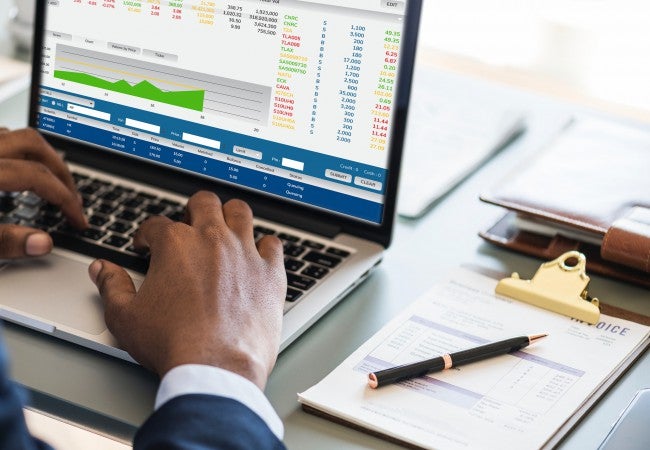 An accounting degree is a great choice for students who want a financially focused career. And for many of these students, an online accounting degree is the ideal choice. An online degree program means students can pursue higher education while working full-time. They also may be able to leverage their current experience and knowledge so they can accelerate through courses. This means they can graduate faster and enhance their careers even sooner.
An accounting degree program will cover business fundamentals, as well as important accounting concepts such as generally accepted accounting principles (GAAP), spreadsheets, financial and managerial accounting, debits and credits, tax and audit rules, and more. These accounting courses are key in preparing you for the job market.
But not all accounting programs are created equal. When comparing different online accounting programs it's important to consider a variety of factors to decide which one is best for you. Compare top online programs to determine which one will be the best fit for your needs.
Best Online School for an Accounting Degree
Doing research is key as you compare online accounting programs. The cost of the program, the amount of time it will take to graduate, and the course offerings are all important when making your decision. Additionally, it's valuable to look at the overall ROI of the degree, how many online students a university has, and other factors when deciding which program will really meet your needs. Compare top accounting programs to decide which online degree option will be the best for your education. 
---
1. Western Governors University
Exclusively Online Students: 136,139
Tuition: $6,670 per year

2. Southern New Hampshire University
Exclusively Online Students: 106,703
Tuition: $31,136 per year

Exclusively Online Students: 48,420
Tuition: $12,150 per year

4. DeVry University—Illinois
Exclusively Online Students: 17,103
Tuition: $17,798 per year

Exclusively Online Students: 32,620
Tuition: $12,400 per year

6. American Public University System
Exclusively Online Students: 45,249
Tuition: $7,324 per year

Exclusively Online Students: 37,859
Tuition: $14,540 per year

8. University of Phoenix—Arizona
Exclusively Online Students: 93,777
Tuition: $9,552 per year

9. Colorado Technical University-Colorado Springs
Exclusively Online Students: 26,143
Tuition: $12,529 per year

10. Purdue University Global
Exclusively Online Students: 37,757
Tuition: $8,03711,130 per year

Our goal in this ranking is to objectively look at how many online university programs compare to one another. This is why we have used third-party data to help us reach our conclusions about programs we rank. 
Data sources:
Explanation and requirements for ranking:
Universities were ranked on their ROI ratio. The ROI ratio is a comparison of two-year post-graduation earnings and student debt at graduation. High ROI is better.
Universities must offer four-year degree programs to be considered
Universities had to have non-zero debt and earnings numbers.
We chose to include only online universities by only including schools that have at least 90% of their total student population be exclusively online. This eliminates brick and mortar institutions with online programs from our ranking.
We chose to include only institutions that are doing online education at scale because we believe this is a better experience for students pursuing an online degree. We chose to only include institutions that had at least 15,000 total online-only students for this reason.
The use of the word "best" is subjective, but we are using the term based on the ranking methodology explained above, and in a way that reflects WGU's values.
Learn About WGU's Accounting Program
If you're looking to get an accounting degree, consider the online bachelor's degree program at WGU. This online accounting program is meant to help you boost your résumé with accounting courses that give you critical experience which can help you enhance your career. You'll be well-prepared for a lucrative and exciting career in accounting, finance, or business with the help of this bachelor's degree program. Learn more about the specifics of this program to see if it's the right fit for you.
Accounting – B.S. Business Administration
Have a knack for numbers or fine-tuning finances?...
Have a knack for numbers or fine-tuning finances?...
Have a knack for numbers or fine-tuning finances?
Time: 62% of graduates finish within 36 months.
Tuition and fees: $3,720 per 6-month term.
Some careers and jobs this business degree will prepare you for:

Accounting manager
Financial director
Vice president of finance and operations
Chief financial officer
Forensic accountant
Take your first step toward CPA certification and learn how to use GAAP, ledgers, and journals.
College of Business
---
What is an Accounting Degree?
An accounting degree is an undergraduate program that teaches about accounting and financial fundamentals. A traditional or online bachelor's degree in accounting is the first step to a career in business or finance, including becoming a CPA or Certified Public Accountant. Accountants work in all kinds of industries and can have a variety of different jobs. They create financial reports, review income and expenses for companies, prepare taxes, and ensure compliance with government regulations.
Can You Earn an Accounting Degree Online?
Absolutely! There are many options for students who want to pursue an online bachelor's accounting program. Online bachelor's degree programs offer students accounting courses in taxation, auditing, accounting information systems, financial and managerial accounting, along with other business fundamentals. If you are interested in pursuing an accounting degree online it's vital to know if the program is accredited and well-respected. WGU's online bachelor's accounting program is ACBSP accredited, a designation showing that it rigorous and will be respected by your employer.
What Is the Best Online School for Accounting?
Based on our ranking methodology here are the top 5 online accounting schools:
1. Western Governors University. ROI: 202% Exclusively Online Students: 136,139. Tuition: $7,150 per year.
2. Southern New Hampshire University. ROI: 159%. Exclusively Online Students: 106,703. Tuition: $9,600 per year
3. Walden University. ROI: 110%. Exclusively Online Students: 48,420. Tuition: $9,750 per year
4. DeVry University—Illinois. ROI: 103%. Exclusively Online Students: 17,103. Tuition: $15,420 per year
5. Ashford University. ROI: 95%. Exclusively Online Students: 32,620. Tuition: $15,300 per year
Are Online Accounting Degrees Good?
If you choose the right online bachelor's program for your accounting degree, it can be a fantastic option for your career. Be sure to find a university and online bachelor's program that is accredited and well-respected to ensure your employer and colleagues will see value in your degree. You want to be sure your courses will cover the important aspects of accounting you will need to know to be successful. Do you research to make sure the online school you choose is one that is valued and respected in the accounting industry, and be sure the courses will cover all of the relevant material that accountants need to know.
What Will I Learn in an Accounting Degree Program?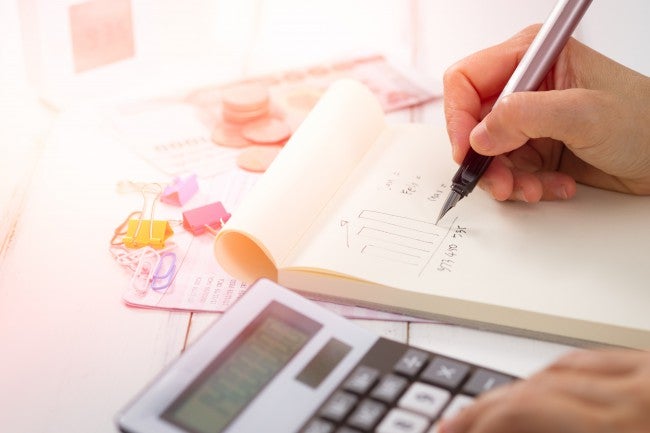 In an accounting degree program there will be several fundamental skills you will need to learn. These skills and the experience you will gain will be key in helping you be prepared for relevant accounting careers. Some of the most important skills you will learn in an accounting degree program include:
Reading and interpreting financial statements
Understanding GAAP (Generally Accepted Accounting Principles)
Analyzing financial data
Advanced Excel and spreadsheet knowledge
Taxation rules and regulations
Taxation formulas
Auditing rules and regulations
Auditing formulas
Managerial accounting principles
Business intelligence software 
What Can I Do with an Accounting Degree?
If you want to pursue an accounting-related career, an accounting degree is a critical first step. This type of degree will prepare you for a wide variety of careers in the business and finance world. Every industry has a need for qualified and professional accountants to help ensure their finances are accurate and on-track. Some of the many jobs a degree in accounting can prepare you for include:
Forensic accountant
Tax accountant
Auditor
CPA
Controller
CFO
Financial manager
Bookkeeper
Payroll accountant
Financial advisor
Banker
Wealth manager
Financial analyst
Tax attorney
Is an Accounting Bachelor's Degree Worth It?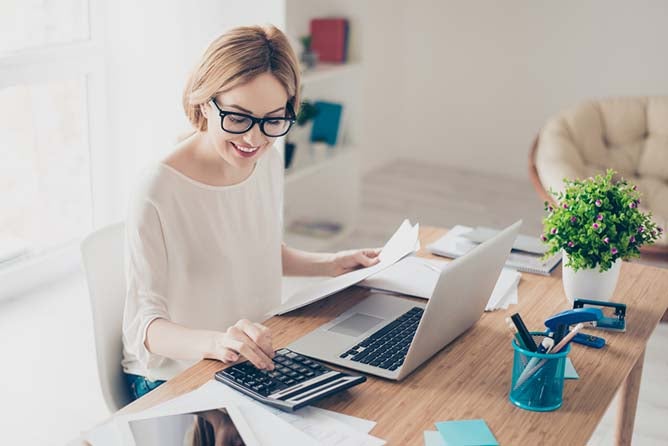 Absolutely! For most accounting positions and to progress in an accounting or finance career, a bachelor's degree will be the first step. A bachelor's degree or more will likely be required for many accounting jobs due to the specific knowledge and experience you will need to perform job functions well. Degree-holders can expect to qualify for better job opportunities, higher pay, and can give your résumé an important boost that can lead to better job security overall.
An Accounting Bachelor's Degree and the CPA Exam
Earning an accounting bachelor's degree is also the first step toward taking the CPA exam and becoming a certified professional accountant. This license is key in giving you additional opportunities and credentials as part of your accounting career. While each state has unique requirements for becoming a CPA, nearly every state requires a bachelor's degree in accounting or a high amount of relevant coursework and credits. A B.S. in accounting is a great place to start if you're hoping to pursue this highly respected license and designation. 
Benefits of an Accounting Degree
Average Salary
$73,560
The average salary for accountants in the United States is around $73,000 per year. This will vary based on your experience level, the location where you work, and your education background. CPAs tend to make 15% more than other accountants, and those with a bachelor's or master's degree can expect higher salary levels than those without that educational background.
Job Growth
4%
The Bureau of Labor Statistics anticipates that jobs in accounting will grow 4% by the year 2029, which is as fast as the national average for career growth. This means that there will be many opportunities for those with an accounting degree to enter or advance in the field over the next several years.
Job Opportunities
Anywhere
Every industry and every location will require accountants who are well-versed in finances. Public accounting firms, large or small businesses, non-profits, governments, schools, hospitals—every industry you can think of will need accountants who can help keep finances on-track and up-to-date. Whatever type of industry you're interested in, or wherever you live, you can find a position as an accountant.
WGU Bachelor of Science in Accounting at a Glance
70% of B.S. Accounting students finish their WGU program in 41 months or less.

After graduation, WGU students report earning $15,053 more per year.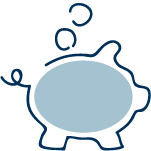 WGU's tuition is charged per-term instead of per-credit, so finishing faster helps you save.
The curriculum of the accounting bachelor's degree program is designed for working professionals.

Next Possible Start
Start dates are the 1st of every month. Meet requirements by the 15th to start next month. Discuss steps and deadlines with your Enrollment Counselor.
APPLY TODAY
Get your Enrollment Checklist
Download your step-by-step guide to enrollment.
View checklist
Get your questions answered and take the next step: Talk to an Enrollment Counselor.
866-225-5948
Request info
Common questions about online accounting degrees.
How much does it cost to get an accounting degree online?
The cost of your online accounting degree will vary based on the school you choose—different schools will have different tuition and fee amounts. WGU is one of the most affordable options for an online accounting degree, with tuition costing just $3,575 per six-month term. Tuition is charged per term, not per credit, so you can take as many courses as you're able during your six-month term. That means graduating faster will cost less! 
Can you earn an accounting degree online?
Yes! There are many online degree programs that offer accounting degrees online. Do your research to learn which kind of online university is the best fit for you. For example, WGU offers entirely online degrees and no set class times—you do your coursework on your schedule. This helps you take control of your education and earn an online accounting degree on your timeline. 
What's the best online college for accounting?
There are many online colleges that offer accounting degree programs, so it's important to do your research to find the best fit for you. Look at tuition costs, accreditation, educational models, and coursework to figure out which program is best. WGU is highly reputable, accredited, and affordable. Our online accounting degree program has helped thousands of students pursue an accounting career and find success.
What can I do with a degree in accounting? 
A degree in accounting qualifies you to work in a number of positions related to accounting and finance. The positions you qualify for depend on your level of education. With a bachelor's degree, you may be most qualified for entry-level positions as a bookkeeper, accounts payable specialist, or assistant payroll administrator. With a master's degree in accounting and as a certified public accountant, you may find you're more qualified for leadership positions and senior-level roles. These include accounting manager, auditor, investment banker, and chief financial officer.
How long does it take to complete an online accounting degree? 
In general, it takes about four years or 120 credits to complete an online accounting degree. However, with a competency-based education model, like what is offered at WGU, students can graduate more quickly by passing assessments using their existing skills and knowledge.
Is an online accounting degree worth anything? 
An online accounting degree is extremely valuable if you want to become an accountant. For most accounting positions you will need at least a bachelor's degree. This will help you learn about fundamental accounting principles, rules, regulations, financial statements, and more. And if you want to become a CPA you'll absolutely need at least a bachelor's degree, if not a master's degree.
Does an online accounting degree meet certification requirements? 
In order to sit for the CPA exam you'll need to have an accredited bachelor's degree. When researching an online accounting degree, you'll need to ensure that your online degree is from an accredited institution. 
Is an online accounting degree right for me? 
An online accounting degree can be a fantastic choice if you are currently working full-time and want to maintain your job while furthering your education. An online accounting degree also allows you to get valuable credentials that boost your résumé, preparing you to move forward in your career. An online accounting degree can be a great option for many working professionals and students who are looking for an accessible degree option. 
Can you get a bachelor's degree in accounting online? 
Yes! There are many online programs that offer accredited bachelor's degree programs for students to pursue. These online bachelor's degree programs can be a great option for students who are working full-time so they can continue to pursue their online education while still earning money.
What can I do with a bachelor's in accounting? 
With a bachelor's degree in accounting, you may be able to secure a job in a number of different accounting-related areas. While Certified Public Accountants often work more in management and senior-level positions, with a bachelor's degree in accounting you may be qualified for some of the following entry-level positions:
Accountant
Bookkeeper
Financial analyst
Controller
What are examples of nursing informatics? 
Some of the technologies and platforms utilized within the field of nursing informatics include:
Electronic health records
Telemedicine solutions
Data modeling software
Patient care portals
Is nursing informatics in demand? 
Yes. Nursing informatics is a growing field that is certainly in high demand. Just as the need for nurses is growing, so is the demand for nursing informaticists. As healthcare moves increasingly online, demand within the nursing informatics field is expected to grow even more over the coming years. In fact, from 2019 to 2029, the U.S. Bureau of Labor Statistics projects there will be 221,900 additional jobs for registered nurses. A similar trend may follow for nursing informaticists. 
What are nursing informatics skills? 
In order to be successful in the field of nursing informatics, in addition to having an understanding of nursing, you should possess skills in the following areas:
Management
Data analytics
Computer science
Design and development
Information systems