Networking and partnering are valuable skills for any business professional. The connections made in college or graduate school can lead to career opportunities, startup ventures, solving social and societal problems, and more!
The WGU NBMBAA® club provides a platform for students, alumni, and staff of all races, genders, and backgrounds to connect with one another and with their local business community in powerful ways that can have lifelong impact.

With over 20,000 members in 40 professional Chapters, the National Black MBA Association (NBMBAA®) strives to increase awareness and facilitate access to graduate business education programs in professional fields. 
Why Join the WGU NBMBAA® Virtual Club?
As a current WGU student, alumnus, staff, or faculty, we hope you will consider becoming part of the WGU NBMBAA® Virtual Club. 
Learn about employment, social, and other opportunities
Grow and develop as a leader through connection with others, executive skill development programs, and other professional and personal development opportunities
Create and foster relationships with your local business community and the local individuals and organizations associated with NBMBAA®
Positively contribute to the educational and economic growth of the African American and Black community
How to Join the WGU NBMBAA® Virtual Club
Membership in the National Black MBA Association® is open to all students, alumni, and employees without regard to race, gender, national origin, or other characteristics. In order to join WGU's virtual club, you must first be associated with a NBMBAA® local chapter. 
To become a member of the WGU NBMBAA® Virtual Club, visit the NBMBAA website and complete the member registration form.
If you are already a NBMBAA® member, please register for the virtual club here. 
LinkedIn – Stay connected with your fellow members!
After you have finalized your membership, please click the link below and request access to join our LinkedIn group. If you do not have a LinkedIn Profile, check out this article from our Career Services team that provides instructions to create an account.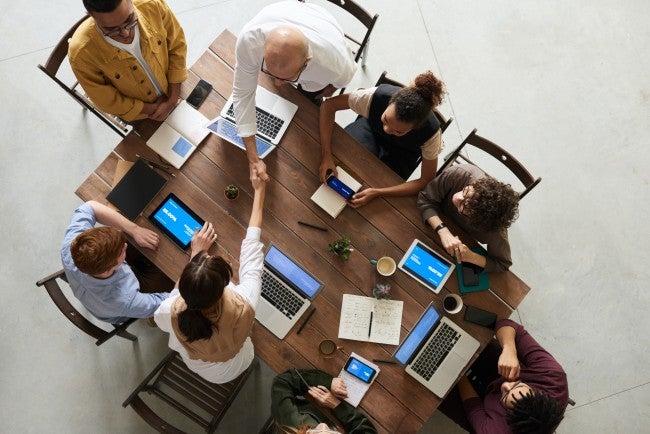 Join Us for Professional Development Webinars
See all upcoming and previous webinars centered the professional development and career growth of WGU NBMBAA Virtual Club members, NBMBAA National Club members and prospective members.
May 19, 2022: The Future of Leadership Post COVID-19
Effective leadership is inextricably linked to organizational performance. Post COVID-19, leaders must embrace new challenges and adapt to evolving market demands and shifts, develop strategies to motivate staff and identify innovative mechanisms to ensure organizational solvency. Key areas of the presentation will cover knowing and leveraging your leadership style for good, committing to your vision, identification of what works for you as a leader, and how to cultivate a work environment open to evaluation and change.
Dr. Linda Gunn, PhD, CPHRM, ACC
Dr. Ashley Tennessee, DHA, MBA, MPH
Dr. Linda Gunn, PhD, CPHRM, ACC is a Senior Instructional Faculty in the College of Health Professions for WGU. She earned her B.S. in Operations Management from Indiana University; M.B.A. in Finance from University of Notre Dame; and Ph.D. in Organization Development from Union Institute and University. Dr. Gunn, also, earned the designations of Certified Professional in Healthcare Risk Management (CPHRM) from the American Hospital Association and the Associate Certified Coach (ACC) from the International Coaching Federation.

Dr. Gunn has worked in management positions for both private and not for profit organizations with her most recent experience in a 600-bed hospital as Director of Risk Management/Physician Services. She has taught in both traditional and nontraditional settings for over 25 years. Since starting with WGU in 2005, she has served in a variety of positions and helped in the development of the BSHCM, MSIHCM, MHL, MBA, MBA MCM, and BSHSC degree programs and has been involved in curriculum development for leadership, management, diversity, healthcare, financial management, strategic planning and more! Linda has also co-authored a chapter on Healthcare Financial Management for a text.

Dr. Ashley Tennessee, DHA, MBA, MPH serves as Instructional Faculty for Western Governors University. Dr. Tennessee was awarded, with honors, her Doctorate in Health Administration and Leadership from the Medical University of South Carolina, her Master of Science in Business Administration from the University of Memphis and her Master of Science in Public Health in Health Systems Management from Tulane University School of Public Health and Tropical Medicine.

Dr. Tennessee, also, holds a Bachelor of Science in Chemistry and a Bachelor of Science in Biology from the University of New Orleans. Dr. Tennessee is a published author in the American Journal of Public Health and the International Journal of Environmental Research and Public Health.
Dr. Tennessee has published several abstracts in proceedings for National Conferences in addition to receiving multiple honors throughout her career.
Stay tuned for other upcoming events posted here!
Sign up for the WGU Virtual Club here.