Networking and partnering are valuable skills for any business professional. The connections made in college or graduate school can lead to career opportunities, startup ventures, solving social and societal problems, and more!
The WGU NBMBAA® club provides a platform for students, alumni, and staff of all races, genders, and backgrounds to connect with one another and with their local business community in powerful ways that can have lifelong impact.

With over 20,000 members in 40 professional Chapters, the National Black MBA Association (NBMBAA®) strives to increase awareness and facilitate access to graduate business education programs in professional fields. 
Why Join the WGU NBMBAA® Virtual Club?
As a current WGU student, alumnus, staff, or faculty, we hope you will consider becoming part of the WGU NBMBAA® Virtual Club. 
Learn about employment, social, and other opportunities
Grow and develop as a leader through connection with others, executive skill development programs, and other professional and personal development opportunities
Create and foster relationships with your local business community and the local individuals and organizations associated with NBMBAA®
Positively contribute to the educational and economic growth of the African American and Black community
How to Join the WGU NBMBAA® Virtual Club
Membership in the National Black MBA Association® is open to all students, alumni, and employees without regard to race, gender, national origin, or other characteristics. In order to join WGU's virtual club, you must first be associated with a NBMBAA® local chapter. 
To become a member of the WGU NBMBAA®, visit the website and register with the code "WGU2020X".
If you are already a NBMBAA® member, please register for the virtual club here. 
LinkedIn – Stay connected with your fellow members!
After you have finalized your membership, please click the link below and request access to join our LinkedIn group. If you do not have a LinkedIn Profile, check out this article from our Career Services team that provides instructions to create an account.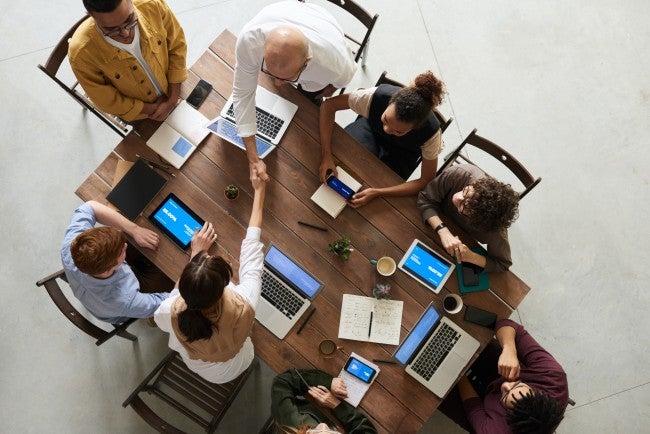 Join Us for Professional Development Webinars
See all upcoming and previous webinars centered the professional development and career growth of WGU NBMBAA Virtual Club members, NBMBAA National Club members and prospective members.
Stay tuned for upcoming events posted here!
Sign up for the WGU Virtual Club here.