What is the best online school for information technology?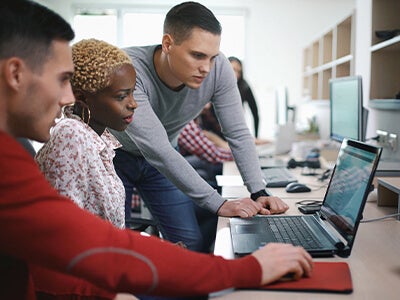 A degree in information technology is a great choice for students who are looking to start or progress their technology career. And for many of these students, an online IT program is the ideal choice. An online program will allow them to continue working full-time while pursuing their degrees. This enables them to immediately apply things they are learning in their current role, or be ready to move or advance in their career once they graduate. An online program may also allow them to accelerate their courses by using their current experience and knowledge, helping them graduate even faster. 
An information technology program will cover key concepts, including networking, security, programming languages, data management, technical communication, spreadsheets, and more. This kind of program is ideal for current or aspiring IT professionals who want a better understanding of the industry and how to work well in it.
But not all IT programs are created equal. When comparing IT degree programs, it's crucial to look at a variety of factors to help you decide which is really going to be the best fit for you. 
Best online school for an IT degree.
Doing research is key as you compare information technology degree programs. The cost of the program, the amount of time it will take to graduate, and the course offerings are all important when making your decision. Additionally, it's valuable to look at the overall ROI of the degree, how many online students a university has, and other factors when deciding which program will really meet your needs. Compare top IT programs to decide which online degree option will be the best for your education. 
---
1. Western Governors University
Exclusively Online Students: 136,139
Tuition: $6,450 per year

2. Columbia Southern University
Exclusively Online Students: 20,034
Tuition: $7,050 per year

Exclusively Online Students: 37,859
Tuition: $10,710 per year

4. Southern New Hampshire University
Exclusively Online Students: 106,703
Tuition: $9,600 per year

5. University of Phoenix—Arizona
Exclusively Online Students: 93,777
Tuition: $11,940 per year

6. American Public University System
Exclusively Online Students: 45,249
Tuition: $11,550 per year

7. Colorado Technical University—Colorado Springs
Exclusively Online Students: 26,143
Tuition: $15,555 per year

Exclusively Online Students: 48,420
Tuition: $11,130 per year

9. Purdue University Global
Exclusively Online Students: 37,757
Tuition: $9,750 per year

Our goal in this ranking is to objectively look at how top online university programs compare to one another. This is why we have used third-party data to help us reach our conclusions about programs we rank. 
Data sources:
Explanation and requirements for ranking:
Universities were ranked on their ROI ratio. The ROI ratio is a comparison of two-year post-graduation earnings and student debt at graduation. High ROI is better.
Universities must offer four-year degree programs to be considered
Universities had to have non-zero debt and earnings numbers.
We chose to include only online universities by only including schools that have at least 90% of their total student population be exclusively online. This eliminates brick and mortar institutions with online programs from our ranking.
We chose to include only institutions that are doing online education at scale because we believe this is a better experience for students pursuing an online degree. We chose to only include institutions that had at least 15,000 total online-only students for this reason.
The use of the word "best" is subjective, but we are using the term based on the ranking methodology explained above, and in a way that reflects WGU's values.
Learn about WGU's IT program.
If you're looking to get a degree in information technology, the IT bachelor's degree program at WGU could be the perfect fit. This online IT degree is designed to enhance your résumé and prepare you for a new position in IT. You will be well prepared for a lucrative and exciting career in a field that is constantly growing. You will graduate with skills AND vital certifications that demonstrate your abilities. Employers will see your degree and certs as a great indication of the work you can do. Learn more about the specifics of this program to see if it's the right fit for you. 
Information Technology – B.S.
Award-winning coursework and value-add certifications make this...
Award-winning coursework and value-add...
Award-winning coursework and value-add certifications make this online program a top choice.
Time: 71% of graduates finish within 30 months.
Tuition and fees: $3,520 per 6-month term.
Certifications: Includes CIW, ITIL, LPI and CompTIA.
The CIW User Interface Designer, LPI Linux Essentials and ITIL® Foundation Certification are central to this program. Included CompTIA certifications are A+, Network+, Security+, and Project+.
College of I.T.