What is the Best Online School for Information Technology?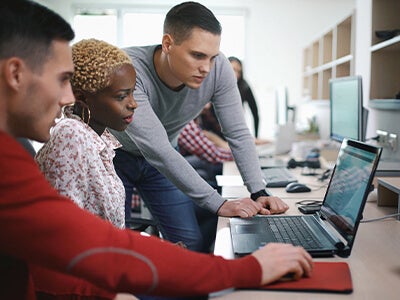 A degree in information technology is a great choice for students who are looking to start or progress their technology career. And for many of these students, an online IT program is the ideal choice. An online program will allow them to continue working full-time while pursuing their degrees. This enables them to immediately apply things they are learning in their current role, or be ready to move or advance in their career once they graduate. An online program may also allow them to accelerate their courses by using their current experience and knowledge, helping them graduate even faster. 
An information technology program will cover key concepts, including networking, security, programming languages, data management, technical communication, spreadsheets, and more. This kind of program is ideal for current or aspiring IT professionals who want a better understanding of the industry and how to work well in it.
But not all IT programs are created equal. When comparing IT degree programs, it's crucial to look at a variety of factors to help you decide which is really going to be the best fit for you. 
Best Online School for an IT Degree
Doing research is key as you compare information technology degree programs. The cost of the program, the amount of time it will take to graduate, and the course offerings are all important when making your decision. Additionally, it's valuable to look at the overall ROI of the degree, how many online students a university has, and other factors when deciding which program will really meet your needs. Compare top IT programs to decide which online degree option will be the best for your education. 
---
1. Western Governors University
Exclusively Online Students: 136,139
Tuition: $6,670 per year

2. Columbia Southern University
Exclusively Online Students: 20,034
Tuition: $5,655 per year

Exclusively Online Students: 37,859
Tuition: $14,540 per year

4. Southern New Hampshire University
Exclusively Online Students: 106,703
Tuition: $31,136 per year

5. University of Phoenix—Arizona
Exclusively Online Students: 93,777
Tuition: $9,552 per year

6. American Public University System
Exclusively Online Students: 45,249
Tuition: $7,324 per year

7. Colorado Technical University—Colorado Springs
Exclusively Online Students: 26,143
Tuition: $12,529 per year

Exclusively Online Students: 48,420
Tuition: $12,150 per year

9. Purdue University Global
Exclusively Online Students: 37,757
Tuition: $8,037 per year

Our goal in this ranking is to objectively look at how top online university programs compare to one another. This is why we have used third-party data to help us reach our conclusions about programs we rank. 
Data sources:
Explanation and requirements for ranking:
Universities were ranked on their ROI ratio. The ROI ratio is a comparison of two-year post-graduation earnings and student debt at graduation. High ROI is better.
Universities must offer four-year degree programs to be considered
Universities had to have non-zero debt and earnings numbers.
We chose to include only online universities by only including schools that have at least 90% of their total student population be exclusively online. This eliminates brick and mortar institutions with online programs from our ranking.
We chose to include only institutions that are doing online education at scale because we believe this is a better experience for students pursuing an online degree. We chose to only include institutions that had at least 15,000 total online-only students for this reason.
The use of the word "best" is subjective, but we are using the term based on the ranking methodology explained above, and in a way that reflects WGU's values.
Learn about WGU's IT Program
If you're looking to get a degree in information technology, the IT bachelor's degree program at WGU could be the perfect fit. This online IT degree is designed to enhance your résumé and prepare you for a new position in IT. You will be well prepared for a lucrative and exciting career in a field that is constantly growing. You will graduate with skills AND vital certifications that demonstrate your abilities. Employers will see your degree and certs as a great indication of the work you can do. Learn more about the specifics of this program to see if it's the right fit for you. 
Information Technology – B.S.
Award-winning coursework and value-add certifications make this...
Award-winning coursework and value-add...
Award-winning coursework and value-add certifications make this online program a top choice.
Time: 71% of graduates finish within 30 months.
Tuition and fees: $3,920 per 6-month term.
Certifications: Includes CIW, ITIL, LPI and CompTIA.
The CIW User Interface Designer, LPI Linux Essentials and ITIL® Foundation Certification are central to this program. Included CompTIA certifications are A+, Network+, Security+, and Project+.
College of I.T.
---
A degree in information technology is a program focused on computing systems that are used to collect, record, analyze, and access data. Information technology is a rapidly expanding field and there are many disciplines within the field of IT where you can specialize. However, students may also choose to pursue a degree program in information technology specifically, which tends to be a more broad look at the field and workings inside the field as a whole. 
What is the Best Online College for IT?
The best online college for an IT degree will depend on you as a student. You should take in several factors including program length, courses, cost, and accreditation. As you consider your information technology program it's important to think about what is most important to you personally in a program. Look at your career goals, budget, and life situation to help you determine the most valuable areas of an IT program. Online colleges offer specific benefits that can help students in an information technology program. For example, WGU's online degrees allow students to work at their own pace for their degree. Students are able to go as quickly through their online degree program as they are able to master the material. Online degrees are often more inexpensive than traditional degrees as well. And online colleges with information technology degrees may also offer certifications along with degrees to help students boost their résumé even more.
What is the Best Information Technology Degree?
There are a wide variety of degrees in information technology that you can choose from if you know a tech focused career is your goal. The way to determine the best degree program for you is to evaluate what career you want, and then see which degree will give you the specific skills you will need in that career. For many students, a general information technology degree is the ideal choice. It enables students to gain IT basics and fundamental skills while giving them a valuable credential that employers respect. The fundamental skills an IT degree gives students can prepare them for a wide variety of careers and opportunities.
Which University is Best for Information Technology?
There are many university programs that have excellent information technology programs. You should look at accreditation, awards, cost of attendance, program length, and courses to determine which university program best meets your needs. It's vital to ensure that you ensure that your chosen IT degree program is from an accredited university that is reputable. See if your chosen school has partnerships with top IT organizations, ensure that they are recognized by an accrediting body, and see what awards they have won. This will all come together to indicate if it is a high-quality program that is worth your time and money. For many current IT professionals, an online program offers critical flexibility as they pursue their degree.
What Will I Learn in an IT Degree Program?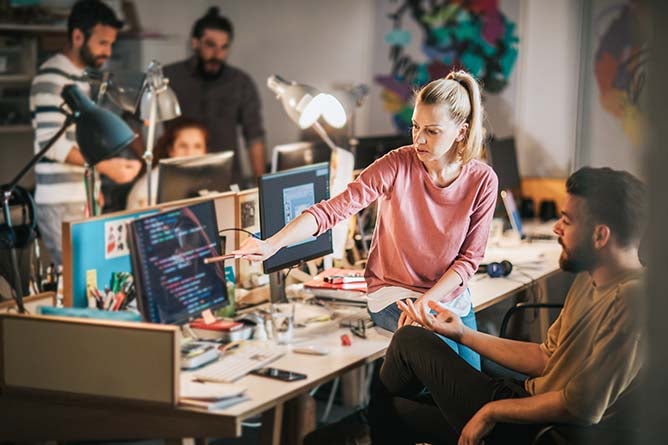 In a degree program focused on information technology, there are many areas where you will learn and gain experience that will help you in your career. Some of the key areas of study in an IT program will likely be:
IT fundamentals
Networks and security
Cloud foundations
Linux foundations
Emerging technologies
Scripting 
Data management
The business of IT
Spreadsheets
Technical communication
Web development
User interface design
And more
What Can I Do with an IT Degree?
A degree in information technology gives you critical foundations in IT and valuable credentials that can prepare you for exciting and lucrative careers in the industry. For many current IT professionals, a degree is a critical step in being ready for promotions, salary increases, and new job titles. Similarly for those who want to break into the IT industry, a traditional or online degree program in IT is crucial in demonstrating your knowledge and experience in the industry. A traditional or online degree program in information technology will prepare you for many different careers including:
Computer programmer
Server technician
Computer Systems Analyst 
Server technician 
Server analyst 
Server architect 
Server administrator 
Network Admin  
Software engineer
Database administrator
PC technician
Technical writer
Network Engineer
Network architect
Hardware engineer
IT security specialist
About IT Bachelor's Degree Programs
It's important to understand the distinction between a bachelor's degree in information technology, and the variety of bachelor's degree programs in the general field of information technology. Bachelor's degree programs in an information technology college or field could include cybersecurity, software development, computer science, and more. But a bachelor's of science specifically in information technology is a degree program that focuses on the more broad study of information technology as a whole. A B.S. in Information Technology is likely to focus on IT fundamentals, data management, scripting and programming, and more. It will not necessarily dive into specifics that other degree programs will. For example, in a cybersecurity IT degree program, you will learn about network security, penetration testing, and hacking. In a B.S. IT program, you won't get into those kind of detailed courses, but instead will focus on IT management, technology systems, and organizational structures. 
Is an IT Bachelor's Degree Worth It?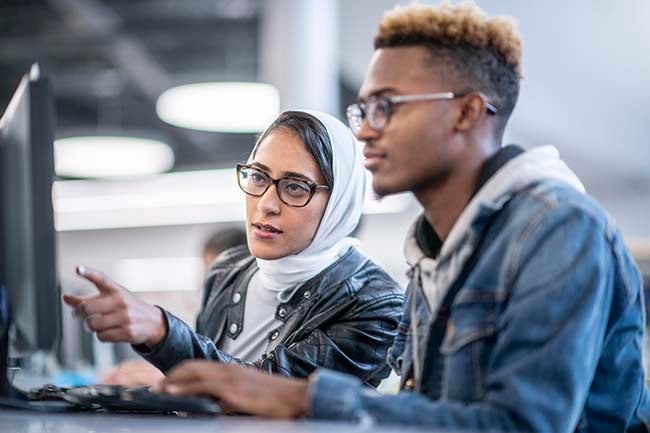 A bachelor's degree in information technology is absolutely a worthwhile investment for your career and your future. Information technology is a booming field and a degree focused on IT will give you specific credentials and skills you need in order to excel in the field. You will learn the basics of IT, software systems, programming, scripting, networking foundations, IT management techniques, and the business of IT in an IT bachelor's degree program. 
Information technology fields are growing quickly, with 11% job growth projected by the year 2029. This means that the field is ready and waiting for professionals who have the skills and credentials. 
Salary levels are also significantly higher in the field of information technology than in other fields, with a median of about $91,000 per year, compared to the national average median salary of just $41,000 per year. 
Job growth, stability, salary levels, and a booming industry all mean that a degree in information technology can set you up for great success.
An IT Degree and Certifications
With WGU's online degree program, students have the opportunity to earn an information technology degree as well as top industry certs for one price. Our online degree program is focused on ensuring students are accurately prepared for real-world situations in their career. This means coursework that is designed for industry professionals. That's why we include learning and opportunity to take industry certifications that help enhance your learning and boost your résumé before you even graduate.

Benefits of an Information Technology Degree
Average Salary
$91,000
The average salary in the information technology field is $91,000 per year. This is $50,000 higher than the national average salary. As technology continues to grow and be in high demand, professionals with the right credentials will continue to see lucrative opportunities

Job Growth
11%
The Bureau of Labor Statistics anticipates that jobs in information technology will grow 11% by the year 2029. Every industry needs information technology professionals to help it run. Businesses big and small, schools, hospitals, government agencies, and more all rely on IT to help them succeed. This means the IT industry will only continue to grow over time.
Job Opportunities
Anywhere
Any industry, any location. IT jobs are some of the most widespread around the country. Wherever you live or whatever industry you want to work in, there is likely an IT position waiting for you. A degree will ensure you have the credentials and skills that will help you be ready for whatever position is next.
WGU Bachelor of Science in Information Technology at a Glance
70% of B.S. IT students finish their WGU program in 48 months or less.

Just 2 years after graduation, WGU students report earning $11,800 more per year.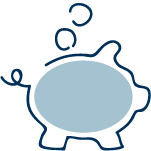 WGU's tuition is charged per-term instead of per-credit, so finishing faster helps you save.
The curriculum of the IT bachelor's degree program is designed for working professionals.
Next Possible Start
Start dates are the 1st of every month. Meet requirements by the 15th to start next month. Discuss steps and deadlines with your Enrollment Counselor.
APPLY TODAY
Get your Enrollment Checklist
Download your step-by-step guide to enrollment.
View checklist
Get your questions answered and take the next step: Talk to an Enrollment Counselor.
866-225-5948
Request info
How Much Does a Bachelor of Science in Information Technology Cost?
Affordable tuition is key at WGU. Our tuition is charged per-term instead of per-credit, so you are in control of the overall cost of your degree. Students pay less than $8,000 per year for their information technology degree. We also offer scholarships and financial aid to help make your degree even more affordable. 
Flat-rate tuition of $3,920 per term links cost to time.
By charging per 6-month term rather than per credit hour—and empowering students to accelerate through material they know well or can learn quickly—WGU helps students control the ultimate cost of their degrees.
Adjust the time and see your costs change
1 yr
1.5 yrs
2 yrs
2.5 yrs
3 yrs
1 yr
1.5 yrs
2 yrs
2.5 yrs
3 yrs
Common questions about the information and technology degree program at WGU.
What if I can't meet the eligibility requirements to enroll in the IT program I am interested in?
You should speak with an Enrollment Counselor. WGU can often provide advice or resources to help a prospective student fulfill enrollment prerequisites.
Why are certifications and other prerequisites required?
When you enroll in a WGU degree program, our goal is to see you through to graduation. Admission requirements are designed to increase your likelihood of success. Years of data and experience with the nontraditional students WGU serves have shown us how various types of academic and professional experience can be highly important in helping a student persist to graduation. Industry certifications are one of many ways a student can meet eligibility.
Why doesn't WGU accept certifications that are older than five years?
WGU has an obligation to our graduates—and their current and future employers—to ensure WGU alumni have mastered the most up-to-date, current competencies and skills needed in the workplace. Recency of certifications helps us ensure that students have demonstrated competency in skills as they are needed in today's working world.
Is this program truly "at your own pace"?
As a full-time student, you will be required to maintain a minimum pace of 12 competency units (CUs) per term for undergraduate programs or 8 CUs per term for graduate programs. However, there is no maximum speed—once you complete a course, you move immediately to the next, and you complete a course not by waiting for the syllabus, the professor, or the rest of the class. You progress by learning the material and proving it—so you can move through your coursework at the speed of your own learning and experience.
If there aren't classes or lectures, what role do Instructors play?
Instructors are highly educated, experienced experts in the subject matter of a course. Unlike in a traditional university where going to class means listening to an instructor lecture while you take notes and try to learn in a group setting, WGU's Instructors provide one-on-one instruction and support when you need it—tailoring the instruction to your precise needs when you need it. Instructors also provide additional resources, lead topical discussions in online communities, and find countless other ways to bring a specific course to life for students.
What is learned in a Bachelor's in Information Technology program?
In a high-quality information technology bachelor's degree program students should learn many things including:
Network and security foundations and applications
IT foundations
Cloud foundations
Linux foundations
Data management
Information systems management
Scripting and programming
Web development
UX/UI
What is a bachelor's in information technology degree?
A bachelor's degree in information technology gives students important foundations and skills in programming, scripting, networks, and other technologies. This bachelor's degree program will prepare students for a career in application development, data management, information systems, database administration, and more. 
What can you do with a bachelor's degree in information technology?
An IT degree prepares students for many careers including:
Application Developer
IT Manager
Business Systems Analyst
Database Administrator
Web Developer
Software Programmer
What degree is best for information technology?
If you're looking for a more broad degree, a program in information technology can be the perfect fit. This kind of degree program will help you learn about many different areas of IT, instead of specializing in one certain element. 
How long does it take to get an online bachelor's in information technology?
The amount of time your online IT degree will take depends on where you choose to attend school. For example, at WGU most students earn their online IT degree in 30 months or less, while traditional programs take at least 48 months. 
How can I earn a BS in information technology?
The first step to earning a BS in IT is to find an accredited degree program. Find one that gives options for relevant coursework, is affordable, and offers industry certifications as well. WGU has a great program for students looking to earn an IT degree. The next step is to simply apply to the school, and get going on your program!