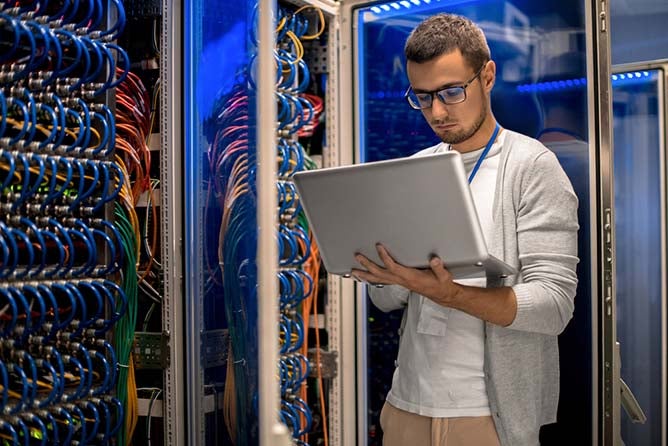 Did you know computer science graduates earn some of the highest starting salaries of any major?
If you have an interest in technology, solid math skills, and a propensity for problem-solving, a computer science (CS) degree is definitely worth exploring. With it, you'll be prepared for all kinds of sought-after jobs in information technology, cybersecurity, computer engineering, web development, and more.
What Can I Do with a Computer Science Degree?
The really good news for graduates is that CS jobs can be found in nearly every sector and every field. Check out some of the most in-demand computer science-related careers and their salaries below.
Average Salary: $94,503
If you consider yourself a problem-solver and are comfortable working both on a team and individually, consider software engineering. With a mix of creative and tech skills, software engineers develop and maintain computer programs, applications, and systems to drive innovation. While some software engineers are self-taught, most of those that end up in coding jobs gain their core technical skills by getting a degree in IT or in software development.
2. UX Designer

Average Salary: $85,490
A UX designer's job is to determine what the overall experience will be between a person and a product—whether they're shopping online or scrolling through a social media app. UX designers conduct and implement findings from user research, implementing the understanding gleaned to ensure they create content that's valuable to their audience. If you're technical and creative, UX design could be an ideal profession for you. The level of education you pursue depends on which career path you want to take, but in most cases, you'll need to have an IT degree—bachelor's, master's, or both.
3. Quality Assurance Analyst
Average Salary: $72,834
Also referred to as QA analysts, these professionals specialize in testing IT systems, such as software applications, telecommunications, and even games. QA analysts thoroughly test these programs to make sure they work and are error-free. As they get information, it's their job to make suggestions to developers on how to improve programs and provide a better user experience. A bachelor's degree in IT or computer science is usually required for most entry-level positions. For more advanced positions, however, you'll likely need a master's degree.
4. Data Scientist
Average Salary: $126,830
Data scientists work with big data to help companies meet their specific goals and needs. Sometimes, data scientists are given a complex problem and have to decide the information needed to solve it. Or they might need to look at historical data to make a prediction about what will help a business make or save money. The role of a data scientist requires a unique combination of math, computer science, and data analysis skills. These professionals are highly educated, so you'll definitely need a bachelor's degree, most likely in data analysis, computer science, math, or another related field.
5. Systems Architect
Average Salary: $117,165
A systems architect develops networks or computer systems from the ground up and then puts processes in place to keep those tech systems running smoothly. To accomplish this, they utilize software, servers, security protocols, and hardware. Systems architects also advise on what IT systems and components should be used to achieve specific business goals. In addition to computer programming experience, a bachelor's degree in computer science, software engineering, or a related field, can prepare you for this job.
6. Cybersecurity Analyst
Average Salary: $103,590
The main job of a cybersecurity analyst is to protect a company's software, hardware, and networks from cybercriminals or hackers who want to steal sensitive information. They have to understand IT infrastructure and know how to monitor it at all times to evaluate threats that could harm a company's network. While a cybersecurity analyst is a more entry-level role, you'll still need a bachelor's degree in cybersecurity to qualify for most jobs.
7. Video Game Designer
Average Salary: $66,894
Video game designers have their hands in many stages of the video game development process—from imagining characters and plots to building scripting and algorithms that sustain the game on the back end. They also test the game with focus groups and adjust the code as necessary. If you want a career that flexes both your creative and technical muscles, a bachelor's degree in software development is an ideal way to get your foot in the door as a video game developer.
8. Web Developer
Average Salary: $77,220
Web developers work closely with UX designers to program web applications that help bring websites to life. They control the technical elements of a website, including its code, outbound links, and content, to ensure a quality user experience that leaves consumers satisfied. Because website development is a highly specialized field that requires complex coding skills, web developers require a bachelor's degree in software development, cloud computing, or a related degree, like computer science.
9. App Developer
Average Salary: $71,735
Application developers work to provide the best possible mobile experience for users—whether they're troubleshooting issues with application operations or creating new applications that help mobile users perform tasks more efficiently. Unlike software developers or programmers, these professionals are unique in that they work on applications specifically for mobile devices. To become an application developer, you'll typically need to obtain an undergraduate degree in software development, as well as one or more certifications.
10. Database Administrator
Average Salary: $98,860
Database administrators help companies store and use their data. This data could be anything from financial information to employee performance metrics to retail records. They also use specialized software to install data management platforms, configure programs to securely store information, migrate this data to different servers and employee devices, and troubleshoot issues when clients experience difficulty accessing data.
If one of these roles piques your interest, a bachelor's degree in computer science is a great way to launch or advance into a lucrative and in-demand career field. Learn more by exploring one of WGU's many online IT degree programs today!