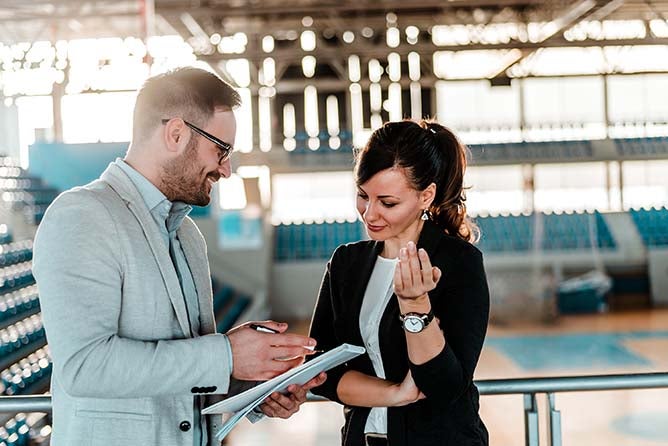 Forget what you've heard about accounting careers. Despite the stereotypes, the field isn't full of lonely number crunchers toiling away in solitude. There's more to accounting than preparing taxes and handling money—it's a vibrant industry with an array of exciting jobs and opportunities.
Here are five unique roles sure to capture the attention of new or prospective accountants.
1. Forensic accountant.
If the idea of combining your stellar investigative skills with your love of numbers makes your heart sing, you might want to pursue a career as a forensic accountant. Many large accounting firms have forensic divisions, and some firms specialize in forensic accounting services that identify internet fraud and other financial crimes, such as embezzlement and identity theft.
Further Reading: How to become an accountant.
Attorneys, banks, and law enforcement agencies rely on forensic accountants to analyze financial information and recover assets. Forensic accountants write reports, serve as expert witnesses in depositions, and provide other litigation support. According to the Association of Certified Fraud Examiners, forensic accountants need a strong foundation in basic accounting skills, but they also need strong problem-solving skills to identify criminal activities like credit card fraud, money laundering, and asset misappropriation and strong communication skills to be able to testify effectively. Forensic accountants usually make around $62,000 a year, Glassdoor says.
2. Big tech accountant.
One plus about being an accountant is that you'll be hard-pressed to find a company that doesn't need one—and that includes tech giants such as Apple, Google, Facebook, and Amazon. Because these companies have myriad assets, thousands of employees, and sometimes billions of dollars to balance, accountants are tasked with juggling a lot of financial balls. But the pay—usually in six figures, Indeed estimates—can be a big motivator.
Big tech companies also offer significant perks. Google, for example, offers free food, on-campus gyms, and 401k benefits. If you want to get in on the ground floor, there are also accountant positions at tech start-ups. The experience you can get in an all-hands-on-deck environment can be invaluable.
3. Major league sports accountant.
What do pro sports have to do with accounting careers? More than you might think. The NBA, MLB, NHL, and NFL all need accountants to manage payroll, merchandising, and team finances. As a sports accountant, you'll oversee the financial elements of your favorite team or player. According to Chron, you'll need strong analytical and math skills to keep track of advertising and sponsorship funds and make accurate financial forecasts to team executives, and you'll need strong interpersonal skills to balance the competing goals of team stakeholders.
Most major league sports accountants worked their way up from regional or minor league teams. Salary for sports accountants varies depending on which team or player you're affiliated with. ZipRecruiter reports that the average annual salary for sports accountants is around $48,000, but that figure usually jumps as you work with higher-profile clients.
4. Financial software developer.
With a strong accounting background and experience in coding and analytics, you can use your creativity to create programs that accountants and other finance professionals use every day. Banks, corporations, and credit card companies hire financial software developers to create, modify, and update software that streamlines accounting practices. This isn't your typical accounting job, but because it requires knowledge of the ins and outs of accounting, financial software developers must have a background in finance in addition to IT.
Software developers are enjoying a wide-open job market—the Bureau of Labor Statistics projects software developer employment to grow 21 percent by 2028. For their expertise in accounting and IT, financial software developers make a solid salary—about $133,000, on average, according to Glassdoor.
Start with the foundation.
Becoming a major league sports accountant or an investigative finance expert might sound exciting, but you'll need to get the right foundation before you dive into one of these careers. The first step in any accounting career is to get a strong business education, likely in finance or accounting. In an accounting program, you'll learn the fundamentals of finance and business, including the principles of economics, quantitative analysis methods, and business management. From there, the options are virtually limitless, whether you choose to pursue an office accounting job or follow the path to a unique accounting career in forensics, big tech, software development, or sports.