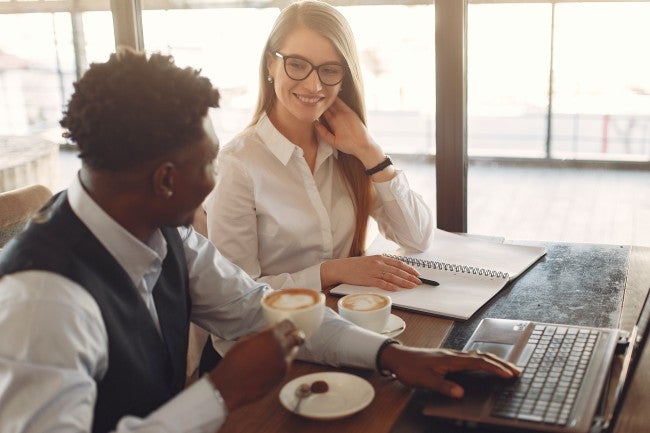 It can be overwhelming to try and choose a degree program. It's hard to know exactly how each degree can impact your future, and decide which one is the best fit for your wants and needs. Every student needs to try and find a degree program that works with their personality and will give them exactly the kind of training they are looking for. 
It's important for students to carefully consider degree programs and options to help them choose what will work best for them. It's valuable to look at courses, career pathways, and skills they can obtain with their degree to help them choose the right one.
Business management is an exciting degree program that many students are passionate about. WGU's business management degree program gives students a path to an online business management degree. WGU online bachelor's degree programs help degree-seekers get their business degree in a way that works for them. Online learners are able to utilize competency-based education to get their business degree—their coursework is entirely online and they are able to work on it whenever is convenient for them. They can pursue their online bachelor's degree before work, after work, on weekends, absolutely anytime they want. This allows students to attend business school while still keeping their job or maintaining their family responsibilities, which is extremely important to many students.
There are many signs that show students if an online bachelor's degree in business management is the right pathway for them. Learn more about an online business management degree and how to determine if it's the right program for you.
What is a business management degree?
An online business management degree will give you a great overview of all the areas of business. You'll learn about managing resources like personnel, finances, and physical elements. You'll learn about managing processes and procedures, strategies, and more. You'll also gain a working knowledge of other business disciplines like marketing, human resources, accounting and finance. All of these courses will help you get experience and skills in the important areas of business. Business management gives a broad overview of these courses to help students learn about the various areas. The study of management does not get extremely specific in any of the other functional business areas but it does give students important insights into how all the business areas fit together so that a manager can better control their applications. This helps prepare them for positions that involve collaboration and connection with different departments and teams. 
When you get an online bachelor's degree in business management you can expect classes in project management, change management, operations management, and other business classes like accounting, marketing, human resources, IT fundamentals, economics, communication, and more. These courses are meant to enhance your decision-making and give you higher-level understanding and experience in business. These courses are a great way for students to get insights into all the different aspects of business, and understand how to help make all of them work together cohesively.
5 signs an online business management degree is for you.
Now that you understand what you can learn in a business management degree online, you need to decide if this kind of online bachelor degree program is right for you. There are some important factors and indicators that business management may be a good degree program for you. 5 signs that this business degree is the right fit for your future include: 
1. You want lots of career options. If you're looking for a wide variety of career options, an online bachelor degree in business management may be the perfect choice for you. Business management gives you a range of coursework and experiences, so you have skills and knowledge in many areas of business. Students will study finance, accounting, economics, management, communication, marketing, human resources, and more. This can prepare you to be an efficient manager in many industries and disciplines. Business management graduates can pursue unique job titles in unique industries—from being a financial specialist in a software company, to being a sales representative in a media company. If you're looking for a degree program that can help you get a stable job, and be competitive for all kinds of positions in a wide variety of industries, business management could be the answer.
2. You're excited about learning new things. Business management is unique compared to many degree programs because it gives you many management courses on different subjects. If you're passionate about learning and find it exciting to get outside of your comfort zone to learn, an online business management degree could be perfect for you. There are a wide range of business management courses, from IT fundamentals and finance, to accounting and marketing strategy. These all help you learn about important management techniques so you can be effective.  It will be important that you are interested in learning a wide range of things, that new concepts and ideas don't overwhelm you, and that you're ready to give your all to something new. Business management is all about learning new concepts, and being ready to adapt to new processes and policies inside an organization—so if you like to learn you will be excited and challenged by a business management degree program.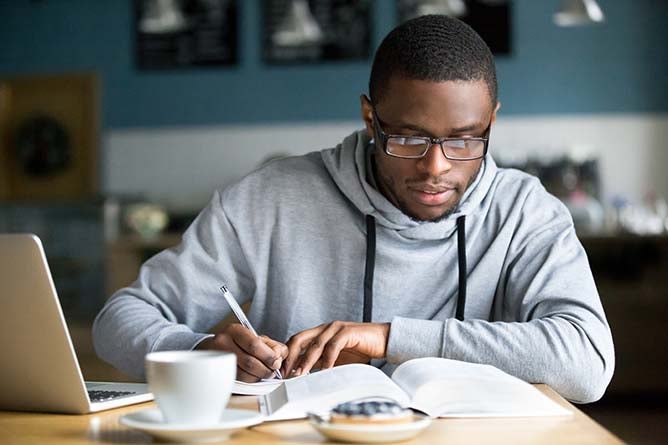 3. You find business interesting. In order to be successful in your career, you need to have passion about your industry. If you have a love of business and how it impacts the world around us, a business school could be for you. If you find yourself reading newspapers to see how businesses are doing, if you love thinking about economic policies and how they impact companies, or if you are excited about the idea of leading people during the workday, business management is a good fit. You shouldn't decide to pursue a degree in business simply because it seems like a simple option—you should have passion and be excited about the idea of spending your days working with numbers, strategy, communication, and more. Every single industry needs business thinkers and leaders in order to function, so if you have the passion for that kind of work, there are all kinds of opportunities for you.
4. You like working with other people. Business is centered around the idea of working with others. Collaboration, interdepartmental projects, and reporting to other teams are all part of working in business. If you like working with other people, a business management degree could help you be prepared to do that in your career. Business management equips students with the abilities to communicate well and lead effectively. In business, teams are established and you will almost always be working closely with colleagues and other departments to meet goals and enhance your organization. If you want to connect with others regularly, give presentations, collaborate in a group, and lead other people, an online bachelor's degree in business management could be your perfect fit.
5. You are a leader. If you are a natural leader or want to enhance your leadership skills, a degree in business management could be for you. Business management degrees and the professions they lead to all involve helping lead teams with good decision-making and honest communication. In a business management degree program you can gain confidence in business fundamentals that will help you be prepared to lead teams in your career. You'll learn about management strategies and techniques that can help you be an effective leader in any organization. If you feel the drive to take charge, make change, and impact others, business management could be a great degree program for you.
If any of these things sound like you, it's time to get started on a business management degree! WGU's business management bachelor's degree program is the perfect place to start your career. You'll learn important skills, enhance your experience, and be ready for whatever your future holds. 
A business degree from WGU is accredited and respected, ensuring that your employer will see the value in your degree. Business management degree graduates from WGU have gone on to work at exciting and reputable companies, from Amazon to Goldman Sachs. Many students find that business management gives them all of the elements they need to find success in their career, and prepares them for a wide variety of exciting opportunities. A business management degree can help set you apart from other job candidates, and demonstrates that you have a broad knowledge of how businesses operate. This can be key for many positions.
Affordable tuition, scholarship opportunities, entirely online courses, and flexibility make WGU stand out from other business schools. It's what sets us apart and ensures that your business management degree is attainable, and well worth it. Get started on your future with a business management degree from WGU.