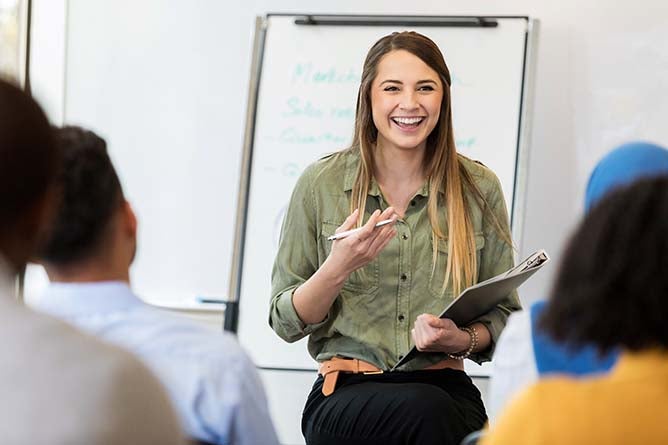 Your education degree and your teaching experience open the door to a world of career possibilities. After you've been teaching for a few years, it's natural to start thinking about advancing your career and tackling new challenges. If you're looking for a way to take your teaching career to the next level, it might be time to consider an M.S. Educational Leadership degree.
Earning your master's in educational leadership prepares you to lead a team of educators as you provide top-notch education to your students. Now could be the perfect time to explore your options.
Earning your MS in educational leadership.
Western Governors University's master's program in educational leadership program is an online degree program geared toward working educators. The program trains teachers on the fundamentals of leading and motivating teams, and it helps veteran teachers refine their classroom skills. The program, which is accredited by the Council for the Accreditation of Educator Preparation and the Association for Advancing Quality in Educator Preparation, takes most students less than three years to complete and can help them advance into leadership roles, such as school principal or administrator.
Thirteen courses make up the degree program, and they give you the skills and knowledge necessary to lead K-12 schools across the nation. In most cases, students complete one course at a time—but each course can be completed as quickly as you can demonstrate your competency of the subject matter.
Program details.
Courses in the educational leadership program are categorized into three areas: educational leadership, education, and graduate core competencies. The educational leadership category makes up the bulk of the coursework, focusing on such subjects as:
Leadership of Curriculum Design and Instruction
Leadership Foundations and Ethics
People and Talent in Educational Leadership
School Financial Leadership
School Law
Systems Management and School Operations
The education category of courses focuses on the Leading Inclusive School curriculum, which trains education leaders on how to meet the needs of diverse populations of students and faculty.
The graduate core category includes subjects such as:
Cultural Competency and Social-Emotional Learning
Data Literacy and Evidence-Based Practices
Educational Inquiry
The programs also include two practicums and a capstone, which imparts real-world experience as an education administrator. During the practicums, students spend time working with practicing school administrators in the K-12 school environment. The knowledge and skills gained throughout the program are tested during the capstone project, the pinnacle experience of the degree program. It requires students to complete a problem-based learning project focused on the skills they've learned and their ultimate career goals.
Benefits of the educational leadership program.
The master's in educational leadership degree prepares you to lead any K–12 school anywhere in the country. The curriculum is designed to provide you with core administrative skills and to challenge you to consider specific cultural and societal factors your students face, helping you become a socially aware and inclusive leader.
The majority of the program is completed online, freeing you to make a schedule that fits your busy life. Because WGU focuses on competency instead of time spent in the classroom, you can complete your master's degree faster than you could at other schools. In each course, you'll study until you can prove your competency in the subject matter. When you can do that, the course is complete, and you can begin another.
On the job market.
The master's in educational leadership program prepares you for exciting career options, including:
Principal. As a principal, you'll oversee your school's daily operations and activities. You'll manage a team of educators and assistants; develop, implement, and maintain standards for your school's curriculum; meet with parents to discuss students' behavior and academic progress; and manage your school's budget. The average salary for elementary, middle, and high school principals in 2018, the Bureau of Labor Statistics reports, was around $95,000, making this an attractive career option.
Vice principal or assistant principal. As a vice principal or assistant principal, you'll work closely with school principals to manage the educational and administrative aspects of K-12 schools. You'll interact with students, parents, and teachers on a daily basis, and you might be involved with broader management activities, such as financial planning. Having great interpersonal skills, in addition to leadership and negotiation skills, helps vice principals help their students succeed. Glassdoor reports that the average salary for vice principals is around $85,000.
Taking your career to the next level starts by committing to yourself and your education. If you're ready to take on your next challenge, WGU's enrollment counselors can answer your questions and help you decide whether the master's program in educational leadership is right for you.