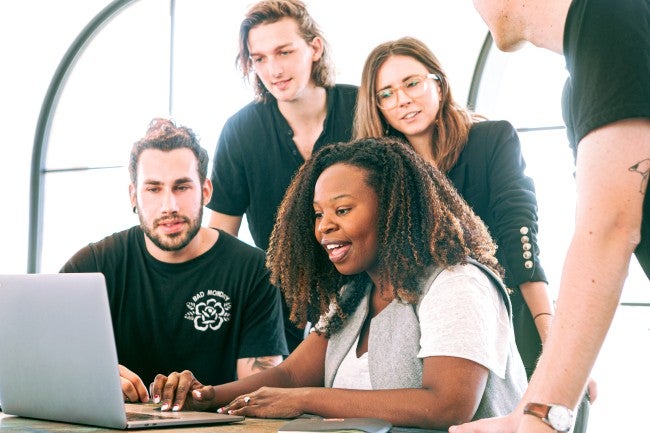 Today, one of the most successful strategies companies can use to promote their products and engage with their audiences is affiliate marketing. This type of marketing involves hiring individuals, or "affiliates," to promote a product or service in exchange for a commission. By doing this, companies increase brand awareness and sales while keeping their budget, time investment, and risk to a minimum. And since the affiliate marketing industry is expected to gross $8.2 million in 2022, there's never been a better time to dive in.
What Is Affiliate Marketing?
Affiliate marketing is a performance-based strategy wherein a business or individual, known as an affiliate, earns a commission through marketing another business's goods or services. The affiliate typically earns a percentage of the profit from each sale they make, tracked via affiliate links from one website to another. Nowadays, influencer marketing is the most well-known form of affiliate marketing, wherein individuals who have a large community following on social media are paid by brands to promote their products.
What Are the Benefits of Affiliate Marketing?
Individuals with a strong online community, either in follower counts or high engagement, are perfect for affiliate marketing partnerships. Having an established website or blog is also a great foundation to start with, as social media can be a fickle platform. Businesses aren't the only ones benefiting from the boom in affiliate marketing. Affiliates find the following reasons to be highly motivating:
Low cost and low risk: Besides time, there is zero start-up cost or investment to become an affiliate marketer. You work as a salesperson, promoting and sharing the product or service for a brand, while the company manages the business responsibility, customer service needs, and risk. 
Easy to scale: Once you start an affiliate partnership, scaling your influence and audience can be easy. For example, if a kitchen company has you promote their cookware, then you can easily guide customers to purchase their cooking utensils, linens, and more. 

Passive income: Once you've done the initial work of setting up affiliate links or advertisements on your website, blog, newsletter, or social media, you can enjoy the benefits of passive income. Every time a follower from your platform uses that link or ad to visit or purchase from your partner company, you make money. 

Convenient and flexible: A major benefit of affiliate marketing is that you aren't tied to a desk or office. You have the freedom to work remotely and not have to request time off from your work for vacation or sick leave. 
How Does Affiliate Marketing Work?
The infrastructure of affiliate marketing is quite simple: The affiliate shares an ad or link on their platform of choice. The customer clicks on the ad or link, initiating the conversion. That conversion is tracked, and the affiliate is paid a commission. Commission percentages and payment structures vary depending on the brand and industry.
How Much Money Can I Make as an Affiliate Marketer?
A huge incentive for affiliate marketing is that there's no limit on income. If you have high online engagement and consistently promote your partnerships, you can bring in a substantial amount of money. According to PayScale, the average annual income for affiliate marketers is $53,290 per year, with the top 10% earning around $73,000 and the bottom 10% earning $39,000. The more competitive the industry, like fashion and lifestyle, and the larger the following an affiliate has, the more profitable your marketing can be.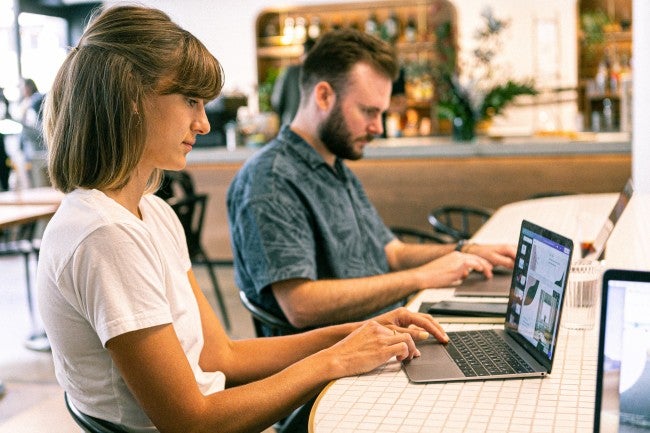 How Do Affiliate Marketers Get Paid?
There are a variety of ways affiliate marketers gain commission. Each method depends on the product or service a business is marketing, but most affiliates build an income with a mix of the following:
Pay per sale: This is the standard payment structure for affiliates. Within this structure, an affiliate makes a percentage from each sale made for a specific product or service they promote. For example, if a beauty blogger promotes the release of a new skincare line and encourages readers to purchase the products via their affiliate link, then they will make a percentage from each sale that is tracked from their blog or social media page to the company's website. 
Pay per action: This is a more complex compensation structure. Affiliates are compensated when a customer visits a company's website via their affiliate link and takes a specific action, such as subscribing to a newsletter or filling out a contact form. The challenge here is being persuasive enough to encourage a follower or reader to engage directly with the company, leading to notable conversions. 

Pay per install: In this structure, when a customer is directed from the affiliate's link to a company's website and installs a product, such as a mobile app or software, the affiliate is compensated. For instance, an affiliate could make $.10 for every install of a brand's new app in the first 90 days after its launch. 

Pay per lead: This structure is great for beginners who are still building a following. It's often easier to generate a lead than a sale. Here, an affiliate gets paid a commission every time a customer signs up for something, like a sweepstake or a class. 

Pay per click: This is the rarest structure, where an affiliate earns a commission for every click on their unique link. Customers aren't required to buy anything or to take action; they just have to visit the company's site. Big retailers and merchants mainly use this structure to build brand awareness.

How to Get Started with Affiliate Marketing
A simple way to start affiliate marketing is by building a website, growing an Instagram following, making consistent content for a YouTube channel, or developing a dynamic LinkedIn page. Once your platform is established, consider the following to find affiliate marketing partnerships:
Provide details on your platform that you're interested in collaborating with affiliate partners
Initiate communication, via email or social media, with companies that you admire or regularly support

Utilize affiliate directories to find companies with open affiliate opportunities 

Study your competition and the companies they work with

Write and share reviews of products or services from a company you already use
Types of Affiliate Marketing
There are various types of affiliate marketing, most notably:
High-paying, low-volume affiliate programs: These programs work for luxury products with high payouts. For example, a company might pay an affiliate $500/month if they get 50 customers to sign up for a membership program. 
Low-paying, high-volume affiliate programs: These programs work for products with low payouts but mass appeal. For example, Amazon uses this method, and affiliates can earn up to 10% commission on the products they promote. Since Amazon has consistent daily traffic and sales, affiliates can expect a high volume of conversions. 

High-paying, high-volume affiliate programs: These programs can focus on affiliates who "pay to play," often optimizing their platforms for the best outcomes. They focus on mass appeal services, like signing up for a credit card or bank account, and target affiliates who have a long-standing history with the company.
How Can I Become an Affiliate Marketer?
Choose a Niche: The most successful affiliate marketers have a niche they are known for. Since the internet is filled with content, you'll get farther and be more successful the more specific you can be. For instance, instead of choosing "food" as an area to focus on, choosing a specific style or cuisine will help you make a mark. 
 Evaluate Market Demand: Along with choosing a niche, it's always important to know what people are interested in. Is there a new trend or topic that's getting a lot of views? If so, see if there is a way to position yourself in the conversation. 

Analyze the Competition: The best affiliates are aware of other affiliate marketers in their field. Taking the time to analyze the competition can help you improve your skills and strategy, along with revealing areas that need improvement. 

Research Affiliate Programs: Depending on your audience and the products or services you promote, different affiliate programs will generate different outcomes. It's important to do your research, understand the expectations and payment structures, and determine which programs work best for you.

Pick Your Affiliate Marketing Methods: Affiliate marketing works with any platform, from a blog to a YouTube channel to Instagram. It's important to focus on building a strong marketing strategy with the platform where most of your followers are and to know how to maximize the amount of views on your content. 

Create and Publish Top-Notch Content: Creating and publishing content that resonates with followers and encourages them to take a specific action, whether that's making a sale, downloading a file, or signing up for a newsletter, takes up the majority of an affiliate marketer's time. Those affiliates who have a strong understanding of consumer psychology and can evolve with the ever-changing world of marketing thrive the most.

Affiliate Marketing Mistakes and Strategies to Avoid
It's easy to think of affiliate marketing as a get-rich-quick scenario, but successful affiliates know that patience and consistency are key. You need to research the market and test different channels to see how and where to best connect with your audience. You also must invest intentional time and energy into writing blogs, developing a newsletter, or publishing social media content. Some affiliates make the mistake of forgetting that there are set guidelines to follow for how a company wants their product or service shared with customers. Affiliates might feel frustrated by the lack of freedom in personal expression but have to be creative in their approach to both follow guidelines and remain authentic. Similarly, affiliates are competing with other affiliates, and it takes innovation to set yourself apart from the crowd.
How to Pick the Right Affiliate Marketing Strategy
It's important to know your audience and how to share affiliate partnerships with them authentically. You don't want to spread yourself too thin or promote companies you don't believe in. The trust and relationships you build with followers are vital to your long-term success as an affiliate marketer.
Interested in learning more about the exciting world of marketing? WGU's bachelor's degree in marketing will prepare you with the knowledge and skills to become a top marketer. You'll learn about consumer behavior, digital marketing, project management, strategic thinking, and more. Plus, WGU offers the support and flexibility needed to earn a degree at your own pace and comfort level.