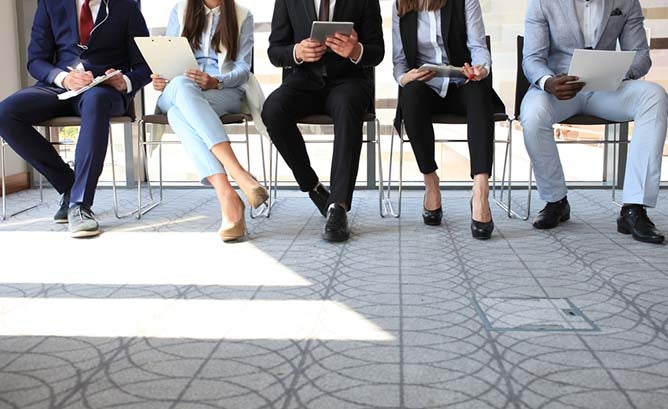 We're all asked when we're kids: What do you want to be when you grow up?
Pondering this question is fine when you're young and have plenty of time to make a decision. But what if you're applying to business school or have just graduated? How do you decide which business degree jobs match your personality?
Fortunately, there are resources designed to help you break it down. You can take the Myers-Briggs Type Indicator, a well-regarded personality test that evaluates your personality and psychological preferences. You can also fill out a self-assessment online, or you could meet with a career coach or advisor. However you assess your personality, knowing yourself and what kind of lifestyle you want to live is essential to finding the right business career.
If you still need a little push in the right direction, we've identified some career paths based on personality statements below. If one of those statements resonates with you, maybe you've found the key to unlocking your dream business job.
1. I'm drawn to technology, but I don't want to be tied to a desk.
If you're tech-savvy and prefer being on the move to sitting in a cubicle, consider a career in health information management. Professionals in this field ensure quality patient care by overseeing digital medical information and operations. Because the job often requires the coordinating of teams and understanding how medical professionals use digital systems, it helps to have a strong business management background and leadership skills. These skills will help you effectively evaluate medical teams and operations, analyze the effectiveness of current systems, and work with medical teams to implement changes when necessary. And because you'll be managing medical information and digital systems in various departments and areas of a medical facility, you're guaranteed to be on your feet throughout the workday.
Because health information management blends information technology, research, and healthcare, professionals in this field handle many tasks: entering patient records, analyzing data, and maintaining health databases. You'll need an understanding of basic medical terminology, and you'll want to stay abreast of any changes to electronic health records laws. Finding a lucrative job shouldn't be too difficult; the median annual salary for health information management professionals is about $99,000, and demand for these roles is projected to grow 20 percent by 2026, according to the U.S. Bureau of Labor Statistics.
2. I have a passion for traveling, and I've never met a stranger.
If you have impressive interpersonal skills and serious knack for networking, you might flourish as a human resources recruiter. Are you self-motivated? A good decision-maker? Full of energy? If so, a job in HR could be perfect for you, as these roles tend to require driven individuals who can enthusiastically advocate for a company and its employees. HR recruiters help businesses and organizations fill open positions with the best-qualified employees, identifying candidates and conducting the screening and interview processes.
Love to travel? HR could be the way to go. Successful HR recruiters don't mind working outside regular business hours, and they often travel to meet potential candidates at college and job fairs. The Bureau of Labor Statistics puts the median salary for human resources specialists at around $63,000, but the highest earners take home north of $100,000, on average.
3. I've never met a puzzle I couldn't solve.
Do you ask a lot of questions? Are you naturally curious? Do you enjoy figuring out how things work? You might want to check out forensic accounting. Forensic accountants work in a variety of settings, such as insurance companies, banks, law enforcement agencies, and attorney's offices. Forensic accountants help solve financial crimes by analyzing evidence, writing reports, and testifying during the litigation process when necessary. But don't pursue a career in forensic accounting unless you don't give up easily, because persistence is key to spotting problems.
Studying for exams better be right up your alley. You'll definitely need to obtain your certified public accountant credentials, and you might want to consider two other credentials: certification in financial forensics from The American Institute of Certified Public Accountants, and certification in fraud examination certification from the Association of Certified Fraud Examiners.
Accountants, in general, make more than $70,000 per year, and demand for accounting professionals is expected to grow 10 percent by 2026, according to the Bureau of Labor Statistics. If working with numbers and solving puzzles interests you, this industry could be the one for you.
4. I throw the best parties and never miss any details.
Is your house the go-to party place? Do you host elaborate events that are perfect down to the details? If so, get paid for your talents by becoming an event coordinator. Besides handling all aspects of your clients' meetings and special events, you'll be on hand to ensure that everything goes off without a hitch. This career path is perfect only if you're extremely organized and good at anticipating problems—because as an event coordinator, the buck stops with you.
Event coordinators are involved with all areas of business management, such as coordinating finances and training staff and junior employees. You must have excellent communication skills; event coordinators spend a lot of time planning out every little detail of an event according to a set budget, choosing locations, preparing menus, and searching for entertainment.
If this seems as though it could make you happy, you'll be in good company; 89 percent of event planners love their job, according to a recent EventMB survey. The Bureau of Labor Statistics notes that event coordinators make around $50,000, on average.
Finding the right match.
Jumping into a career without careful consideration can cost you time and money. Luckily, there's a wide array of resources available to help you figure out your career match. With a little research and a lot of self-reflection, you could find a career that connects with your personality and gives you the lifestyle you desire.