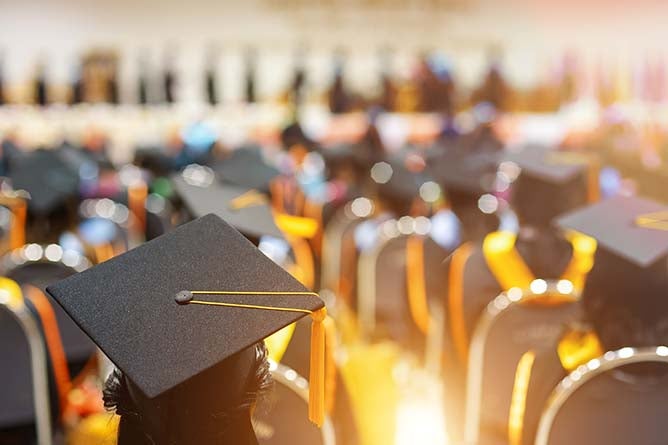 If you enrolled in college but were never able to complete your degree program, you're not alone. In fact, according to the National Student Clearinghouse Research Center, 36 million Americans are in the same boat.
Maybe you got sidetracked by an unexpected life event. Maybe you couldn't afford to return to school and had to get a job instead. Maybe you've been planning to go back but haven't gotten around to it yet.
Further Reading: When will you see ROI from a college degree?
If you started college but didn't finish, there are many good reasons to go back and earn your degree. One of the most compelling is the impact a college degree can have on your earning potential.
How your degree makes a difference.
Degree statistics show that a college education offers a significant return on investment throughout a lifetime—but only if you get your degree. The College Board analyzed publicly available data about the earnings and employment patterns of American adults with varying levels of education and noted that people with higher levels of education earned more and were significantly more likely to be employed.
People with bachelor's degrees, according to the College Board, earn nearly $25,000 more, on average, than people with only a high school diploma. The average bachelor's degree holder pulled down $65,400 in 2018; high school graduates averaged $40,500.
According to the College Board's analysis, workers with a bachelor's degree earn about $400,000 more during their lives than workers with no college experience, about $300,000 more than workers with some college education but no degree, and about $200,000 more than workers with an associate's degree. The data assumes full-time employment until age 64 and accounts for money borrowed to cover tuition and fees.
Employees with a bachelor's degree also have more job stability than those with just a high school diploma. The unemployment rate for workers 25 or older with at least a bachelor's degree is generally about half the rate for high school graduates in the same age bracket.
Job stability is especially crucial in the current economic climate. With many employees losing their jobs amid the coronavirus pandemic, job security has taken on even greater significance. Workers are likely to carry the lessons learned during the pandemic long after it's passed, and these lessons will influence their job-seeking habits.
If you never finished your degree, now's the time to do it so that you can come out prepared for a competitive job market.
Learning on your time.
If you're still employed, you might be wondering how you can balance working full time and taking college courses. This was the exact situation that Western Governors University was created to support.
Our fully online, competency-based model gives working adults the flexibility to learn as they earn and enroll in as many courses as their schedules allow. You can also move quickly through subjects you already know well, whether from courses you've taken at other institutions or training and knowledge you've accumulated on the job. You might be closer to finishing your degree than you think.
Ensure that the investment you've made pays off by finishing your degree in a way that works for you. Once you've completed your college education, you'll be a more competitive candidate for your dream job.