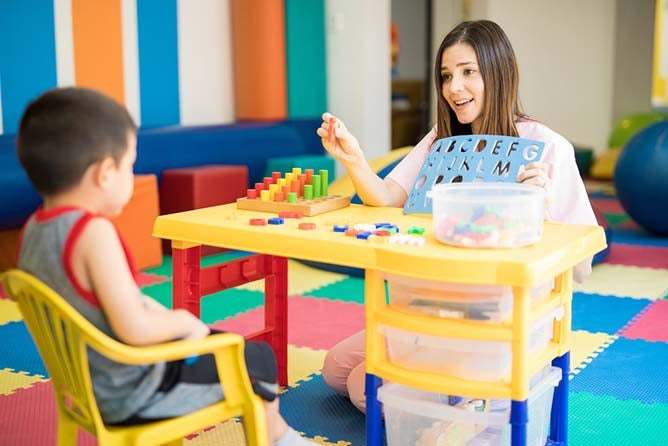 If you're considering a teaching career, you might find the most opportunities in special education.
Over the past decade, the United States has experienced a severe shortage of special education teachers. Forty-eight states and the District of Columbia reported shortages for the 2016–2017 school year, according to the U.S. Department of Education. The demand for special education teachers  is expected to grow by 8 percent by 2026, according to the Bureau of Labor Statistics, which means that school districts are eager to fill those vacancies.
With schools working to fill the gaps in their special education programs, you could secure a rewarding job where you affect students' lives every day. Here's how you could become part of the next generation of special education teachers.
What a special education teacher does.
Special education teachers provide differentiated instructional strategies to meet the need of students with physical, emotional, mental, learning, and behavioral disabilities. They develop individual education plans (IEPs) for each student, assessing individual learning objectives and creating customized plans to meet those goals. To effectively help special education students succeed, many teachers work with students one-on-one or in small groups.
Because students often grow and evolve throughout the year, it's a special education teacher's job to adapt with their students and advocate for them to secure the resources they need to ensure a positive school experience.
All teachers need to be patient and understanding, but these traits are even more essential for special education teachers, as teacher and student will often spend extra time and energy on a single task. And because each student's needs are different, no two days are alike. The rewards are great when you see students make progress, whether big or small.
Some special education teachers specialize in a particular subject, such as reading or math, while others have a more general focus. Whatever your focus, a degree in education with an emphasis in special education can help you find the right fit for your strengths and interests.
Nationwide demand for special education teachers.
Because the number of students with developmental disabilities is rising, the demand for special education teachers is similarly growing. About one in every six kids between 3 and 17 years old goes to school with a physical, mental, learning, or behavioral disability, according to the Centers for Disease Control and Prevention. And the National Center for Education Statistics reports that between the years 2000 and 2016, the number of students between ages 3 and 21 receiving special education has increased by approximately  400,000.
This significant increase has caused an urgent need for a new wave of skilled educators with the right background to fill these critical positions.
How to become a special education teacher.
Depending on the requirements in your state, you might consider working toward a bachelor's degree in special education. This kind of program focuses on core subject areas and trains you to teach a wide age range. For another type of experience—or if the state you're in has additional licensing requirements—look into a dual-licensure program, such as a bachelor's in special education and elementary education, that includes experiential training.
While getting certified, you'll likely take courses in education, psychology, communication, and assessment, especially as these relate to working with children and youth. Some programs let you specialize in teaching kids with autism or behavior and speech disorders.
To further elevate your job prospects and the chance at landing your dream job, you can look at a master's in special education, which will open up opportunities in curriculum, policy, and supervision. Pursuing an advanced degree will also give you the practical tools to be a better teacher, while allowing you to specialize in the elements of teaching that matter most to you. In this way, master's-level education can be both personally and professionally enriching.
Teachers who build a career in special education take pride in knowing that they improve the lives of kids every day. And with the right combination of education and experience, you could make this kind of difference.