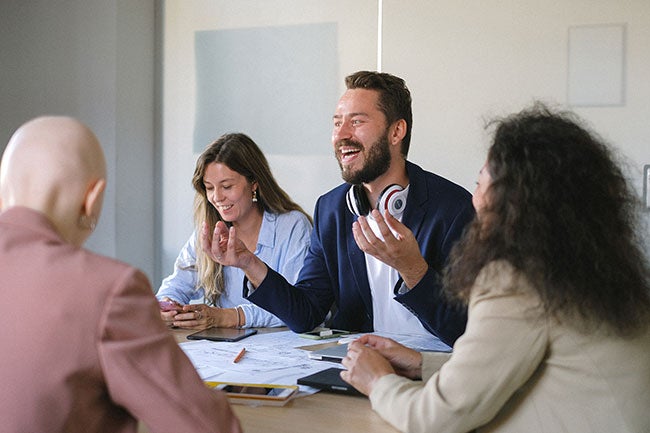 Project managers requires many different skills in order to be successful at juggling the demands and objectives of projects. The success and timeliness of an organization's projects depend on solid project management skills, which might be more diverse than you think
This article will cover six essential project management skills, including negotiation, leadership, technical ability, management (risk, time, and team), and critical thinking.  
Fostering these skills will benefit you as you prepare to study or work as a project manager. 
Essential Project Management Skills
Essential skills for a project manager include negotiation, leadership, technical ability, management, critical thinking, and communication. These skills play an important role in the successful execution of a project, and each of them can be acquired and practiced through study and in-the-office application.
Negotiation might be an unexpected skill of project managers, but it's certainly one of the most important. Projects often involve multiple parties with differing opinions, outlooks, and goals. Managing the expectations of all parties involved in completing a project requires diplomacy and mediation skills. For example, one party may request a certain due date, but the other party can't meet the needs of the project in that timeframe. It's the project manager's job to act as a mediator between both parties to negotiate terms that work for both parties. In order to achieve this, project managers need to be strong negotiators and must approach every project with the mindset that every detail is negotiable. It's this type of vigilance that enables success in important projects. 
Part of the negotiation process is agreeing on key success indicators. In other words, how do the parties involved define success for the project? To get to the bottom of this, a skilled project manager should use four forces in every negotiation: power, information, timing, and approach. Taking this holistic approach will allow a project manager to finesse a solution when participants can't agree on project details. The key to successful negotiating isn't to get all participants exactly what they want, but rather to find the best conditions for the project's objectives.  
With definitions of success and failure clearly communicated by key stakeholders, a project manager can proceed confidently in alignment with those criteria.
Project management is the practice of applying knowledge, skills, tools, and techniques to control project outcomes. Sharp leadership abilities and a commitment to processes are necessary to ensure success in this effort.
In pursuit of identifying project requirements, addressing stakeholder concerns, and managing project constraints, project managers must take on a leadership role. Project managers are in charge of orienting the actions of a group toward shared project goals and positioning them to work collaboratively. 
It's important that project managers hone their leadership skills because they are necessary at every step of the project process. Through communication, trust, and teamwork, project managers can get tasks done and keep on schedule with the team members working on the project.
A project manager who has developed their leadership qualities will yield major benefits such as: 
Increased productivity of stakeholders
Successful workplace
Strong, collaborative teams
Effective communication
An integrated approach to project strategy 
Shared vision
The benefits of leadership in project management don't stop there. The impact can also be seen as measurable results in areas such as data metrics, employee performance, and project outcomes. These types of results hugely contribute to the overall success of an organization.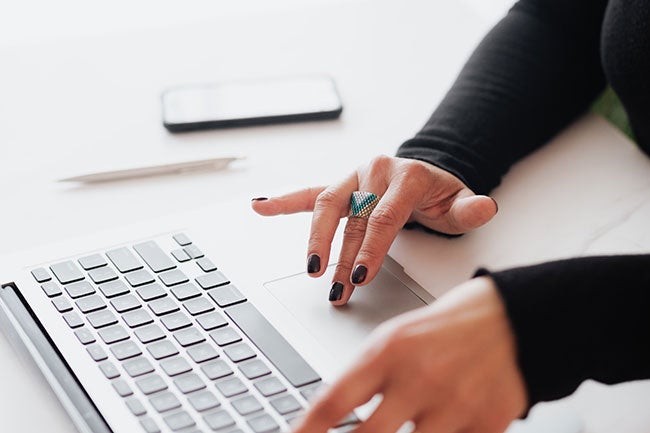 In addition to important soft skills, project managers will significantly benefit from a long list of technical skills. Some of these hard skills include:
Project scheduling is the management of activities, deliverables, and milestones within a project. A comprehensive project schedule must include start and completion dates, total duration, and resources associated with each milestone. Project scheduling is an essential step in the successful time management of a project. 
Strategic planning is a project manager's process for defining the strategy or direction of a project and determining how resources will be allocated.
Project managers must be subject matter experts in their field of work. A subject -matter expert, or SME, is someone who's an authority on a specific topic. That means that whether the project manager works in auto parts, eCommerce, or philanthropy, they know the industry and subject matter from top to bottom. This closeness to the area of work is essential for project success.
Project Life Cycle Management
Project managers are responsible for managing the life cycle of each project. This means they oversee every step in the process of a project and make sure that participants are meeting predetermined guidelines and deadlines. The four main steps in a project life cycle are initiation, planning, execution, and closure. 
Agile project management software was designed to help organizations deliver benefits and value to customers efficiently. Instead of making a huge investment in a project, agile project management allows an organization to deliver work in smaller increments. An agile approach to project management empowers participants to respond to change or roadblocks gracefully.
Scrum is an agile project management methodology wherein a scrum master works to eradicate all potential obstacles that may prevent a team from getting work done. Work is done in short, focused cycles called sprints, and the scrum master meets with team members daily to assess roadblocks. This type of project management creates an environment for rapid productivity and testing.
One of project managers' essential skills is meeting facilitation, which is the act of guiding the meeting process, from scheduling to agenda. Project managers help meetings stay on course and produce actionable goals for participants.
Financial modeling is a method for creating hypothetical representations of realistic financial situations. Project managers use this skill to forecast the performance of a project's financial assets.
Kanban is a project management tool designed to optimize the work of human systems. Project managers must balance the demands of a project with human capacity and find ways to improve productivity and remove bottlenecks. 
Project managers are responsible for making predictions of the possible outcomes of a project. Comprehensive forecasting uses historical project data to inform assumptions for future project performance.
Lean thinking is a project management framework that provides a method for organizing human activities to create more value for an organization's customers, while minimizing cost. 
Performance tracking in project management is the practice of monitoring and measuring key success indicators. Project managers need this skill in order to ensure the success of a project over its lifecycle.
Completing projects requires ample resources. Project managers design project budgets to determine the total funds required to carry out the steps of thea project. The project manager also makes sure that team members adhere to an agreed -upon budget.
Management (Risk, Time, and Team)
Effective risk, time, and team management is essential to successful projects. Project managers use these strategies to identify a project's strengths, weaknesses, opportunities, and potential threats. By planning with consideration of unexpected events, realistic timelines, and limitations of human resources, project managers poise their teams and projects to effectively respond to challenges as they come. The planning, preparation, and results of a project depend on the management of these variables. 
There are many uncontrollable variables in every project. Project managers create plans to manage possible internal and external risks that could compromise the cost, timeline, or performance of a project. A risk management plan identifies and foresees potential liabilities, the likelihood that they'll arise, and their impact. 
By employing risk management in project management methodology, project managers can decrease or even eliminate potential risks so that projects can maintain timeliness. Effective time management enables projects to fulfill desired objectives and protect costs and company resources. Without time management, projects become vulnerable to missing deadlines, maximizing costs, and hindering success. 
The greatest resource of any project is its team members. For projects to run smoothly, project managers need to create open communication between all team members, participants, and stakeholders. Part of this entails setting realistic expectations between these participants. Project managers are also in charge of making sure employees are effectively completing steps toward project objectives. If participants run into issues or roadblocks, project managers provide solutions to keep the project running smoothly.
Implementing a plan for risk, time, and team management allows project managers to be proactive in mitigating curveballs rather than wasting time putting out fires. Particularly effective project managers will use what they learn from each project to optimize their risk, time, and team management strategies.
Projects often have many complex components, and participants all have their own interests, roles, and goals for a project. Project managers act as an objective overseer, which gives them the best vantage point to make unbiased decisions through critical thinking. Plus, project managers can rely on prior experience to know which  decisions have historically worked, and which ones haven't. If project managers don't use critical thinking and objective decision -making, the opinions and assumptions of stakeholders will take over and the project manager will lose control of the course of the project. That said, a project's success relies on a project manager's ability to drive effective, unemotional decision- making.  
Critical thinking is a challenging skill because it demands that project managers to be completely unbiased in their decision- making. This skill is perfected over time and experience, and even the best critical thinking does not unveil the best decision in every situation. 
Critical thinking doesn't just support smart decisions in a project. This approach also encourages team members to consider all avenues to completing a project. A comprehensive discussion like this enables stakeholders to better understand a situation, to find solutions faster, and in turn reduce stress, disagreements, repeated mistakes, and time waste.
A project manager who is skilled in critical thinking can complete objectives, deliver projects on time, stick to a budget, mitigate risks, and remove bottlenecks.
Three major applications of critical thinking in project management:
Clarifying risks, issues, and assumptions
Applying critical thinking allows project managers to glean all necessary information from stakeholders so that they can manage the risks, issues, and assumptions associated with a project.
The stakeholders of any project all have different opinions and beliefs about the project. It's the job of the project manager to make sure that no one misinterprets the goals and activities of the project. 
Making decisions that positively impact the outcome of the project
Project managers must look past personal bias to make the best objective decisions for the sake of the project's success.
Excellent communication is another essential component in project management, allowing all stakeholders to express their opinions and enabling projects to run smoothly and in a timely fashion. Communication is the only way that all team members are aligned in their efforts towards successful project outcomes. It also ensures that team members know what is expected of them in the scope of the project. Effective communication led by a project manager builds trust between stakeholders, so that everyone can easily work together throughout the life cycle of the project. 
One of the main priorities of a project manager is to facilitate the sharing of ideas between stakeholders of a project. This step in project management allows everyone to know exactly what the goals and expectations for the project are. This effectively improves the quality of the work and helps the project stay on track from start to finish.
Project teams are often comprised of team members with diverse skills, so when the project manager creates an environment of open communication, those professionals have a way to stay informed of each teammate's role and skills within the scope of the project. Communication throughout a project is essential to its progress and success.
If you're interested in becoming a project manager, learn more about WGU programs featuring applicable coursework. 

Above all else, WGU values our students and their time. WGU believes in your potential to achieve your dreams, but we also acknowledge everyone's unique circumstances. That's why WGU's programs are affordable, competency-based, and designed so that students can study at the pace that works best for them. Earning a degree at WGU allows you to keep your full-time job, care for your family, and tend to any other personal obligations, all while chasing your professional goals. Take the first step towards our career by exploring the degree options and applying.  
While WGU does not currently have a project management program, there are adjacent programs that teach the same skills. For example, the Master of Business Administration degree teaches the problem -solving skills necessary to become a business leader and manage projects on a macro scale. Another great example is WGU's Master of Science in Management and Leadership degree, which prepares students to take an even deeper dive into leadership and management. Not only will these degrees endow you with all the essential skills to work as a project manager, they're also broad enough that you will have a wide range of choices in your job search post graduation.
Frequently Asked Questions
What are the essential project management skills?
Project management demands at least six core skills: leadership, management, communication, negotiation, technical ability, and critical thinking. Without each of these skills, the success of projects becomes vulnerable to internal and external variables. 
Which degree prepares you for project management?