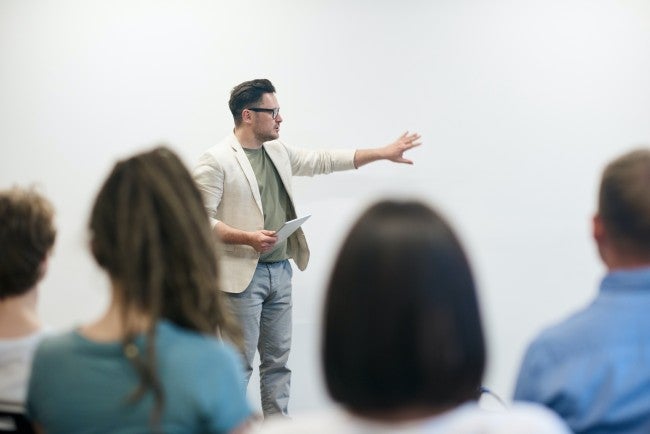 What is continuing education?
Continuing education (CE) is the post-secondary coursework and specialized training that gives working professionals, including teachers, the opportunity to learn skills that can grow their career, give them a competitive edge, and boost their salary potential. Many higher education institutions offer CE through flexible online degree programs designed for both working and aspiring educators. CE courses allow anyone looking to advance their career the means to do so without having to complete an entire degree program, helping them benefit the students in their classrooms with their personal development.
Continuing education requirements for teachers.
Formal CE requirements vary depending on the state in which the educator resides and their specialty, so it's advisable for teachers to check with their school or with their state's teaching board for specific CE guidelines. Most states and schools require teaching professionals to earn a minimum number of continuing education units (CEUs) or continuing education credits (CECs) every five years to renew their teaching licenses. Development courses, advancement courses, workshops, and graduate credit could all be part of this process. Beyond the standard CE requirements educators are expected to complete, many working teachers take CE a step further by pursuing additional degrees and certifications for their own career advancement. Educators are passionate about helping the students in their classroom, and dedicated teachers know that this kind of coursework will help them better understand the changes in education and how they can be involved.
Why is continuing education important for teachers?
Continuing education for educators often consists of in-depth, graduate-level courses. CE is required to maintain state licensure because it keeps teachers up to date on new ideas and best practices in education—and that's just for starters. CE is important to teachers in a multitude of other ways, including: 
Increasing the potential for a promotion or bigger salary. 

Improving job performance and image. 

Helping transition to a new education career. 

Fostering personal interests and development. 

Encouraging the development of time management skills that enable better performance. 

Increasing job marketability and security. 

Prepare educators to move upward, such as to a university or to work with older students.

Providing opportunities for professional networking. 
What's the difference between continuing education and professional development?
While a professional development course can count as a continuing education course, it's important to distinguish the two. Teachers are awarded CEUs for successfully completing a formal training program, usually with the intention of furthering professional knowledge. Professional development hours (PDHs) are awarded to a person based on contact hours of a presentation or training class.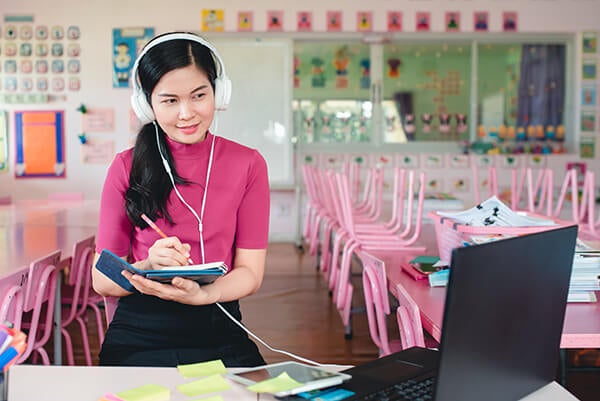 Options for continuing education.
CE comes in multiple forms and will vary depending on what's required by your state. They include: 
Noncredit online courses. Many teachers pursue this route for CE options because of the flexibility, affordability, and wide availability. Classes typically only take a few weeks and all coursework is completed at home. These courses are often directly applicable to classroom work for students.
Online courses for credit at an accredited institution may cost a little more, but it can be well worth it if you're pursuing an advanced degree—because the advanced degree can pave the way to a higher position and salary. This is a great way to learn new education trends and strategies to use in your classroom. 
In-person classes. CE classes are always on the roster at universities and community colleges and appeal to those who prefer in-person learning. Teaching professionals become the student in these types of courses.
Yearly classes or tests help teachers stay current on changes in the industry and can be held anywhere from online to a college campus or community center. 
Entire degree programs or advanced degrees at an online or traditional university can be an exceptionally rewarding option because they help teachers earn CE credits while also preparing them for new opportunities and responsibilities. While a full degree program isn't required to earn CEUs, this is among the most promising ways for a teacher to advance their career and salary potential. 
Workshops, seminars, and one-time classes provide a quick, affordable way for a teacher to meet a professional development requirement and help build a teacher's skills, confidence, and awareness of current issues and strategies in the teaching profession.  
Conferences or lectures offer the opportunity for teachers to learn from experts in their field.
Choosing a continuing education course.
When the time comes to choose a CE course, here's some advice you can count on to make a well-informed decision. 
Examine the program description. Courses vary considerably in quality and value so check for positive reviews or feedback on them before committing. Questions to ask yourself: Does the course take an active-learning approach? Will it include feedback from industry experts? Is its intention adequately and clearly explained?
Assess learning outcomes. This can help distinguish broad overview courses from in-depth programs. 
Review faculty credentials. This helps determine if a meaningful program will be presented. 
Assess the production quality. Valuable content is valuable content, but poor-quality video and audio to present it risk deterring you from learning. Make sure the program is presented in a professional format with clean visual components and clear audio.


Look at the price. The price tag on a CE course can say a lot about what's in store. For instance, a surprising low price is usually a red flag that corners will be cut. Boo! Let the course's amount of content and production quality help you determine if it's all worth signing up for.  
Continuing education is essential for renewing your teaching license, but it can also provide incredible opportunities to advance your career. Fortunately, CE is built into the curriculum of WGU's online degree programs for aspiring teachers and teachers looking to take their career to the next level. Learn more about these programs, right here, right now.