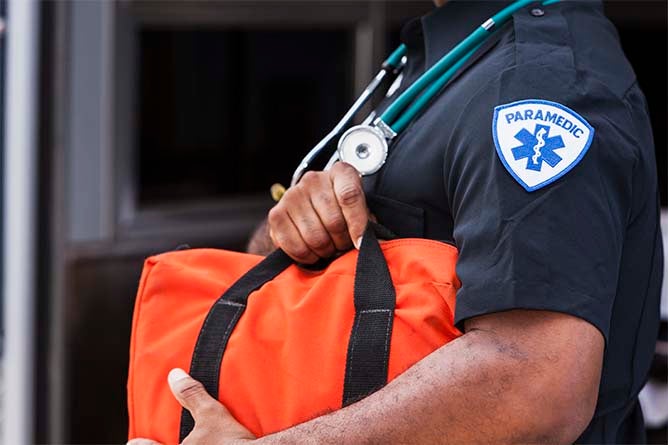 When it comes to emergency care, there is no one you want by your side more than an emergency medical technician (EMT) or a paramedic. Their knowledge of anatomy and physiology, assessment skills, and quick thinking are vital when a person needs medical help in a hurry.
If you want to save lives and are interested in being the first medical provider on the scene of an incident, you might be wondering how to become a paramedic. First, though, you will likely have to become an EMT.
Becoming an EMT
According to the Bureau of Labor Statistics, the first steps to riding an ambulance rig are completing high school (or getting your GED) and getting a CPR certification. Once you have those, you'll need to find an EMT program, which will teach you the basics of emergency assessment and intervention.
An EMT's requirements, certification levels, and duties vary widely by state. Be sure that the program you choose is accredited so that you receive the proper training and credentials; the Commission on Accreditation of Allied Health Education Programs offers a list of accredited programs.
EMT training programs typically take several months to complete, and they teach you how to perform basic emergency care with equipment available on an ambulance. After you complete the program, you'll need to pass a credentialing exam. Some states have their own exams; others administer the national certification from the National Registry of Emergency Medical Technicians.
How to become a paramedic.
After you ace your EMT certification exam, you'll need to work on an emergency response team for a while—typically six months or so—before you begin your paramedic program.
Paramedics provide more extensive care than EMTs do; they assess a patient's condition and provide basic care, but they can administer oral or intravenous medications, interpret EKGs, and use other monitors and complex equipment. A paramedic training program builds on your EMT skills to give you the expert knowledge needed to be the main director of care at the scene of an incident.
Paramedic programs are typically two-year associate's programs, though some could lead to bachelor's degrees. They're usually administered by community colleges or universities, according to the Bureau of Labor Statistics, and require about 1,200 hours of instruction in subjects such as anatomy, physiology and pharmacology. And there's a separate certification required for paramedics, according to the National Registry of Emergency Medical Technicians.
Bridging to a nursing career.
There are a lot of benefits to being a paramedic—autonomy, excitement, variety, and satisfaction in saving lives are just a few. And for many, being a paramedic is a fulfilling long-term career. Some paramedics, though, might eventually want to trade life in the ambulance for a position in a healthcare facility. Just as EMT skills build a foundation for becoming a paramedic, paramedic skills can build the foundation of knowledge that can help you become a nurse—and there are plenty of benefits to becoming a registered nurse.
Nurses can do more in-depth work with patients, and they have the opportunity to specialize in serving a specific population. They also have more opportunities for advancement, such as a master's degree in nursing. And registered nurses typically earn more money—according to the Bureau of Labor Statistics, the average paramedic in the U.S. earns $16.50 per hour, while the average RN earns $34.48 per hour. (Pay grade varies, though, by state, specialty, and level of experience).
Paramedic-to-RN bridge programs can help you take the knowledge you've gained through your intensive paramedic program and practice and expand it into the scope of nursing. To take such a program, you'll need to complete any prerequisites for the program and meet any other requirements for admission; for instance, you might have to meet a certain GPA threshold and provide letters of recommendation.
Some RN programs are offered online. Western Governors University, for example, offers a pre-licensure program in select states that lets you take nursing courses online while conducting clinical hours at sites local to your area. WGU provides support by assigning each student a clinical coach, and WGU partners with local hospitals to help you log more than 900 hours of clinical time by graduation.
EMTs, paramedics, and nurses work together to help save lives when the unthinkable happens. No matter what role you play on the team, you might make a palpable difference in someone's life.