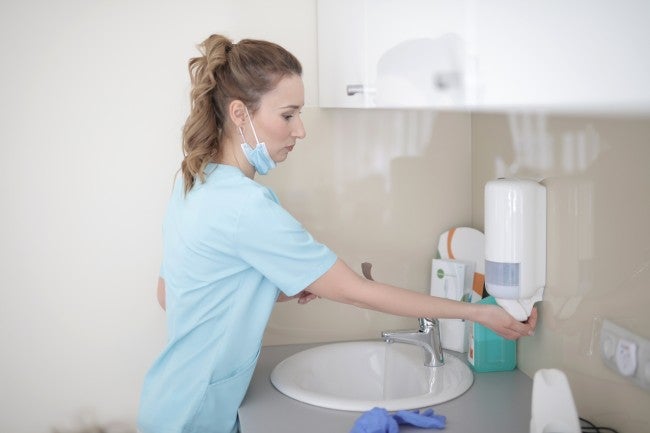 You probably remember a time when you weren't feeling good, you got a bee sting, or had an allergic reaction. When you were in school, where did you go? To the nurse's office! You went and the nurse would help take care of you, let you call your mom, and helped you feel better. 
School nurses are important additions to a school staff. They are there to lend medical support, which is crucial when there are hundreds of young children or teenagers on the campus. School nurses give important support, medical help, and health direction to the entire school. If you're currently in a nursing program, it's valuable to learn about different career options and how you can pursue them.
What does a school nurse do?
A school nurse's job is to do wide variety of work inside a school. Students who are unhealthy or ill may not be able to fully focus on their schoolwork. Nurses at a school work to ensure students are healthy and strong, allowing them to focus more on their learning. The main job of these nurses is to be available to help students who are sick or injured—this can be administering aid if a student falls, taking care of a student who has a headache or is throwing up, and more. These nurses are responsible for any sickness or injury that happens on a bus, on the playground, in the hallways, or in a classroom. And this can be for teachers as well—if something happens and a teacher is injured, they would also go to the school nurse for help. But the role of school RNs often goes beyond immediate medical emergencies or issues.
School nurses are also actively involved in health and wellness at their school. This involves helping coordinate vision or Scoliosis tests for students. It can involve helping teach students proper hygiene or coordinating sports physicals. School nurses are often in charge of ensuring students have proper immunizations in order to come to class and interact with other students. All of these medical and health situations are important for students to succeed in the classroom. 
School nurses also work to help with mental and emotional health for students. They may help coordinate mental health seminars, talk to students about drugs and and alcohol, work to encourage health and wellness, and more. They are directly involved in intervening if they are concerned about a student's mental and emotional health. They may work with parents, teachers, and administration to help students get the help they need.
As there is a drastic shortage of nurses, making the need for school nurses even greater than ever before. Additionally, many traditional nurses find that if they are feeling burned out, transitioning to a school nursing position is a great alternative that allows them to utilize their knowledge in a new way. If you're considering a healthcare career, a profession in nursing and specifically as a school nurse is extremely beneficial, and needed. 
School nurse education requirements and qualifications.
Specific education requirements and certification to become a school nurse will vary by state, but there is generally a path to follow to enter this profession. 
Earn a bachelor's degree.
One of the first steps to becoming a school nurse is to get the right education. A bachelor's degree is the first requirement for nursing. Students need a BSN because this degree will give them specific practice and knowledge in the situations they may face in a nursing job. I It will help them learn about the specific medical situations like anatomy and physiology, as well as nursing theory that helps them learn about community health, working with younger patients, and more. They will be better prepared for their job after pursuing higher education and fulfilling those requirements.
Students can either pursue a RN-BSN degree if they are already a registered nurse, or they can get their BSN degree and prepare to become a registered nurse at the same time. Either one of these degree programs will help students get on their way to becoming a school nurse. The right education is the first step to a job in nursing.
In order to become a registered nurse before or after getting a BSN, students need to take the NCLEX-RN exam and fulfill their certification requirement. They also need to apply for a nursing license from the board of nursing in their home state, which will then allow them to register for the certification exam. 
In order to become a school nurse, candidates will have to be an RN and have a minimum of 1,000 hours of clinical experience, or a total of three years of academic experience. If candidates meet these requirements, they are able to pursue school nurse certification. 
The School Nurse Certification Exam must be passed in order for an RN to become a school nurse. This test measures understanding of health concerns specifically found in a school setting. They are also tested on ethical issues. Depending on where nurses live, they may have to retake the certification exam every few years to keep up their licensure, or they may need to set up continuing education programs to keep their school nursing licensure valid.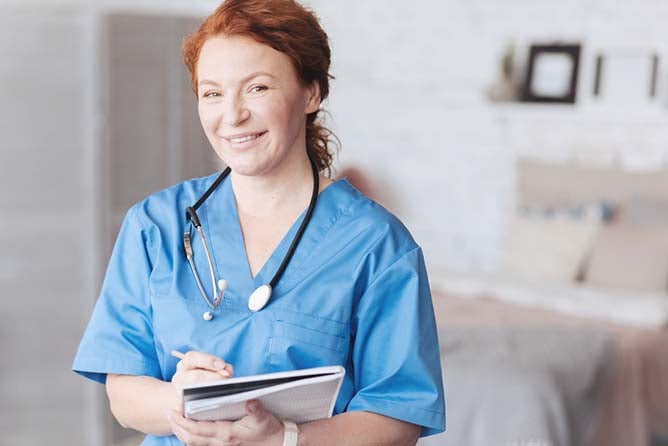 Where do school nurses work?
Nurses who are qualified to work in schools can work in all kinds of settings including:
Public schools

Private schools

Charter schools

Vocational schools

International schools

Military bases

Elementary schools

Middle schools

Junior high schools

High schools
School nurse salary and employment.
These nurses can expect to earn an average yearly salary of around $46,000, with the lowest 10% of school nurses earning a salary of around $31,000 per year and the top 10% earning a salary of more than $64,000 per year. Salary levels for these nurses will vary greatly based on where you are working and the years of experience you have. Some school nurses may serve multiple schools in a district, while others are specifically hired for one larger school. Their working conditions can impact salary levels, and similarly their salary level will be impacted by the level of education they have. Salary levels for these kinds of nursing jobs have risen recently, as there is a high demand for these professionals.
Data shows that school nursing has expected job growth of 12% by 2028, which is much faster than the national average for job growth. As there is a larger nursing shortage around the country, it's anticipated that there will be more positions like school nursing available, and less qualified candidates ready to fill them. If you're interested in a school nursing career, there is no better time to pursue your bachelor's degree and get started toward that career path.