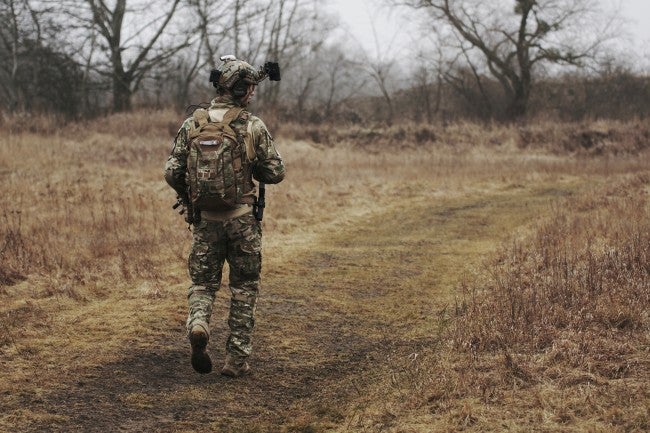 As a service member, you're obviously a driven individual who's always ready for a challenge. Whether you're a cadet or army officer, you know what hard work is and how to tackle it. That's probably why you're considering pursuing degree programs during or after your active-duty service. And you're not alone. According to a study by the National Science Foundation, roughly 3.7 million college grads had previously served in the U.S. Armed Forces, with nearly 250,000 service members, from cadets to officers, serving and earning their degrees at the same time.
The perks to pursuing a degree program while you are a service member are many—there's the possibility to move up in rank, or speed up a promotion, or even transition into a new career. However, figuring out how to pay for a bachelor's or master's degree program may have delayed your plans. It's actually not as daunting as you may think! Many institutions today accept military benefits and offer excellent financial aid programs that cut down on the net price of a degree and can make your dreams of pursuing higher education come true, whether you're active-duty or retired.
If there's one thing serving your country has taught you, it's that if you fail to plan, you plan to fail. So when it comes to paying for degree programs, you must be strategic. With the variety of benefits, loans, grants, and scholarships available, plus more affordable online military college options, you can get a degree without breaking the bank—or even possibly for free!
Let's review some of the financial aid tools you can use to cover college costs at many academic institutions and online colleges around the country.
Since 1944, the GI Bill has helped qualifying veterans and their family members secure the funds needed to cover some or all of their college costs.
It's important to note that not all schools accept the GI Bill, so you must do your homework to find an academic institution that caters to service members and military students. However, at WGU, all of our degree programs are approved by the Department of Veterans Affairs (the VA) for all GI Bill education benefits. And because our tuition is lower than most four-year colleges, your military education benefits will typically cover the full cost of tuition, books, and fees. Current military students and civilians both can benefit from an online college like WGU.
Having evolved over the years, the Montgomery GI Bill Active Duty (MGIB-AD) is available to those who served on active-duty for at least two years and covers up to 36 months of education benefits. The Montgomery GI Bill Selected Reserve (MGIB-SR) also covers up to 36 months of benefits but requires six years of service obligation in the Army, Navy, Air Force, Marine Corps, Coast Guard Reserve, Army National Guard, or Air National Guard.
Passed into law in 2017, the Forever GI Bill enabled National Guardsmen, reservists, and those who received a Purple Heart after 9/11 to also use the GI Bill, and it eliminated the 15-year time limit for using these benefits. This means it's never too late to start on a degree program!
So how can the GI Bill help you? You can use it to:
Work toward undergrad or graduate degree programs—paying for tuition and materials at community colleges, online colleges, or traditional four-year institutions.

Cover tuition assistance gaps—providing additional funds if your institution tuition is higher than what's covered by the active duty Tuition Assistance program.

Get a tutor—if you need extra help to participate in coursework and academic assignments to help you graduate.

Reimburse test fees—for professional licenses and certifications outside of your degree.

Accelerate GI Bill payments—receive a lump-sum payment for high tech degrees.

Work while you study—an opportunity to be paid for part-time work while you participate in your academic studies.
Did you know that even if you use your GI Bill benefits, you can still apply for additional financial aid, including student loans? Veterans' benefits paid by the VA are not considered income. So they don't need to be reported on your financial aid application. However, if you're using military Tuition Assistance funds, you do need to include them on your FAFSA (as a resource towards tuition cost), which may affect the amount of your award.
So what's FAFSA and how do I apply? FAFSA is the Free Application for Federal Student Aid. Military students and traditional students alike apply for free online, and the financial aid application helps determine whether you qualify for a Pell Grant (see the next section) and/or student loans. Basic eligibility criteria include demonstrating financial need and being enrolled or accepted as a student in a degree program. At WGU, most non-military and military students qualify for at least one type of federal aid—either student loans or Pell Grants.
The Federal Direct Loan Program is the largest of the federal student loan plans. And since you're borrowing directly from the U.S. Department of Education, you'll get these fantastic perks:
Low interest rates—student loan interest rates are standardized by the government and aren't influenced by your income or personal credit score.

Subsidized interest—the federal government may waive or eliminate loan interest until you graduate.

Deferred repayment—No student loan payments are due while you're enrolled at least half-time and for six months after you graduate.

Post-graduate eligibility—You can apply these loans to any post-graduate work.
When considering how to pay for college, Pell Grants are an incredible resource because, unlike loans, they don't have to be repaid. These federally funded grants are need-based, and that is determined by your number of dependents, and other financial information disclosed in your FAFSA. Military students and non-military students can both qualify for Pell Grants to help pay for their degree programs.
To determine if you're eligible for a Pell Grant, you'll need to complete a FAFSA and be seeking an undergraduate degree. Part-time undergrads may not receive as much money as full-time students. But your school can't refuse Pell Grant funds—even if you're enrolled less than half-time.
In addition to federal grants, you may be entitled to state-based financial aid. State financial aid programs typically have strict application deadlines. And, again, your first step in securing these funds starts with submitting a Free Application for Federal Student Aid.
The maximum award amount for federal and state financial aid changes yearly. Currently, it's at $6,195—an increase of $100 from the previous year. Depending on financial need, all eligible students receive at least 10% of the maximum grant/loan award. And if you're a Pell-eligible student, you can receive up to 150% of your scheduled award each year.
Like grants, academic scholarships are another smart way to lower the cost of earning a degree while in the military since you don't have to repay them. Offered by individuals, schools, and organizations, higher education scholarships can be awarded for a variety of reasons: from academic achievement and financial need to student categories and degree programs. Not all scholarships are income-based, so more individuals are eligible for scholarship than typically qualify for financial aid. Merit-based, diversity, and other types of scholarships are popular for students.
If you do your research, you're sure to find a scholarship that applies to you. In fact, WGU offers both general and military scholarships for veterans, active duty, and their immediate family. A military college focus like WGU means that we have financial aid options for all kinds of military students, from Army cadets to officers. We're also approved to offer Military Tuition Assistance, which you can apply for at your base education office or through WGU's Military Support Department. Army Corps, Marine Corps, Air Force, and more—we have a military college focus that means all kinds of students are eligible.
This seems like an obvious solution, right? But it can be challenging if you're short on time or on a tight budget. Here are some creative ways to help you save the funds you need:
Rent your home while you're on vacation or deployed and/or take in a roommate.

Start your own low-overhead business, like mowing lawns, walking dogs, or providing home organization services.

Reduce your bills by comparing mobile, internet, and insurance plans.

Ask for donations to your college fund in lieu of birthday, holiday, or other special occasion presents.

Sell unwanted clothing, furniture, and household goods.

Cook more meals at home or buy a coffee maker to replace expensive Starbucks runs.
Essentially, every dollar adds up—and you'd be surprised how quickly you can meet your savings goals by being more strategic in your daily spending habits.
Of course, another obvious way to save money for school is to pick a college with lower tuition. However, lower cost doesn't always mean lower quality when it comes to higher education! Many community colleges have excellent programs and are much less expensive than four-year universities, saving you thousands of dollars in your first two years of school.
When you're ready to move onto your bachelor's degree, you should also consider accredited, respected online universities like WGU. Tuition can be less than half of traditional universities since they don't have to support brick-and-mortar campuses, facilities, or an expansive faculty-base. You'll save on other fees, too, like transcripts, labs, library access, and assessments. 
Other ways an online degree can save you money:
No expensive room and board costs—you can go to school from your barracks or on/off base housing.

No transportation costs—or costly college transfer expenses if you're re-stationed.

No need to wait for a semester to begin (delaying your time to graduation and a potential raise in pay)—many online degree programs start monthly.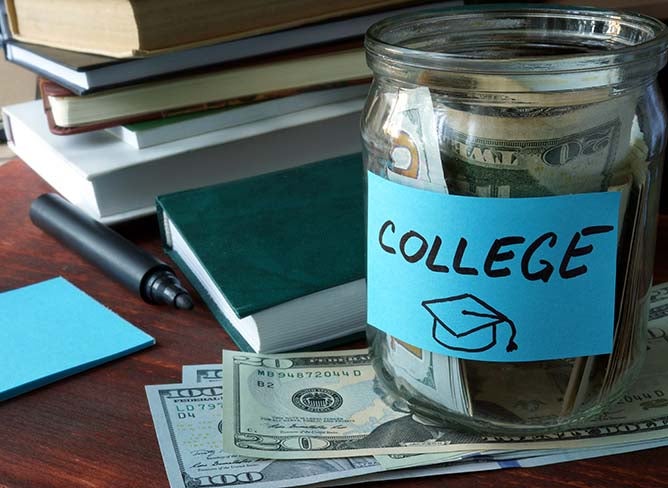 Is going to college worth the cost?
In a word, YES. A traditional or online college degree can drastically change your salary potential, promotion opportunities, or open the door to entirely new career paths. College grads earn an average of $33,000 more per year than those with a high school diploma. And master's degree graduates can earn even more than those with just a high school diploma. Many jobs have requirements for a bachelor's or master's degree, and you will stand out from the competition when you have higher credentials.
And the same is true for military careers. A standard rule for the military is that you can't become an officer without a four-year degree. If you're an Army Corps, Marine Corps, Air Force, Coast Guard, or other corps cadet with eyes on moving up the rank to become an officer, a degree will be a critical first step. Or even if you don't want to become an officer, having your bachelor's or master's can move you up the ranks faster—providing a longer, more fulfilling career that pays more, too.
Military college options.
Now that we've covered how to pay for college while serving in the military, let's discuss how to weigh your best higher ed options. Since you're probably not working a standard 9 to 5 schedule and you may often be in the field, deployed, or re-stationed, a flexible online college degree should be a top priority.
WGU has been named a top Military-Friendly School for 10 consecutive years because of its flexibility. Built to serve you, most of our online college degree programs are completely flexible with no log-in requirements. So you can work when and where it best suits your schedule. You also have the flexibility to complete as many online college courses as you can per six-month term, allowing you to speed your path to graduation and further lower tuition costs.
Don't let money be a barrier to earning your online college degree. Take advantage of the many education benefits, loans, and scholarships being a service member affords. You've earned them, so now's the time to cash in.