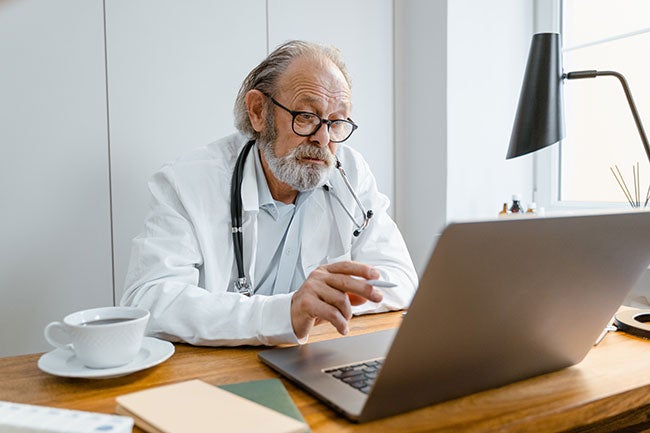 Telehealth is an innovative method of communication between patients and physicians through digital means. The advantages of virtual, remote communication in healthcare are vast and that is growing more apparent: Last year, 64% of U.S. broadband households reported using a telehealth service as part of their health care, according to Becker's Healthcare. With the growing need for transmission control amid COVID-19 and the increasing preference for convenience, patients are swiftly adopting and using telehealth to digitally attend appointments and communicate with health professionals.  
Not only are patients clearly open to bringing doctor's office visits online, but they also report that satisfaction in virtual visits is comparable to the traditional in-person visit. A study conducted by Cleveland Clinic said a considerable 80% of patients said their virtual visit, completed on their smartphone or computer, was as good as an in-person visit. Telehealth has proven to be effective in satisfying patients and is predicted to skyrocket in its use.  
Jeff Bezos' famously customer-centric company has taken the same approach to providing healthcare services. While it may be considered controversial that a big tech firm is trying to make a splash in the healthcare industry, Amazon's customer-first strategy is an undeniably innovative offering to the industry. Amazon Care isn't the only company that sees an opportunity in telehealth and telemedicine. Forbes reports some of these major companies include Teladoc, Livongo, Navigating Cancer, 98point6, and 23andMe.
There simply aren't enough hours in the day for a doctor to keep up with advances in health care and medicine. In fact, a recent study shows that they would need to dedicate 29 hours per day to research to stay current. To help close the gap between cutting edge medical care technology and physicians' ability to put it into practice, Amazon Care employs Amazon Web Services (AWS), which is a subsidiary of Amazon. AWS machine learning gives health care organizations the power to process and understand health data that wouldn't be possible with manpower alone. This is a major component in the advanced health services that telemedicine and Amazon Care can provide to people.
How Does Amazon Care Work?
In an increasingly digital world, Telehealth pioneers like Amazon Care asked why shouldn't healthcare be digital too?
This is how it works... 
An Amazon Care user starts a conversation in an app with a chatbot, then they are redirected to a nurse or doctor. This can take form in a text conversation or video chat. If the user's issue isn't resolved, then the doctor can enable GPS to identify the patient's location and dispatch a doctor within an hour.  
That mobile provider can bring a digital toolkit, including vaccinations or diagnostic tools to conduct further analysis. If the doctor decides the patient needs medication, it can be delivered in two hours.  
Amazon Care bases their business model on the fact that every patient's needs and lifestyles are unique, striving to match each patient with a selected team of medical experts who can provide virtual care. Amazon said it best, : "Access a clinician 7 days a week, 365 days a year. No more waiting rooms, no more travel time." It's healthcare, simplified.  
Where Is Amazon Care Available?
Amazon Care was first rolled out in 2019 exclusively to Amazon employees in Seattle. While it started as an offering to employees only, now Amazon Care has expanded Telehealth services to all 50 states and more than 40,000 Americans across the country.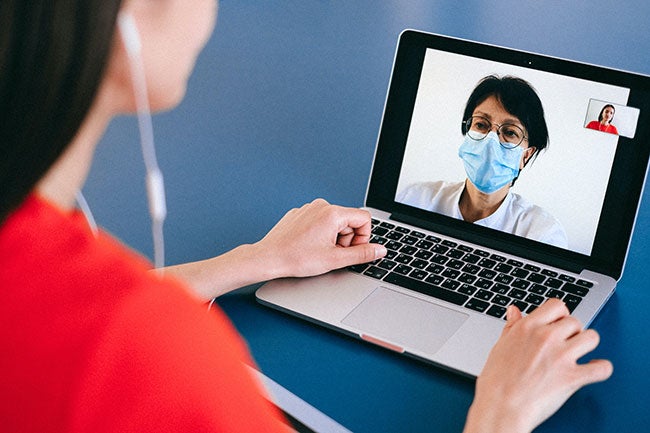 Does Amazon Care Work with Insurance?
Amazon Care currently works with companies that pay for the virtual services. They charge patients a copay, and partner pharmacies bill insurance providers separately. Amazon Care says that there are plans to partner with major health insurers soon. In this case, a patient could use Amazon Care the same way they would use an in-network healthcare provider, inevitably expanding this service to millions of people.
Does Amazon Care Work with Medicaid?
Pre-pandemic, there was hardly a whisper of telemedicine as a legitimate component of healthcare. Stay-at-home orders, quarantines, and social distancing brought on by the pandemic not only paved the way for telemedicine but made it completely essential to serving patients. With that, Medicaid expanded to include telehealth services. Before the pandemic , telehealth care was only available in limited capacities (for example, to people in extremely remote areas). During COVID-19, all healthcare providers who are eligible to bill Medicare can bill for telehealth services, regardless of patient or provider locations.
How Has Amazon Care Impacted Telehealth?
Amazon, the eCommerce giant, redefined customer service with promised two-day shipping, and now they have brought that same urgency of service to telehealth with Amazon Care. Patients can gain access to a primary care provider in a matter of minutes and they don't need to leave their house to do it. Amazon Care has also begun to provide a component of their service that puts healthcare experts in homes for in-person check-ups, labs, and more, further improving patient care. Amazon Care users don't even have to go to the pharmacy. What Amazon Care has brought to telehealth is simple and compelling: the best parts of virtual care with an innovative approach to in-person care.
What Does This Mean for the Future of Telehealth?
Amazon Care and other telehealth companies are answering 21st-century healthcare challenges. The American population is aging, climate change continues to threaten the well-being of humans, one-third of American suffer from multimorbidity, and mental illness is prevalent. Amazon Care and telehealth's major value is that it makes comprehensive, lifesaving healthcare significantly more accessible than ever before.  
Another exciting biproduct of Amazon Care is the job outlook. As the telehealth pioneer continues to roll out its offerings to people across the country, it could create thousands of jobs for mobile nurses, nurse practitioners, and clinicians. Telehealth is still very new to the healthcare industry, but experts say that it's working (albeit in need of some upgrading). As Amazon Care and other telehealth companies continue to solidify themselves as legitimate healthcare providers, qualified nurses are going to be in higher demand. One could say there has never been a better time to pursue a career in patient care, because the opportunities are growing. Getting an education in nursing can help you qualify yourself for the jobs that are forecasted to open as telehealth gains traction. Join the workforce committed to implementing 21st- century solutions to the healthcare industry.