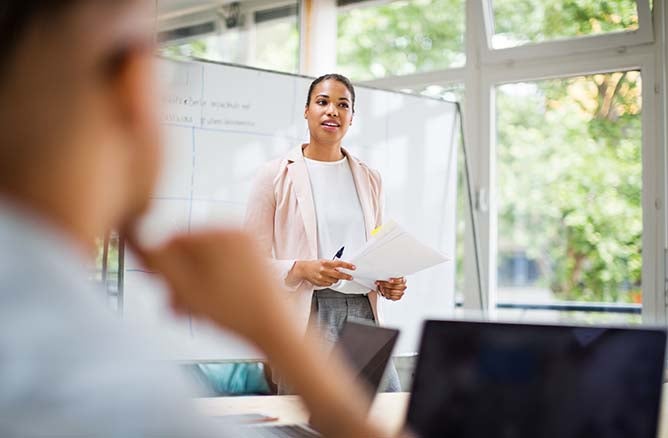 After teaching for several years, you might wonder what steps you can take to further your career. If you're like many other educators, you might pursue an educational leadership degree, which can prepare you to lead colleagues, students, and parents toward a more inclusive and effective learning environment.
If you're considering this option, you probably have questions about your degree options, whether you'd be a good leader, and whether it's the right time for you to pursue a change. We turned to Suzanne Tingley, a veteran teacher with more than 20 years' experience in administration, for her insights about educational leadership.
What does it take to be an education leader?
It takes a special kind of person to take on the challenge of education leadership. Many assume that leaders such as principals or vice principals must be tuned into the unique needs of every student and teacher and the organization's every need and goal at all times. But according to Tingley, becoming an effective leader actually boils down to three essential factors:
"You need to be able to stand up for what's right, whether you're working with kids, faculty, parents, or your school board," Tingley says. "Confronting people isn't easy, so you need to develop strategies that help people understand what needs to be corrected without alienating them."
While helping prepare others for leadership roles, Tingley says she often hears her students and colleagues talk about how they want their schools to be welcoming. Most also aim for high standards among faculty and the student body. "I always ask the same question: What would that look like? How would I know your school is welcoming?" she says. "Good leaders have vision. They know what they want, and they can share that vision."
Education leaders collaborate with other faculty members, parents, and even the students they oversee. Treating others with respect is essential. But that doesn't mean rolling over and taking whatever other educators dish out. "Good education leaders respect their faculty and the kids," Tingley says. "You can work together to make your school a special place. With faculty especially, a good education leader focuses on support rather than compliance."
Will you be successful in a leadership role?
Your success in securing a leadership role is largely determined by your experience and education. Most states require teachers to undergo administrative internships before they take on any leadership role. Many schools require leaders to hold an advanced degree, such as a master's degree in education leadership. These programs expand upon your teaching degree and experience and help you develop skills in governance, law, leadership, and finance—areas critical to administrative roles.
If you're wondering whether you'd be successful in a leadership role, Tingley recommends asking yourself a few critical questions. Have you taken on leadership roles in your school? Are you comfortable with putting in extra hours? Do you get along well with others? Do you agree with the idea that leadership means working cooperatively with others, not just telling people what to do? Are you comfortable telling people things they might not want to hear, and can you do it in a way that is supportive and empathetic? Your answers to these questions will help you determine if you are ready for a leadership position.
When should you pursue an education leadership degree?
Going back to school is a worthwhile investment of time and money, but how do you know it's the right time to make that investment?
"The right time to pursue a leadership position is when you actually know something about teaching and schools," Tingley says. "My home state required principals to have at least three years of teaching experience before pursuing an administration certificate or degree."
Regulations vary from region to region, so there's more to think about than state regulations.
"Other considerations are personal; for instance, administration is a full-year job, and you must determine if that schedule works for you and your family," Tingley says.
Keeping the demands of a leadership job in mind can not only help you figure out if the job will be a good fit for you, it can also help you determine whether you're ready to begin a degree program that will help you land a leadership job.
What's the most important thing you should know?
School administration is extremely rewarding, but it's not easy, Tingley admits.
"It's often challenging," she says. "You have to believe that your leadership can make a positive difference for kids and adults. You have to be willing to work hard and teach by example. You have to remember that your words and actions will be taken seriously by your school and community. If you're up for the challenge, school leadership is a great career choice."
WGU's education leadership degree program is the first step toward achieving your goals. Using a combination of online learning courses and real-life experience, this program helps prepare you for your new role as a school principal or administrator. And, because the program is designed for working teachers, you can continue to teach while earning your degree. With some self-reflection and hard work, you can embark on a rewarding career in education leadership, a career that is impactful and rewarding.